Parking in Banff can be tough, especially in the summer. Luckily, Banff is a very walkable place. And, with public transit and a number of free shuttles, it's easy to leave your car behind and see it all! Here's what you need to know about parking in Banff.
Is it free to park in Banff?
Starting May 2021, the Town of Banff is introducing visitor paid parking in the downtown core at a rate of $3 per hour during the summer and $2 per hour in winter.
All visitors require a Park Pass, which can be purchased at the Banff National Park gates as you enter on the highway, at a Parks Canada Visitor Information Centre or online ahead of time. Learn more
HOW DO I PAY FOR PARKING?
Visitors can download a parking app before their arrival to pay through their phones or by using one of the new pay station on the street. Learn more
How long can I park in Banff?
Time limit for public parking is up to nine hours. Be sure you're in the appropriate place before you set off on your adventure.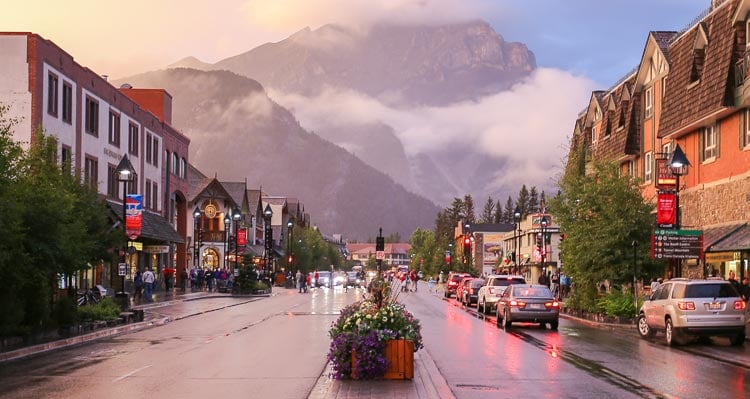 Where should I park in Banff?
The largest parking lots in Banff are the Bear Street parkade (which has indoor above ground parking), on Beaver Street, at the Fenlands Recreation Centre and at the Railway Station.
Where can I park an RV in Banff?
If you're coming to Banff in an RV, you're options are a bit more limited. There is a parking lot for RVs next to the Banff Mineral Springs Hospital at the corner of Wolf Street and Lynx Street, and at the Fenlands parking lot. As well, there are a few other places were RVs can park on the street. See this map for more info
How can I find a parking spot in Banff?
Don't waste time driving around and around. The Banff Now page from Parks Canada has real-time parking information and availability as well as up-to-date traffic information. And BanffParking.ca is a mobile site that also has live updates on parking availability at the major lots. Save time by checking it out before you drive around and around looking for a spot!
How can I help reduce traffic congestion in Banff?
Next time you're coming to Banff, do a bit of research ahead of time about parking and passes, and get straight to adventuring!