We make a few arrangements to escape from the city after a busy work week. We book a table at Sky Bistro in advance, arrange our Gondola tickets and confirm a babysitter (my parents,) then wrap up work early on a Friday afternoon. These are the moments that count.
The effort it takes to get to Sky Bistro, the delightful and relatively new restaurant perched on the summit of Sulphur Mountain, is far outdone by the result. Everyone at Sky Bistro on this Friday night has made an extra effort, travelled off the beaten track, to get to this fantastic location.
This mountaintop bistro is perfectly suited for a special occasion. For my husband and I, this is the ideal romantic night out.
Familiar territory
"This is starting to feel like our home away from home," Rob says, as we leave our Gondola cabin and pass through the wooden entry-way to the Upper Terminal. We were here last weekend with our kids, and had whiled away the afternoon in the Above Banff Interpretive Centre and hiked up Sulphur Mountain along the boardwalk.
This time, we had left Calgary during that mass weekend exodus of Calgarians bound for the mountains. We were happy to be back in Banff for dinner, just the two of us.
The nighttime experience at the Banff Gondola is entirely different: It's relaxed and indulgent, and dramatically set off by a gorgeous sunset. Fiery pink hues and broad strokes of blue sweep across the darkening dawn sky out the floor-to-ceiling windows. A sunset like this lifts the spirits. And once the sun descends behind the dimming mountains, a whole new show in the sky emerges.
Later tonight, care of the Banff Gondola, we will learn all about the 400 billion inhabitants of that starry night sky.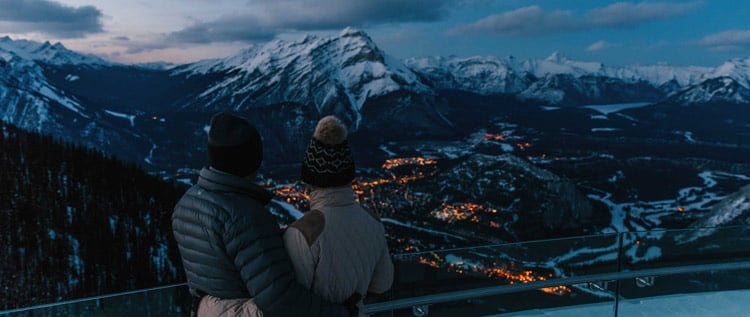 But first, we eat
We had heard about how great the food was at Sky Bistro so we were anxious to sample for ourselves. A perennial fish lover, the Ocean to Sky Chowder catches my attention right away. As it turns out, the chowder, loaded with salmon and baby clams and speckled with double smoked bacon, is a popular choice.
Rob orders the Creamy Butternut Squash Bisque. All the ingredients are locally-sourced, we're happy to hear. When the soup arrives, with ample portions beautifully presented, we snap photos of our bowls (which we never, ever do) then dig in and share. The flavours are soothing and delicious.
It appears to be couples' night at Sky Bistro and the mood is uber-relaxed. If you have time to hike the boardwalk before dinner, I strongly recommend it. Also, plan to dine early to coincide with the darkening sky. Reservations start at 4:30 PM and run until 6:30 PM, in time for the last gondola down two hours later.
For our main dish, I choose the Stout Braised Alberta Beef Short Rib, another popular order, I'm told, and Rob decides on the Sky Bistro Gnocchi. Then, we bundle up and scurry out to the rooftop deck to catch the Stargazing session while our meal is prepared.
Friday nights are for stargazing
Friday and Saturday nights through March are extra special occasions at the Banff Gondola. We head outside on the fourth level to gather around a cozy fire with some astronomers. They hand us warm cups of apple cider. Under their guidance, we look through telescopes at planet and stars and learn the difference between the two. This is about looking beyond the end of your own nose and wondering what is out there. On a clear night, the views from the summit are spectacular. We cuddle up and take it all in.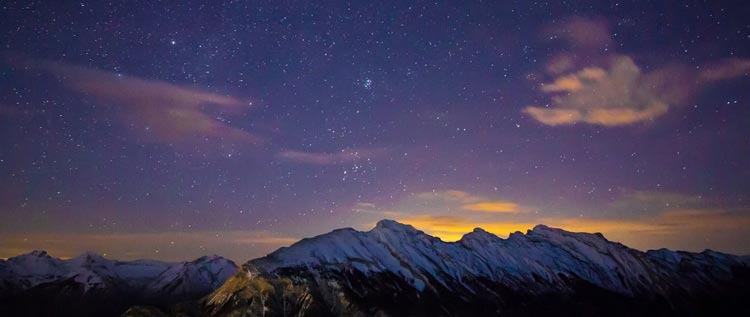 Something to write home about
Back at our window-side table, we settle in again. Thinking and learning about the night sky proves fruitful for dinner table conversation and we're connecting in new ways as we contemplate the vast expanses of our universe and ponder the meaning of it all.
What a satisfying way to spend a Friday night and relax into the weekend ahead. We won't forget this evening any time soon.
Every now and again, it's good to look up.