As winter loosens its grasp and emerges into spring, it's time to queue up weekend adventures in our Canadian Rockies backyard.
And some are closer than you think. Located an easy five-minute drive from downtown Banff, the Banff Gondola offers safe, family-friendly and accessible activities for everyone to enjoy. From moments of mountain calm with a warm cup in hand to the first trail of the season to break in your hiking legs, the Banff Gondola offers plenty of fun ways to celebrate warmer days.
See Banff from Above
Take in the incredible views of the area from a ride on the Banff Gondola. Once you've made it to the top, you can bask in the beauty of panoramic mountain vistas. Or, if you're feeling particularly athletic, you can hike up Sulphur Mountain Trail. With a wide, maintained path and consistent incline, it's a great challenge for the beginner hiker, yet still steady enough for the more seasoned hiker to break a sweat. If you do hike up, you can purchase a one-way gondola ticket at the top to continue enjoying the views, high above the trees, as you make you way down.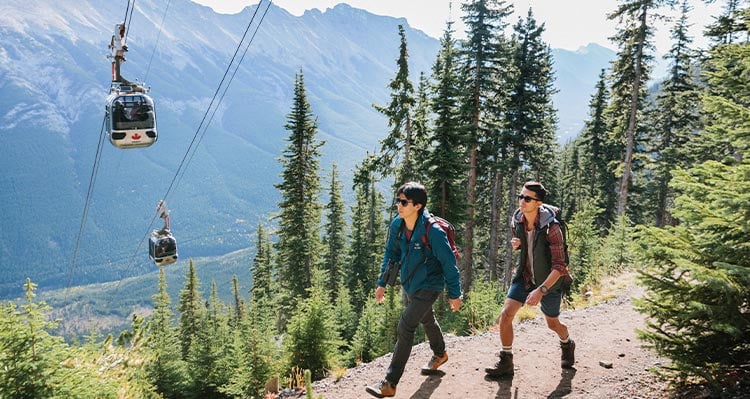 Drink In the Moment
Looking for an activity on the quieter side? Time spent soaking in the scenery from Sulphur's summit is worth the visit alone. Adirondack chairs on the outdoor patio emulate a backyard vibe and beckon to be lounged in. It's also the perfect place to take a moment of calm and reflection or to enjoy a coffee or tea from Castle Mountain Coffee Co., found on Level 1 of the Summit Building. Or, settle onto the Peak Patio to enjoy some wine and light snacks alongside incredible views.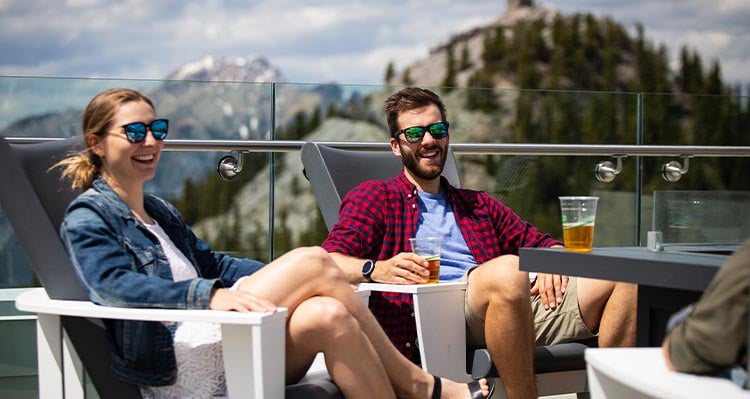 Learn Local History Along the Boardwalk
Running along the mountain ridge, the interpretive Sulphur Mountain Boardwalk connects the Gondola Summit and Sanson's Peak. Learn a little about the history and the surrounding mountains as you journey onward and up to the Cosmic Ray Station, a National Historic Site. Here, you'll learn why Norman Sanson hiked to this very location every week for 30 years and other interesting pieces of history about Canada's first national park.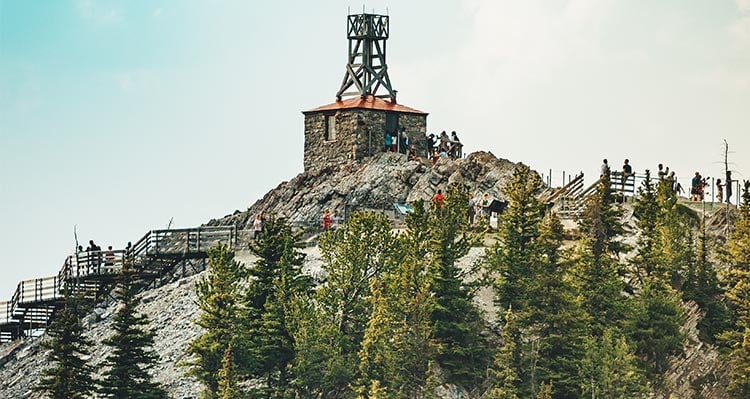 Take a Summit Selfie
At the Banff Gondola, Instagram-worthy moments are around every corner. With six surrounding mountain ranges, a bird's eye view of the Banff townsite below, and even Aurora the summit bear, you'll have ample snaps of springtime in the Rockies to share with your friends. Don't forget to tag @banffgondola and #BanffGondola when sharing your adventures on Instagram!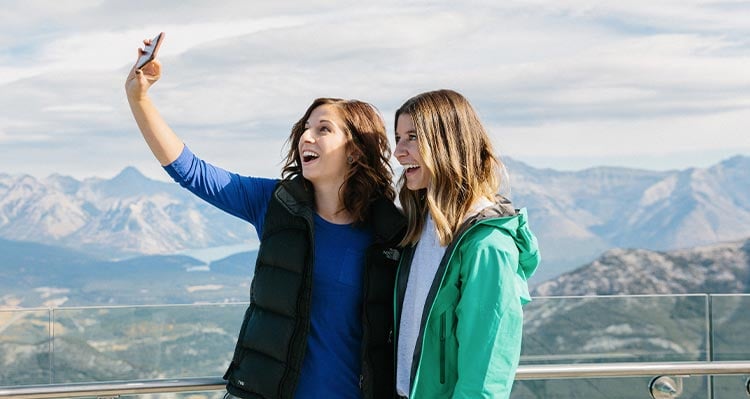 Gather 'Round a Fire
The art of conversation is best held cozied up around a warm fire. Outdoor rooftop firepits offer a place of gathering with your family—enjoy each other's company in one of the most beautiful places in the world.
Chase a Sunset
Spring brings more opportunities to catch stunning sunsets with more pleasant temps. You can enjoy these epic views in all their grandeur high up at an elevation of 2,281 m (7,486 feet) from the rooftop observation deck. But if it's still a little too chilly, you can take it all in with mountain top dining experiences at Sky Bistro and Northern Lights Alpine Kitchen.
Whether visiting Banff National Park for the weekend or coming out for a day trip, these outdoor experiences at the Banff Gondola are sure to be a highlight. Pair a visit with an overnight stay at the Mount Royal Hotel or Elk + Avenue, both conveniently located right on Banff Avenue. You can even get a sneak peek of the Sulphur summit views with these live webcams.