Barry Wesley, Bighorn Stoney Band Manager and a Traditional Knowledge Keeper, spoke to the students here in Banff and around the world about what places like the Columbia Icefield mean to him and his culture.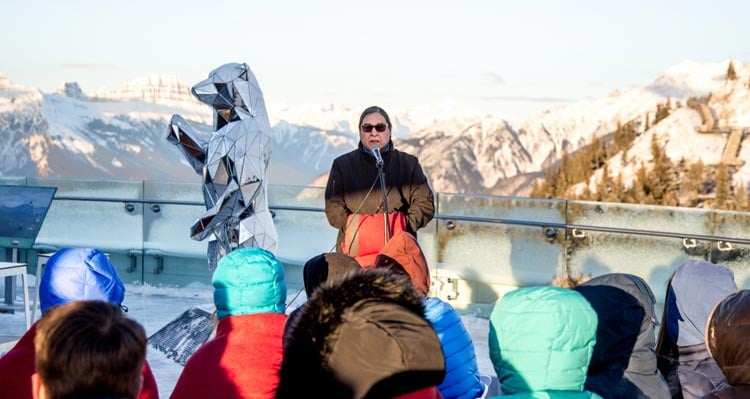 "A glacier has a feeling, it has a song to sing," he said. "Water is a form of life. It's time to take a step back and just breathe and connect with nature."
Local mountain guide Peter Lemieux, who has been leading people on explorations of local glaciers for decades, shared images of the Columbia Icefield over the years. In front of him, bundled-up students sat around a fire pit listening carefully. And around the world, students connected via web conferencing were amazed by the location's beauty.
Getting Their Voices Heard
For the local students, it was a chance to "dip a foot" into the important high-level conversations happening in Poland, says CCHS teacher Hans Holtuis.
RTHS teacher Warren Lake said that the opportunity for his students to interact and learn from Barry Wesley, a 'wisdom keeper', in such an intimate setting was also outstanding.
"The kids picked up everything he said—they really paid attention to him," Lake said.
A Sunrise to Remember
For Pursuit, operating in national parks like Banff and Jasper brings a responsibility for stewardship. Providing the space, equipment and hospitality to host this event at the top of the Banff Gondola was a privilege, Brouillette says (even if the cold temperatures created some technical challenges). She said the emotional element of hosting this event at the top of the Gondola was important and inspiring.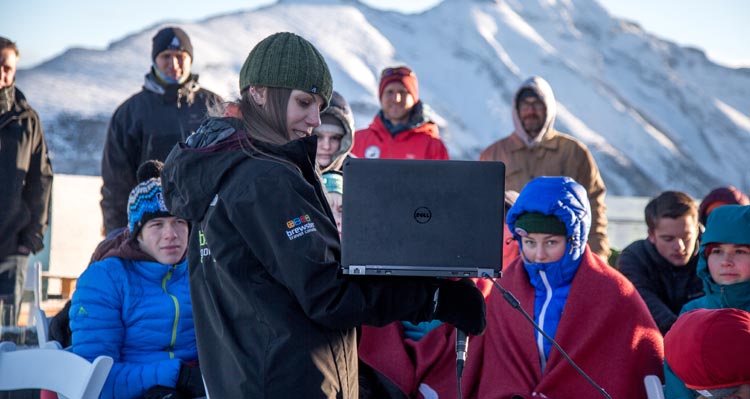 "Some of the students had never been on top of a mountain before, so this was a really special educational experience for them," she said. "They were engaged, interested and curious. It was really inspiring to see them want to be part of something much bigger than them, their school or even their town."
And then there was the frigid sunrise.
Through all the important conversations, opportunites to ask questions and access to experts, it may have been the simple uniqueness of the moment that most stays with the students, their teachers agreed.
"Even for a Canmore kid, who grows up in these beautiful mountains, seeing the sunrise on top of a mountain in the winter is incredibly unique," Holtuis said. "It was amazing and rare."