And yet Ken's art is brilliant and lively. Clearly inspired by Canadian landscape artists who have come before him, he's developed a unique style that's accessible and provocative. It follows a clean composition and depicts the landscape as edgy and rugged yet still and calming.
And for the artist, that comes down to what he calls the "fourth dimension"—the light. "There's so much beauty here. The light in so soft it's mesmerizing," he says.
Wendy Wacko, who owns Mountain Galleries in Banff, Jasper, Whistler, BC and Stratford, ON, represents Ken and sells his work. She says it has a wide appeal. And while it's complex and technical, it's also easy to appreciate and love.
"Ken's work is thoughtful and sophisticated," she says. "Simple and powerful compositions echo a Canadian Style that has evolved over the past 100 years. We're proud to be his exclusive agent."
Ken also feels compelled to serve as a record-keeper. He's committed to recording the Canadian landscape as he sees it today. His work, which is displayed at the Glacier View Lodge and also at Mountain Galleries in Jasper and Banff, feels historic.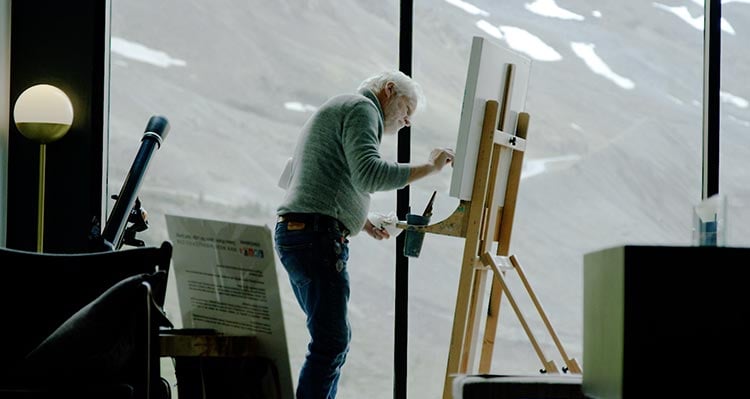 "I hope to leave a legacy of this moment in time, to record what I've seen and how I've chosen to portray it, what I've experienced in this time," he says.
And in those clean lines and soft pastels, this majestic slice of the Canadian Rockies is stirring, comfortable, reverent and unforgettable.
We're honoured to showcase Ken's work in the communal spaces at the Glacier View Lodge as well as in some guest rooms. For more information and to see more of Ken's work, visit Mountain Galleries in person in Banff or Jasper, or online.
Ken, you and your art are always welcome here!