Andromeda Above, Andromeda In Front: Stargazing at the Columbia Icefield
It's during the cool nights of autumn that the stars above shine bright here in the Canadian Rockies. Take the Andromeda Galaxy, for example.
Up here at the foot of the appropriately-named Mount Andromeda in Jasper National Park, you can gaze across a thick glacial blanket that stretches up into the icefalls and glaciers of the centuries-old Columbia Icefield, and then look up to Andromeda Galaxy, 2.5 million light years away.
It's best seen during the dark and clear autumn nights in the north. Like right here, this September. Join us for a special Evenings on the Ice with Stargazing, September 14 and 21.
An Ocean of Ice
Standing on a glacier that's almost double the size of New York's Central Park is bound to make you feel rather insignificant at any time of day. Being among the last adventurers on the ice—just as the afternoon light starts to turn the glacier a pastel hue may make you feel distinctly tiny.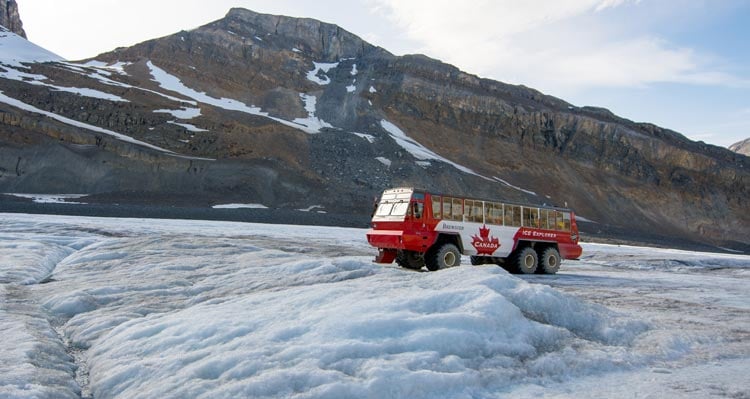 After a welcome appetizer and selection of canapés served at the Glacier Discovery Centre, the small group making up the Columbia Icefield Stargazing Tour heads out on to this vast and ancient place. As this handful of visitors from around the world walks across the glacier to board an Ice Explorer for the ride down, the North Star of Polaris is the first to twinkle above. The stars, including the vast constellation of Andromeda, are beginning to emerge.
Back indoors, a seasonally-inspired buffet dinner is served in the chic Altitude Restaurant as darkness falls gently outside, the tall peaks like Mt. Andromeda fading into dusk.
A Sea of Stars
After dinner, a hush falls over the group as adventurers follow a trail of glow sticks along the silent pathway that leads to a unique star-gazing destination high above the glacially carved Sunwapta Valley—the Columbia Icefield Skywalk.
Step up to the professional-grade telescope to look for what astronomers identify as Andromeda's disk, including some of the galaxy's brightest globular clusters, dark dust lanes and the large star cloud known as NGC 206. Watch for Cassiopeia, Pegasus and Aires, Andromeda's neighbours.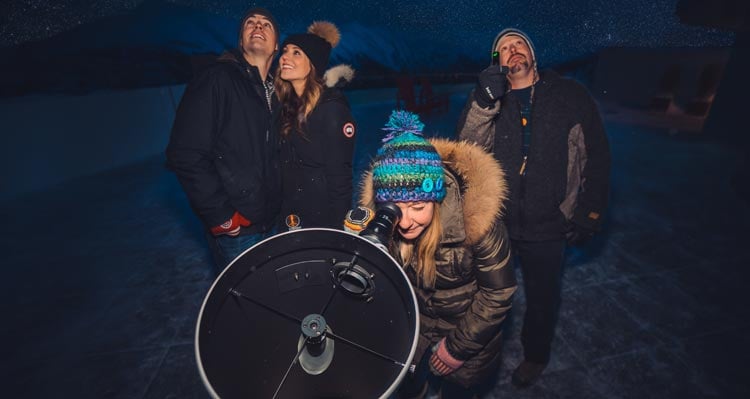 Standing on the Columbia Icefield Skywalk's glass floor, let your eyes adjust to the pure darkness of the night. Your sense of gravity may be upended as you hold tight to your hot chocolate and peer at the dark, deep canyon walls below your feet.
Look closely again amidst the Andromeda Galaxy to try to make out the form of a maiden high above—that's Andromeda herself! You may never think of the stars the same way again.