Adventurers come from around the world to experience the iconic Columbia Icefield. It's the largest of its kind in the Rocky Mountains, and one of the most accessible in North America. The experience of exploring ancient glacial ice, and seeing the awe-inspiring Columbia Icefield firsthand, is unmatched. It's something that should never be taken for granted. For those of us living and working here, we feel our great privilege comes with even greater responsibility.
The Glacier Discovery Centre, in Jasper National Park, is surrounded by untouched wilderness. Preserving this pristine playground is hugely important to the team at the Columbia Icefield Adventure. Promise to Place guides every aspect of our business and is part of an ongoing effort to lessen our carbon footprint. We believe that each eco-initiative we implement — no matter the size — will have a positive impact. It also just feels good.
Interested in learning more? Read on to find out what we're doing now and how you can get involved.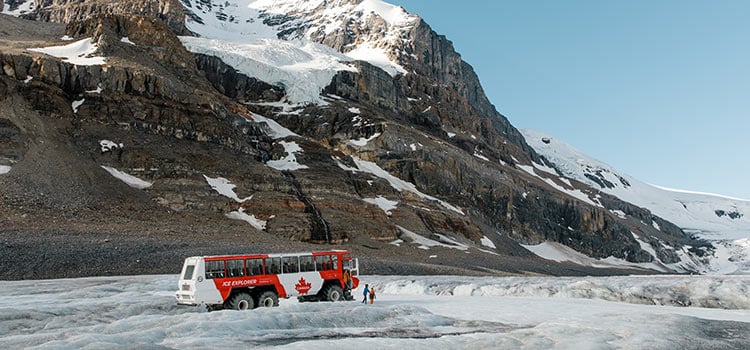 1. Refurbish versus replace
Rather than overhauling our entire Ice Explorer fleet, we're upgrading all 22 vehicles. To date, 11 are fully refurbished, and the new engines we've installed have drastically reduced nitrogen oxide emissions. Another plus is that the eco-friendly horsepower is positively impacting our guest experience. Quieter engines create a calmer feel on the ice, which enhances the magic. Bonus! We've also retrofitted our motor coach shuttles. The next steps in our environmental improvements include looking into transitioning our shuttle buses and ice explorers to electric. By extending the life of existing vehicles we're reducing the environmental impact associated with new production.
2. Biodegradable is best for hydraulic fluid
The new hydraulic fluid — the stuff that keeps things moving — we're using in our Ice Explorer fleet is zinc- and calcium-free. Conventional transmission fluids contain these minerals, which can seep into the soil and water stream. To mitigate the ecological effects of our operation, we've sourced a product that's more than 30% biodegradable within 28 days. It's also recyclable and nontoxic to water-inhabiting species.
3. One-of-a-kind water treatment
Because of our remote location, everyday operations often require innovative solutions. And while we've long been self-sufficient in our water usage, in 2016 we received a massive upgrade in how we treat our wastewater.
Designed and constructed by AquaDiversities and 9dot Engineering, the Glacier Discovery Centre's on-site wastewater plant uses advanced oxidization technology to ensure the water we use re-enters the environment with a net-zero impact. Now, not only are we meeting Parks Canada's strict environmental standards — we're exceeding them.
4. New energy efficiencies
To help reduce our fossil fuel and energy consumption, we've replaced our generator system from diesel to propane. Diesel engines produce carbon monoxide, hydrocarbons, particulate matter and nitrogen oxides. By switching to propane, we've reduced our carbon footprint by more than 30%. We're also investigating how to harness more solar and wind power to further reduce our impact, all while making energy reduction upgrades like switching all lighting to LED.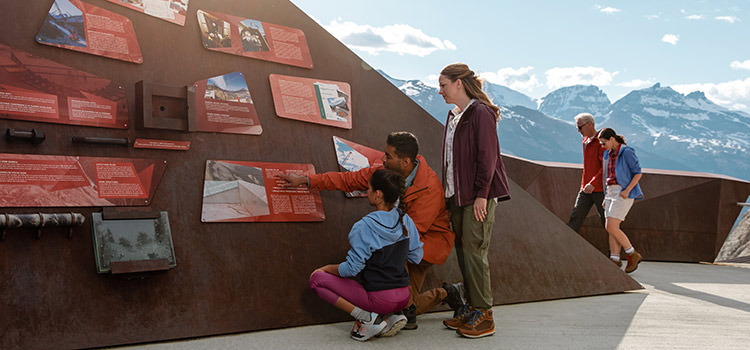 5. Recycling in a national park
As we operate in a remote, un-serviced area, we're fully responsible for the disposal of all waste and recycling. Each season, between May and October, we transport our cardboard, paper, glass, plastic and aluminum recyclables to a depot in the town of Jasper. Removal services are at our cost, of course!
6. Scheduling for efficiency and experience
Our operations team has analyzed and restructured our transportation schedules. By simply adjusting our tour times, we've increased vehicle utilization from 67 percent to 80 percent. Even better? We're attaining these improved efficiencies while continuing to deliver an incredible guest experience. A win-win in our books.
7. Supporting local for a cause
We love supporting local, as long as a product meets our "Promise to Place" standards that is. Rocky Mountain Soap Co. in Canmore exemplifies what we look for in a partner supplier. Firstly, the products are incredible. Secondly, the company is unwavering in its commitment to making toxin-free beauty products. We love that too. And, we share the philosophy that less is best — at least when it comes to chemicals and waste. We're thrilled to have eliminated single-use plastics and only offer refillable soap and lotion dispensers in the Discovery Centre and Glacier View Lodge.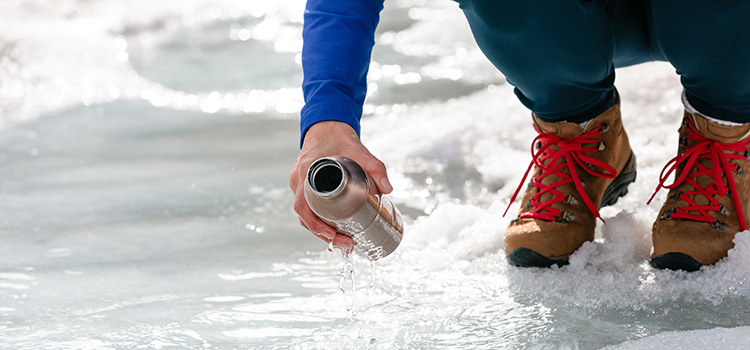 8. Responsible food and beverage
You'll find more exciting eco-initiative in our kitchens. We've eliminated all single-use plastics at our two Glacier Discovery Centre restaurants — Chalet and Altitude. Our sandwiches and salads are packaged in recyclable or compostable containers and made in-house in Jasper through our commissary kitchen operation, so you know the food you're getting isn't just delicious — it's local! Plus, you can BYOWB (bring your own water bottle), with stations around the Glacier Discover Centre to fill them up.
9. Guest participation
We believe that working together realizes greater results. Inviting guests to take part in sustainable practices will have a positive long-term effect. At Glacier View Lodge we offer EcoStay — a third-party program focused on hospitality sustainability. Its purpose is to encourage businesses to give more — to society and the environment — than receive. Many of the initiatives we've outlined — LED lights, refillable amenities, etc. — are elements of EcoStay. Guests can opt-in to the program by registering their room for a nominal fee of $2 per night. All proceeds go directly to reducing our carbon footprint.
10. Guest education
We also encourage guests to consider their impact on sustainable travel. Small acts add up. A few easy additions for your packing list include a reusable water bottle, coffee mug, shopping bag for souvenirs and snack bags. If you're driving, carpooling is a great way to save on gas and reduce road congestion. Everybody loves a road trip singalong, right? Finally, taking a sightseeing tour will also help reduce emissions, and allow you to sit back, relax and enjoy the epic Rocky Mountain scenery.