5 Things I Learned on Beer Voyage
What's better than experiencing the snow-tipped peaks of the Canadian Rockies from the emerald waters of Lake Minnewanka with a refreshing locally-brewed craft beer in your hand? Beer Voyage, a unique Bow-Valley experience, combines spectacular scenery with an informative celebration of Albertan beer culture.
It's a festive 1.5-hour cruise along Lake Minnewanka, nestled in the heart of the mountains of Banff National Park, and offers guests a delicious variety of beers (or craft sodas for the kids) and a special souvenir to take home. Here are 5 things I learnt while on the Beer Voyage cruise:
1. How to pour beer correctly
Are you one of those people who seem to somehow pour themselves a glass that's 70 percent beer froth? Me too! It's because you're pouring it wrong. Colin, the guide on the cruise, showed me that if I hold my glass at a 45° angle to the can, aim for the midpoint of the glass, and tilt the glass upwards as I reach the halfway point, I'll get it right. You want about ½–1 ½ inch head at the top, Colin says. Who said beer cruises weren't educational?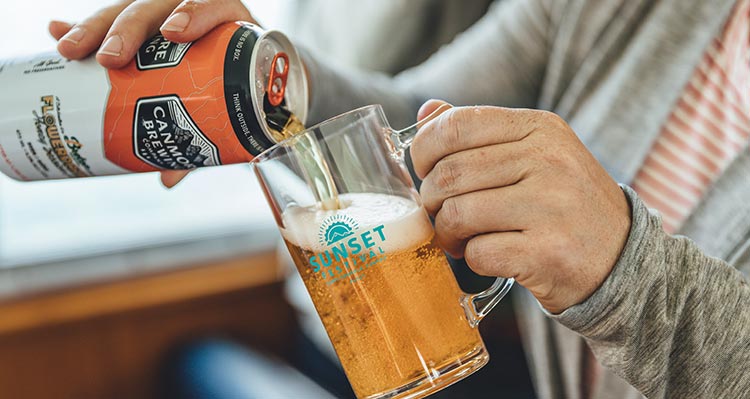 2. Albertans don't like prohibition
The Province of Alberta has had a long history with prohibition, experiencing an alcohol ban from 1900 to 1919, and during WW1. But during these times, determined breweries found innovative ways to get around it! For many years alcohol was served underground in "speakeasies", or in the form of "non-alcoholic beverage kits" that contained very explicit instructions to 'not leave in the sun for 3 days or it will ferment'. Eventually, Colin says, the Canadian Government caught on to the illicit practices, which meant breweries had to do other things like baking bread with the leftover yeast, or using their bottling facilities for new drinks—which led to the explosive creation of root beer and craft sodas. Locally-owned Grizzly Paw Brewing Company still make craft sodas today, which guests are lucky enough to try on the cruise if they'd prefer an alternative to beer.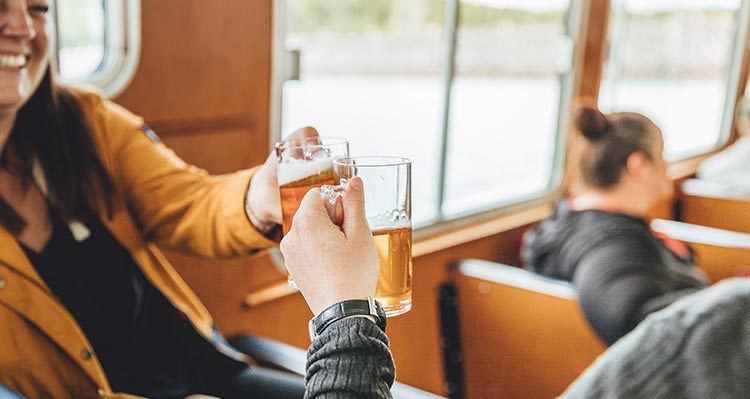 3. Malt is mighty important!
Barely is the preferred grain for beer, but the starch in a regular grain of barely isn't ready for fermentation. So, the barley has to be converted into 'malt' by allowing it to sprout and then roasting it. The roasting process greatly affects the beer—the lighter the roast, the paler the beer and vice versa. On the cruise, Colin gave out samples of different malts so I could actually taste the flavours—I learned that the darker the malt, the more of those coffee, heavily-roasted notes you get. Colin's favourite beers are Flower Daze by Canmore Brewing Company or White Wit by Banff Ave Brewing Co.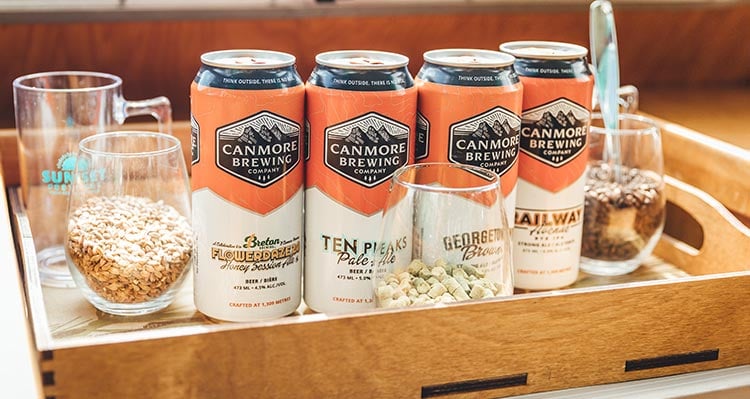 4. Locally sourced ingredients are the best
The team at Lake Minnewanka has teamed up with the leading local beer specialists in the area, including Canmore Brewing Company, Banff Ave Brewing Co, Albeerta and more. All of the beers offered on the cruise are brewed right here in the Bow Valley, with locally grown and locally sourced ingredients.
"We have this great mountain water here that is in the beers you are drinking today," Colin says. "Water comes from the Bow River that flows through our mountains and opens up to the prairies where we have the grain that we grow to make these products like malt, barley and wheat—pretty much everything except hops."
We also got to try some still-warm traditionally baked sour-dough pretzel buns from another local company; Uprising Bakery, made with wild yeast from the aspen trees in Banff's natural environment.
5. Beers AND Bears
Don't let the tasty beverages on offer distract you from your surroundings! Just ashore the glittering water's edge is a luscious forest of pine and aspen trees, home to a vast range of wildlife such as mountain goats, bighorn sheep, elk, deer, eagles and bears. We were lucky enough to spot a golden-coloured bear wandering through the trees during our cruise, reminding us that the stunningly beautiful valley is still wild and untamed.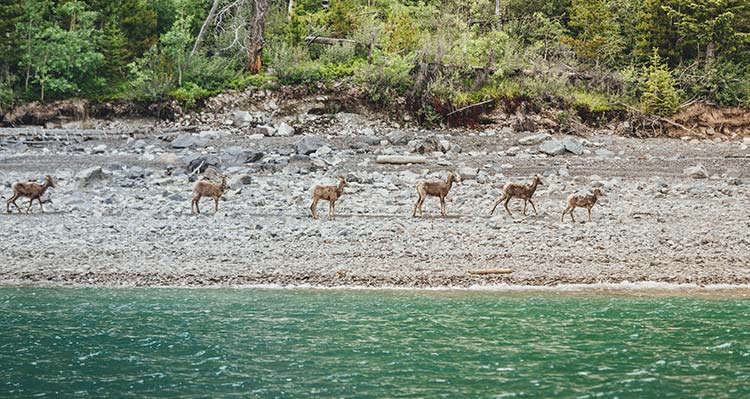 Colin says that's why Beer Voyage is one of his favourites: "I love this tour. You get to learn more about the local area and town while we showcase the local beer companies. It's Canada's wilderness combined with locally crafted products to give tourists a true sense of real Albertan culture."
Colin says the selection of local craft beer changes weekly and feature a variety of breweries. Join the cruise yourself—it's the perfect way to end a summer day in Banff!