The Canadian Rockies have been known to inspire big goals and impressive achievements.
This past summer, an idea came to life for Maligne Lake captain François Desjardins-Turcotte. As the summer season comes to a close, François is heading off on his next adventure—a six-month, 5,000-kilometre long run from to raise funds and awareness for Williams Syndrome.
From Daily Commutes to Crossing a Continent
"If there is one thing to know about me, it is my love for running," says François. He has completed 13 marathons on three continents as well as three ultramarathons. His recent feat, the Canadian Death Race, was a 125-kilometre epic that included three mountain summits, a major river crossing and more than 5,000 metres of elevation change.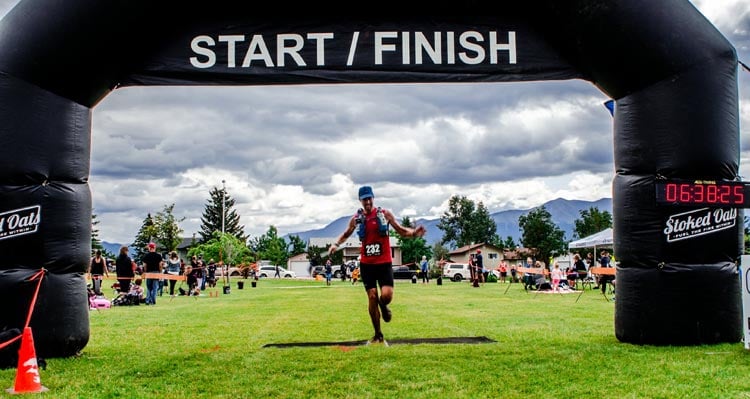 Seven years ago though, François wouldn't have considered himself a runner at all. Originally from Montreal, he moved to Vancouver for a summer and took up running there. "In all honesty, I wanted to save some money on bus tickets by running four kilometres twice a day to get to work," he says. "Now, I find myself buying a new pair of running shoes every two months…no money saved!"
Running Dreams
This won't actually be François' first 5,000-km voyage. During two years spent traveling the world, he cycled the same distance across the European continent. The journey sparked the idea of doing another trip that let him see the world on the power of his own two feet, this time raising awareness for a cause close to his heart.
The cycle trip through Europe was also the reason that François found his way to Maligne Lake. He met someone on his travels that told him about Jasper National Park and all it had to offer. "I decided to keep the adventure going," he says. "I moved to Jasper to enjoy nature and the trails around town."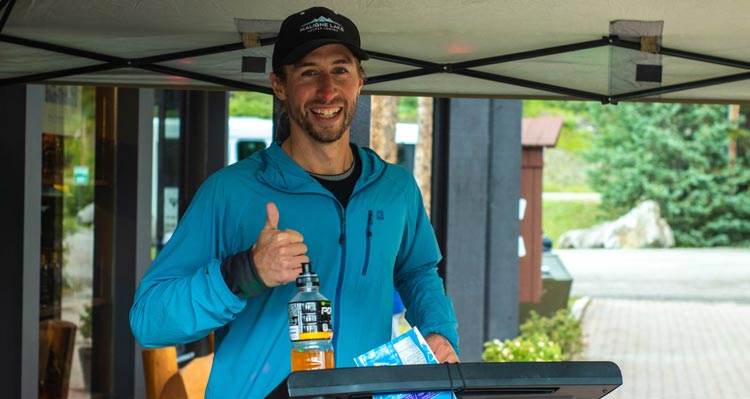 In his two seasons working as a boat captain at the Maligne Lake Cruise, François has made the most of these the world-class trails. His personal favorite is the Skyline Trail, which connects Maligne Lake with the mountain community of Jasper on a 45-kilometre alpine route.
A Goal Worth Going the Distance
François is heading south along the west coast of Canada and the US, and he's planning to go all the way to Mexico.
His end point isn't a set place, it's a date—he plans to run until Williams Syndrome Awareness Day on May 20, 2019.
He is dedicating his run to a family member of his best friend, who was diagnosed with Williams Syndrome at six months old. Over these six months, François expects to cover 5,000 km as he works his way through five pairs of running shoes.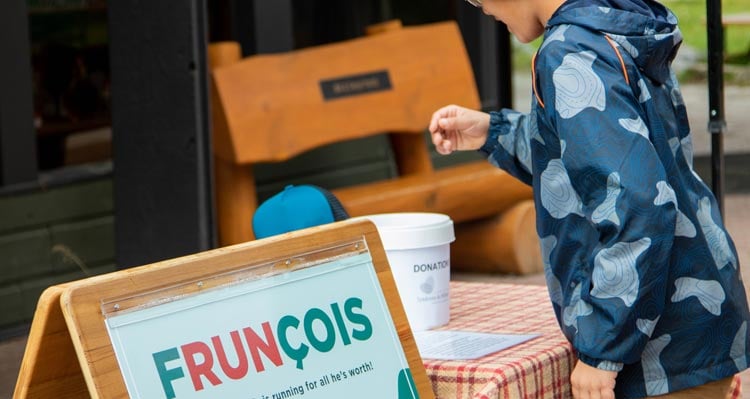 In September, the Maligne Lake Cruise team held a fundraiser for their fellow team member. On a treadmill overlooking the iconic vistas of Maligne Lake, François ran for seven hours and raised more than $1,200 for the "Frunçois" cause. "When he ran on the treadmill it was inspiring," says Andre Lowenberg, GM of Maligne Lake. "Because of his running skills, but also because of how he was super engaging with guests and would carry on conversations talking about Williams Syndrome without missing a beat. The team is incredibly proud of François."
All funds raised from François' run will go to the Québec Association for Williams Syndrome. Follow along with François' journey on Instagram and donate to the cause on Go Fund Me.