There are 14 blissful kilometres (8.7 miles) between the docks at Maligne Lake and spectacular Spirit Island, perhaps the most picturesque island in all of the Canadian Rockies. Nestled in the heart of a turquoise alpine lake and surrounded by towering peaks, Spirit Island is a must on any trip to the Rockies.
Whether you have a few hours or a few days, each minute—each mile—is majestic. Here is the info you need to get yourself there.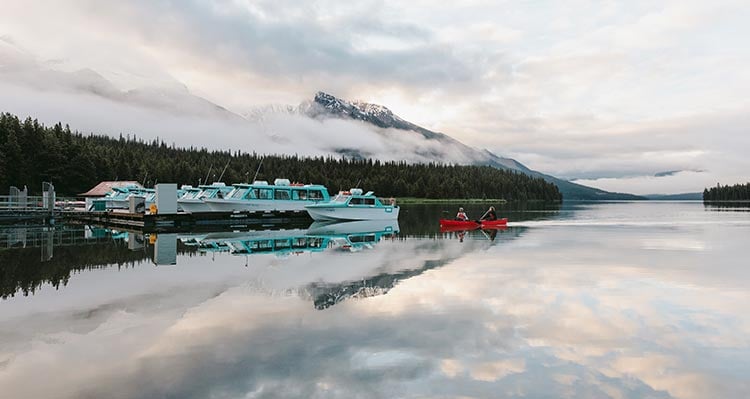 What's the best way to get to Spirit Island?
If you are set on having the most time at Spirit Island, Maligne Lake Cruise's Premium Cruise should be your top choice. After a leisurely, informative and scenic boat ride, you'll dock just next to the island and have time to explore it's environs.
And if photography is your passion, don't miss the Through The Lens Cruise which includes a photographer-guide and an extended stop at the island.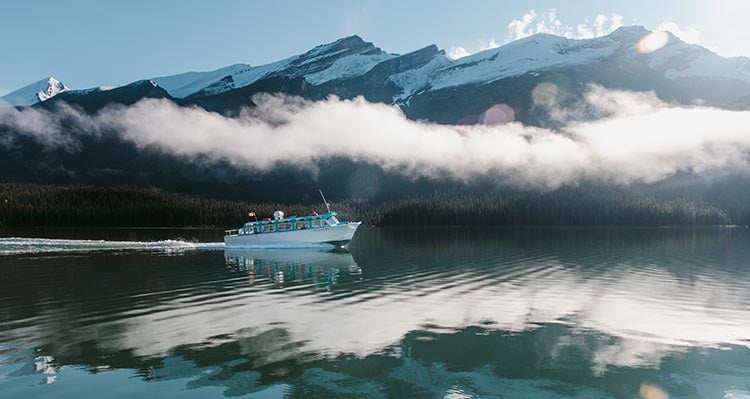 How long does it take to get to Spirit Island?
Boat cruises to Spirit Island depart from the docks, which are 51 kilometres (32 miles) from the Jasper townsite—allow approximately 1 hour for the drive. Cruises to Spirit Island range from 1.5 hours to 2 hours, depending on the cruise. If you're tight on time, we recommend the Classic Cruise, which includes a 15-20 minute stop-and-photo opportunity at Spirit Island. If you're paddling by canoe or kayak, it'll take you about half a day to get there.
Note: Cruises and lunch times fill quickly. We strongly recommend reserving a time before you visit.
Where's the best spot to photograph Spirit Island?
Just a few steps from where the Maligne Lake Cruise boat docks at Spirit Island, a short trail leads to a view point that offers the ideal perspective for capturing the unique shape and setting of Spirit Island.
Can I hike to Spirit Island?
The journey to Spirit Island is by water only. While the Maligne Valley has some truly outstanding hiking trails, there is no overland trail to Spirit Island. You can not walk or hike there.
Can I take my own motor boat to Spirit Island?
No. Parks Canada prohibits any private motorized boats from travelling on Maligne Lake.
Can I canoe or kayak to Spirit Island?
Yes, indeed! It's a bit of an endeavour, but entirely rewarding. See our story How to Canoe or Kayak to Spirit Island with tips for paddling to the island.