There are a lot of people feeling excited about Open Top Touring hitting the roads of Banff. At the top of that list, for sure, is Leah Corbiel. Along with her team, she's been working on these unique new tours for more than a year now. And with launch day upon us and these one-of-a-kind tour vehicles hitting the road, the Guest Experience Manager is expecting heads to turn around Banff.
From taking pictures out of the open-top roof to the jaw-dropped looks from pedestrians as the super-cool vehicle drives by, Leah says there's a lot to be excited about.
"This tour has something for everyone, especially if you're looking for that truly fun and unique photo," she says. "It's energetic and interactive. It's informative and the sights are just incredible!"
Inspired by the Past, Adapted for Today
The team at Open Top Touring took inspiration from the classic "Old White" vehicle that the Brewster family used for touring in the Canadian Rockies in the 1930s and re-imagined them to fit modern times. These vehicles have that classic swanky feel, they're one of a kind and custom-built just for us.
And in terms of pivoting and responding to the unprecedented needs of the summer of 2020, the Open Top Touring team is all about safety right now.
Capacity will be at 50 percent so guests will have lots of room. The vehicle will be cleaned after every tour so that guests can relax and enjoy without worry and masks will be available in case you forget to bring your own.
Each row of seating has its own door allowing guest separation and the driver to really deliver that personalized service.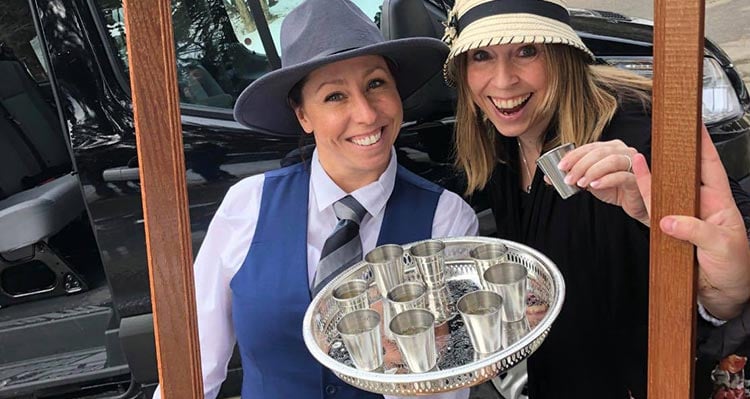 Roof Off and Weather Proof
The removable roof means guests can really enjoy the spectacular sights along the route in Banff, and look up at the peaks above, Leah says.
"And if the weather is not as nice, we can just put the glass roof in so all the sights can still be enjoyed," she adds.