Brewster Sightseeing driver Rick Crosby has a story for every stop on the intimate Taste & Explore Tour.
At Deer Lodge, where the tour stops for a gourmet Rocky Mountain lunch, Rick's roots run deep. His grandparents founded the lodge in 1923 and Rick spent much of his youth working here with his family, doing everything from bus boy to pot washer, and exploring all the nearby peaks as a climber and skier.
"Really, I was there to climb mountains," he says of his youth.
Rick was born in Banff to a predominate local family. His grandmother Gertrude Crosby founded the lodge in 1923, growing it from a tea house to a sprawling complex that once included a gas station, drugstore, café and garage. His grandfather Lou Crosby was a legendary Banff figure who ran Brewster Travel for many decades.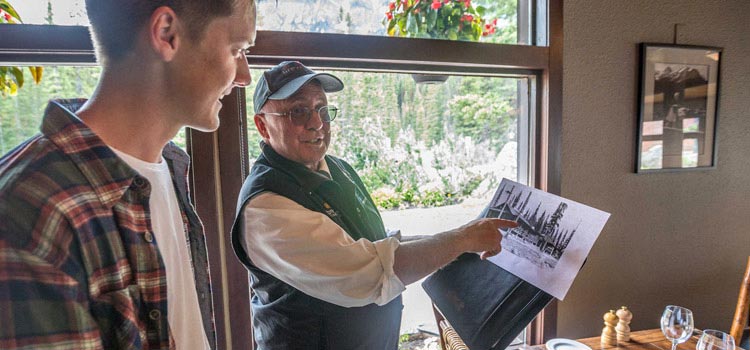 "I've climbed 'em all, fallen off some and skied most," he says of the alpine peaks around Lake Louise.
A true "Banffite" (or is it "Banffonian"?), his stories are rich with personal memories. Exploring the heart of the Canadian Rockies with him is enriching and entertaining in a personal way.
The Taste & Explore includes stops at Takakkaw Falls and Emerald Lake, where Rick shares memories of canoeing and exploring. After lunch, there's a visit to Moraine Lake and a chance to hike at Johnston Canyon.
For Rick, driving and welcoming visitors to the Canadian Rockies is the culmination of a life well lived here. He loves to travel during the winter, but he says the times he has spent at Lake Louise remain his favourite.
"I like interacting with people, especially here," he says. "I have always loved Lake Louise."
Join Rick, or one of his talented and charasmatic colleagues, on our new Taste & Explore Tour. It takes in the true gems of Yoho and Banff national parks, and includes gourmet snacks and a delicious lunch at the historic Deer Lodge.