Every mother will tell you that the best gift is quality time with her kids and loved ones. Celebrate what matters most to mom by spending Mother's Day in Banff and bringing together all the essential elements for creating special family memories—pleasant spring weather, delicious comfort meals, authentic adventures and mountain scenery.
Here are six special ways to make the most of Mother's Day weekend in Banff National Park.
Take the Bikes for a Spin
Several roads starting from the town of Banff have reduced speed limits for vehicles, allowing everyone to slow down and enjoy wildlife sightings and mountain views. Routes like the Lake Minnewanka Loop and Bow Valley Parkway are great options for cyclists wanting to enjoy the open road. And this summer, a section of the Bow Valley Parkway between Banff and Castle Junction is even closed off to private vehicle traffic, meaning cyclists and hikers can enjoy the road all to themselves. Go for a spin out to Johnston Canyon for a full day adventure with mom.
Insider Tip: Can't make it out on Mother's Day? From May 1 to 20, Monday to Thursday, the Lake Minnewanka Loop Road will be closed to private vehicles. Enjoy the rare opportunity to ride this popular route car-free!
Indulge in Delicious Lunch Bites
Treat mom to a family meal at Farm & Fire, offering fresh fare made from products sourced from local Canadian farmers. Grab a patio table to take in the mountain views, the bustling Banff Avenue vibe and the warm crackling fire. A diverse menu of offerings means there's something for everyone to enjoy, like fresh salads and flatbreads perfectly baked in an open, wood-fired oven. Top it off with a "Cheers!" to mom with a spiced whisky sour or espresso martini.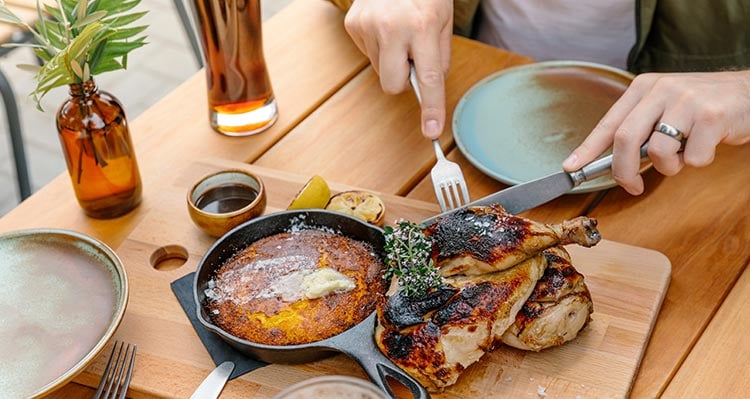 Insider Tip: Farm & Fire will be offering a special takeout gift on Mother's Day.
Enjoy the View from a Mountaintop
There's more than one way to get to a mountaintop in Banff, no matter your ability or experience level. Enjoy a view-filled ride up the Banff Gondola to reach the summit of Sulphur Mountain. From here, take your pick of activity—whether it be a stroll along the boardwalk, lounging on the rooftop sundeck with a latte in hand or hiking up on your own leg power and treating yourself to a gondola ride back down.
Insider Tip: If you're looking for a great beginner hike that's suitable for all ages, considering hiking Tunnel Mountain—it also has beautiful views of the Banff townsite.
Cruise in Style with an Open Top Touring Ride
You haven't experienced Banff like this before. Bring mom along on an Open Top Touring adventure with vintage-inspired automobiles reminiscent of a bygone era. With guides in 1930s character to narrate the journey, enjoy Banff's top attractions and views from the comfort of your coach seat—glass and open top roofs mean you won't miss a thing. This is a great way to see all the popular spots in Banff.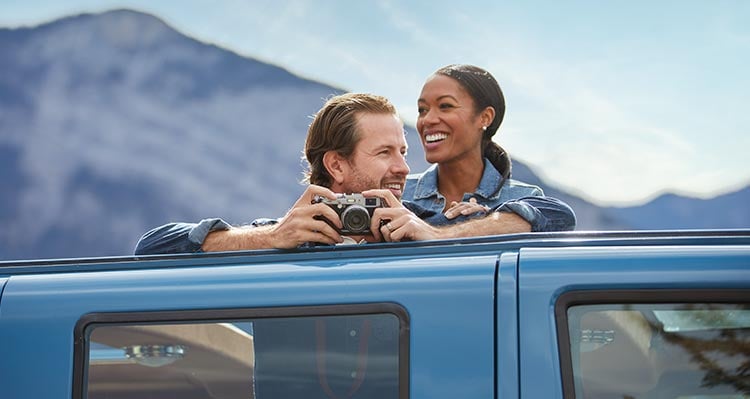 Insider Tip: Keep your phone or camera ready! This journey is full of selfie-with-mom moments.
Soak in Nature's Splendour
On any trip to the mountains, it's important to carve out time to appreciate the beauty of nature. If hikes with elevation aren't your thing, there are plenty of walkable trails and viewpoints that are easily accessible yet feel remote. The Hoodoos Trail starting from Surprise Corner dips down and follows along the Bow River through a quiet forest. Or head along a maintained wide trail to Bow Falls. Spring is the best time to enjoy this waterfall, majestically flowing in full force.
Insider Tip: As the name suggests, Surprise Corner offers surprising and spectacular views and is a must-visit spot for photos.
With plenty of activities and options to choose from, Banff is brimming with ways to make mom's special day one to remember. Make a weekend of it by staying at the historic Mount Royal Hotel or the contemporary Elk + Avenue Hotel.