Planning an epic family vacation to suit the needs and wants of every member may seem daunting. However, with some careful planning, your multigenerational adventure will be carefree, fun and unforgettable.
With a diverse range of activities, attractions and accommodations, the Canadian Rockies offers something for everyone and is the perfect locale for your family trip. Feeling excited and inspired? Excellent! Here are five expert tips to help ensure you plan the perfect vacation for your unique family.
Tip 1: Plan for Extra Time
Professional event planners always pad their itineraries with extra time. Essential considerations include group size, and ages and physical abilities of participants. Mobilizing three people, for instance, is far simpler than coordinating a group of 10, 15, or 20. If you're travelling with younger children, always build in time for additional rest stops and dining. Little legs also tire easily, so if you're attempting a group hike, make sure that it's stroller-friendly. Think about fitness levels and choose an activity for everyone to enjoy—or offer two options. Many of the trails in Banff and Jasper have advanced add-ons for those craving a challenge but remember to bring multiple vehicles to accommodate family members wanting to leave earlier.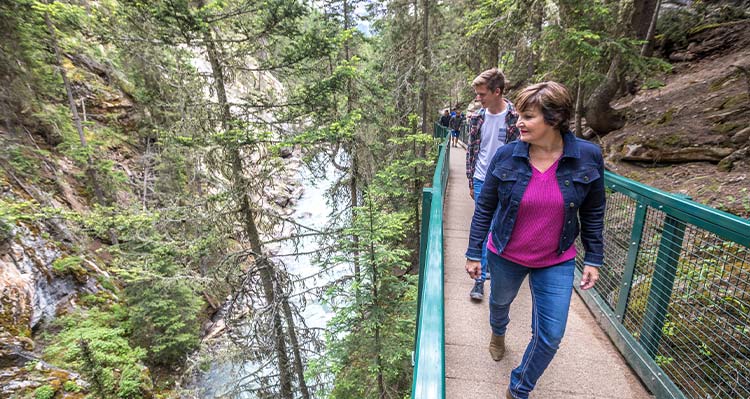 Tip 2: Arrive Prepared
Exploring epic mountain trails and breathtaking sights is exhilarating. But time can pass quickly in the Canadian Rockies, so it's best to arrive fully prepared. A travel-size first aid kit is a must, even if all you ever use are Band-Aids—and pack extra of those, especially when travelling with kids. Reusable water bottles are another essential for staying hydrated. And snacks! Bring healthy, protein-packed bites as well as treats for motivating children on uphill climbs. Busy books and colouring sheets will come in handy for any activities that require extended wait times. And, if you're visiting spring through fall, carry sunscreen, as well as bug spray and bear spray.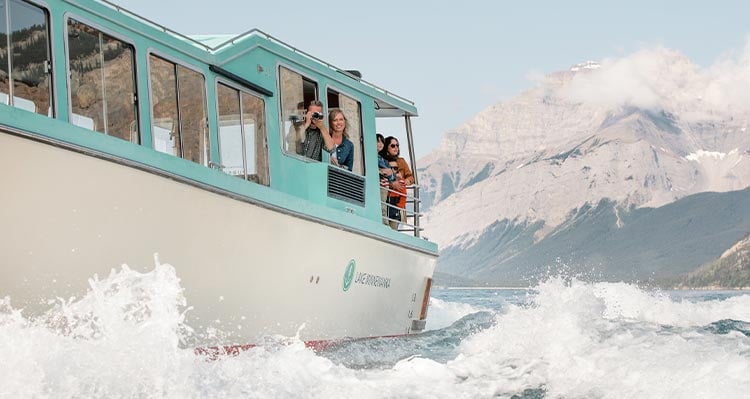 Tip 3: Build in Free Time
With so much to see and do in Banff and Jasper, there's a good chance your itinerary will be busy and adventure-rich. Rest is the key to keeping your group's energy up. Aim to have one to two activities organized per day and build-in scheduled free time, so that those who need it can take a break or enjoy a solo activity. Approach meals the same way. Arrange and reserve some group meals and allow family members to dine out on their own for the rest. Breakfast is usually better unplanned, as individual wake-up times may vary. Organize lunches on group adventure days and family dinners following event-free afternoons.
Tip 4: Plan Together
Plan the trip together, taking input from all family members. Begin by setting the date, first offering two or three options to find one that works for all parties. Have a couple of people take the lead and then pull volunteers to help research hotels and activities. Ask for the group's must-have hotel amenities, such as a hot tub, suite accommodation, onsite breakfast or proximity to town. Present the adventure and accommodation choices and invite everyone to select their top three. Narrow down from there to create your itinerary. By encouraging input and asking for help, you'll reduce your workload and ensure that all family members feel engaged and excited about the trip.
Tip 5: Try Something New
Banff and Jasper offer a host of world-class adventures, from touring ancient glaciers and wildlife watching to scenic boat cruises and sky-high gondola rides. While exploring these pristine landscapes, challenge yourself and family to learn something new. Perhaps it's a cool fact about glaciers, grizzlies or national park history. Use this newfound knowledge as conversation starters at dinner. Another fun challenge is having everyone commit to "a first." Whether it's drinking glacial meltwater or tasting bison for the first time, the simple act of experiencing something new—together—will add to the trip's magic and make your family Canadian Rockies adventure unforgettable.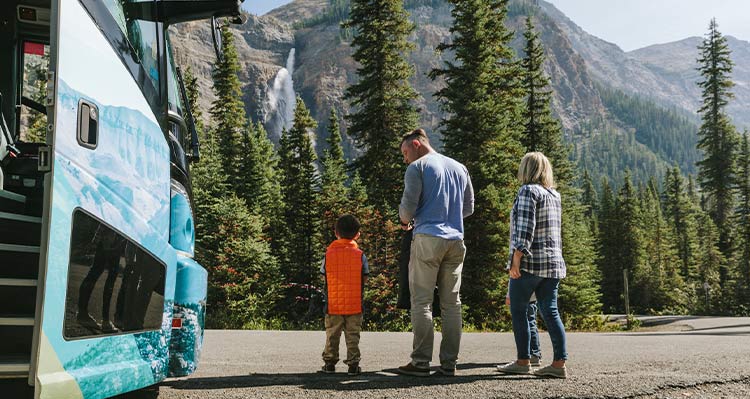 Contact our team of local travel experts to start planning your vacation in Banff and Jasper.