Sulphur Mountain has long inspired wonder, adventure and absolute awe in visitors. But after dark, the Banff Gondola now offers a whole new way to experience the summit with Nightrise.
Created by visionary Montreal-based multimedia studio Moment Factory in partnership with the Stoney Nakoda Nation, Nightrise transforms Sulphur Mountain into an immersive, interactive experience after dark through dynamic lights, projections, original soundscapes and more.
"Nightrise is an invitation to see the night differently," says Moment Factory creative director Marie-Hélène Delage. "It's a special moment in time where you're going to a place you usually wouldn't go; you're spending time [where] you usually wouldn't be; and you're experiencing moments at the Banff Gondola that you usually wouldn't experience."
Here's a sneak peek of what you'll discover when the sun sets and night rises.
What You'll See
Nightrise is all about experiencing the summit from a new perspective. And with Sulphur Mountain's signature alpine views hidden under the cover of darkness, Moment Factory created a one-of-a-kind spectacle to transform the space and deliver a new sense of wonder at the top.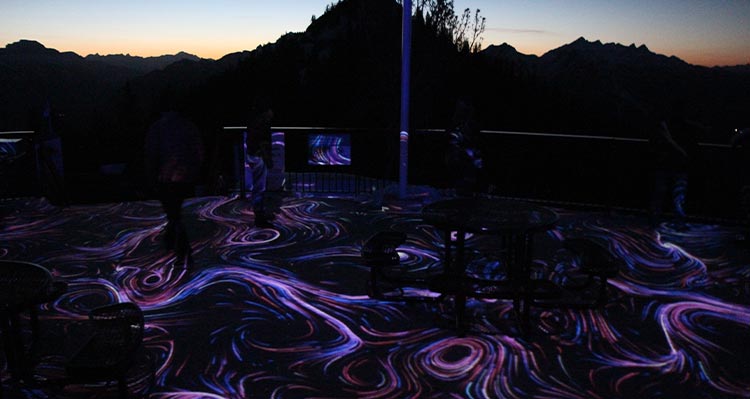 "It was a challenge, but at the same time it was an opportunity for us to bring a new perspective on the land and on the space," says Simon Garant, multimedia director with Moment Factory.
Dynamic lights glow throughout Nightrise's stations, known as the "Four Wonders" — Cosmic Rays, Diamond Dust, Alpenglow and Frosted Waves. At these stations, visitors lounge among twinkling snowflake lights, walk atop interactive projections and explore like never before.
What You'll Hear
From the ascent in the gondola cabin to the exploration at the top, original soundscapes and voices guide visitors at Nightrise, setting the scene and prompting self-reflection during the experience.
On the rooftop observation deck, another auditory experience presents itself. "People come to the top of Sulphur Mountain during the daytime to see the view. And [for Nightrise] we didn't have that. Instead, we asked ourselves, 'Well, what if we could listen to the view?'" explains Garant.
To achieve this, Moment Factory installed "sonic binoculars," allowing guests to hear amplified sounds in the mountain air. "You can listen to the view and hear the landscape in a new way," says Garant.
How You'll Experience It
While the soundscapes and other elements guide visitors through Nightrise, each guest is invited to explore the summit building and find elements that resonate. "There's no right way to experience it," says Garant. "It really depends on what type of person you are, who you are with and what mood you're in that night."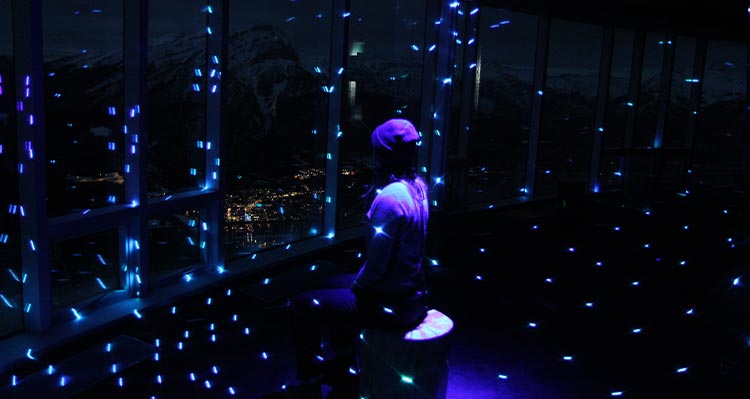 How Partnership Elevates It All
Key in creating Nightrise was the partnership forged with the Stoney Nakoda Nation, the Indigenous peoples who have called the Canadian Rockies home since time immemorial. The partnership saw the Stoney Nation contribute music, spoken word and a storied perspective to the creation process.
Another essential component was the inclusion of Stoney language, which can be found throughout Nightrise. "We've been in this area since time immemorial. This is the traditional land and territory that the Stoney have had their feet on top of," says Cherith Mark, language and culture coordinator for Stoney Education Authority and a collaborator in Nightrise. "And so I think this will introduce visitors and guests to [one of] the Indigenous languages of this land."
Experience Nightrise for yourself this winter, starting December 2, 2022.