It doesn't take a morning person to love an early start in Banff.
The mountain air and panoramic views around the legendary townsite welcome early risers ready for the day's adventures — whether it be a hike or a relaxing stop at the hot springs.
But first, we're here to help you find the best breakfast in Banff.
Farm & Fire
Farm & Fire's brunch menu features the dishes you wake up thinking about — classic breakfast plates, French toast and Canadian eggs benny to name a few. The acclaimed restaurant is nestled inside the Elk + Avenue Hotel right on Banff Ave., making it a prime spot to visit on your way into the town centre or out.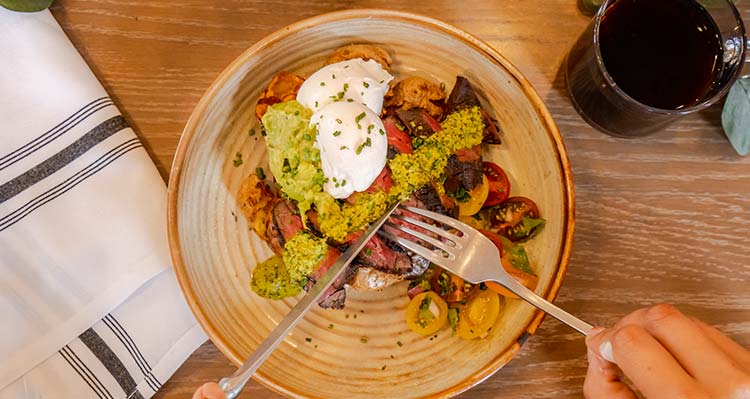 As with the rest of the Farm & Fire menu, fresh, simple and regional ingredients shine during brunch. Pair any morning meal with a warm specialty coffee, tea of choice or a tasty mimosa and set your day off right in Banff.
Brazen
Located in the Mount Royal Hotel in the historic heart of Banff, Brazen brings bold flavours to the breakfast table every morning. If you're looking for something to satisfy your sweet tooth, the Brazen raisin French toast, with miso caramel, candied pecans and cinnamon butter, is a delicious way to start the day. For those who favour a heartier morning meal, opt for croque madame or steak and potatoes (this is Alberta, after all).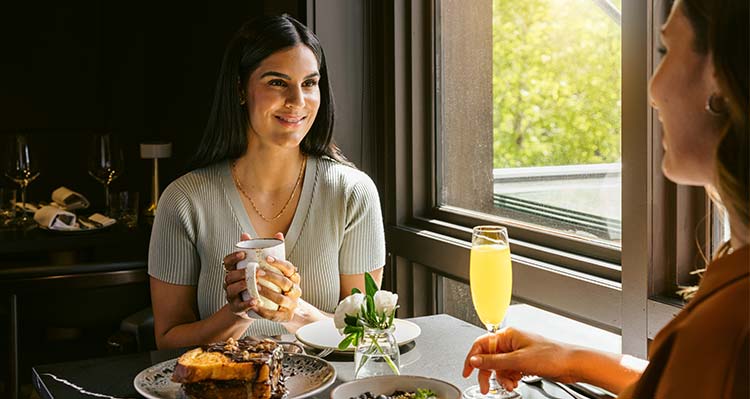 Brazen's morning drink list is equally as bold as the food. Choose a morning classic with a mimosa. Or, for those looking for local flavour, order a round of Brazen's shafts — a beloved coffee cocktail consisting of Amaretto, Frangelico, Peyto espresso and maple cream. While origins are hotly debated between Alberta and British Columbia, the shaft has become a staple in bars throughout Banff regardless. Chug it or sip it — the choice is yours!
Tooloulou's
Since opening in 2012, Tooloulou's has become a Banff dining staple for its delicious take on Cajun and Creole dishes and massive whole-family-pleasing repertoires. Come breakfast time, you'll often find the room buzzing with energy as locals and visitors alike dig into an extensive menu of classics and inventive day-starters. Garlic grits sit side by side on the menu with a classic Canadian breakfast hash, along with stuffed pancakes and peach and pecan Belgian waffles.
A huge draw is the wide selection of unique omelettes, including jambalaya, crab and asparagus, and Tooloulou's take on rancheros huevos — rancheros incredabalos.
The Vermillion Room
The Fairmont Banff Springs is an iconic part of Banff, and the hotel's reputation extends to the breakfast and brunch offerings at The Vermillion Room. The menu at this restaurant offers dishes like banana bread French toast and steak and eggs, along with a selection of tartines, bowls and classic breakfast dishes.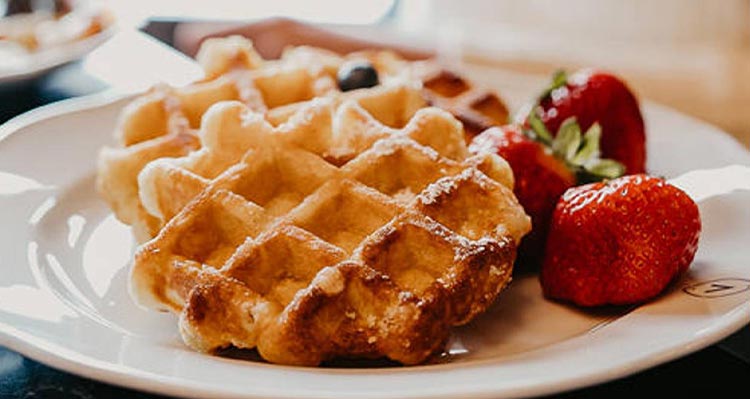 The breakfast menu is offered from Sunday through Friday, with The Vermillion Room also offering a Saturday breakfast and Sunday Brunch buffet over the weekends.
Melissa's Missteak
Melissa's Missteak is a Banff institution that's spanned generations of visitors. Since opening in 1978, the locally owned and operated spot has become known for its high-quality cuts of Alberta beef, though the breakfast menu may be just as beloved. Fuel up with custom omelettes, a smoked salmon benny or a Montreal smoked meat breakfast sandwich. Or, keep it simple with a fresh fruit bowl or banana-berry smoothie.
For beverages of a different kind, order a mimosa flight with OJ, cranberry, pineapple, peach, raspberry or grapefruit juice, or start the day with a brunch Caesar — the "hair of the dog" remedy of choice in Alberta consisting of spicy Clamato spiked with vodka or gin.
Juniper Bistro
Juniper Hotel's in-house bistro serves up brunch daily. The brunch menu features a curated selection of freshly made classics with unique twists, including the Juniper benny — served with bannock, braised rabbit and juniper berry glaze — and a French toast stuffed with stewed apples, brie and apricot coulis.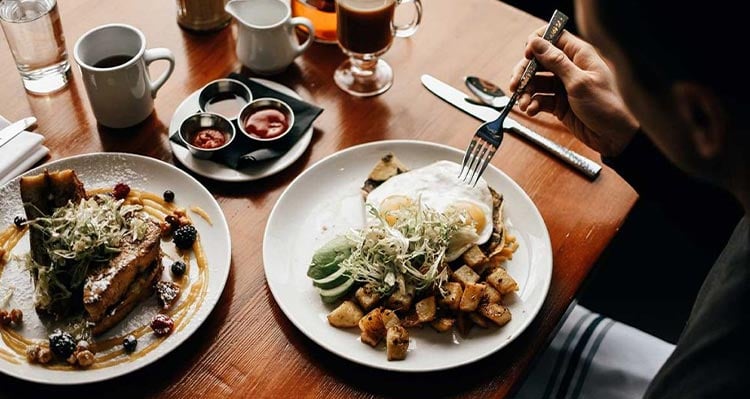 Enjoy your breakfast on Juniper's picturesque patio or get it to go for a morning picnic.
Whitebark Cafe
Some mornings, the best breakfast is a quick fresh bite paired with a perfectly brewed cup of coffee. That's what makes Whitebark Cafe an essential spot in Banff. Stop by the coffee shop for a cup brewed with beans from Moja Coffee in Vancouver, or a locally made tea from the Banff Tea Company.
Grab a freshly made pastry, baked good or another snack to get you going, or dig into a yogurt parfait, complete with house-made granola. Whitebark's selection also includes rotating vegan options to make sure everyone can get the day started on the right foot.
Once the most important meal of the day is sorted, we've got ideas to help inspire the rest of your Rocky Mountain adventures.