In wintertime in Banff, it may seem that all roads lead to a ski resort—that all corners turn to a gear shop, all people don over-sized reflective goggles and lug snowboards instead of tote bags. This is not true! Banff is so much more than skiing. Millions of people visit every year, and there are a million reasons why. This place just oozes winter wonder.
If skiing's not your thing, we have many suggestions for enjoying pristine wilderness, getting outside and being active (or not)—no boards required.
Friday nights in banff: made for skating
Kick off your weekend at one of Banff's truly beautiful outdoor skating rinks. There are many choices!
A locals' favourite, the ice surface tucked behind and below the Fairmont Banff Springs Hotel known as "the Waldhaus Rink" has the bonus of a great run for tobogganing next door. Rent a pair of skates through the Town of Banff or at the hotel, and bring a sled. Then, enjoy the crisp mountain air, a crackling open fire and a warming hut for frosty fingers.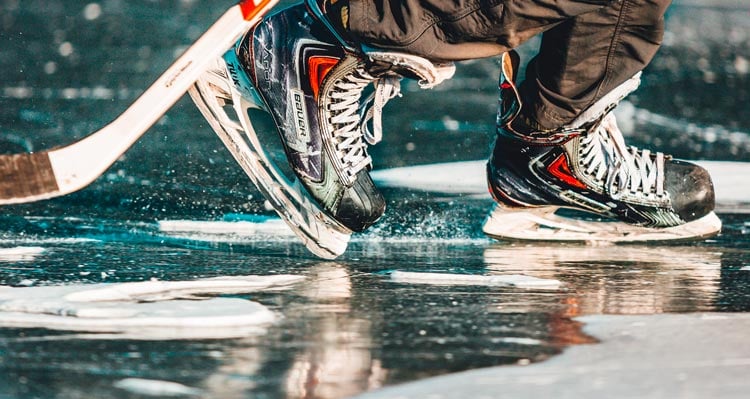 Another must-try for skating is the famous lake behind the Fairmont Chateau Lake Louise. One of the best spots in the country for outdoor skating, Lake Louise is nestled in the glorious Rocky Mountains with the Victoria Glacier in the distance. Pond hockey and axel-jumping heaven!
Two Jack Lake and Lake Minnewanka are also spectacular spots for "natural ice" skating with more seclusion. Check with Parks Canada for ice conditions before you go.
Any of these spots would make a great Friday afternoon or evening skate.
Where to stay in Banff: Your homebase is here
Expect the just-right combination of class and comfort at the Elk + Avenue Hotel. Rest here and make it your home base.
Take advantage of the Above Banff package and enjoy one night of accommodation, breakfast and free admission to the Banff Gondola. This is a great activity for non-skiers and your ticket straight to the mountaintop!
It's going to be an exciting winter at the Banff Gondola as we celebrate all that we love about the chilly season. Stay tuned for more details!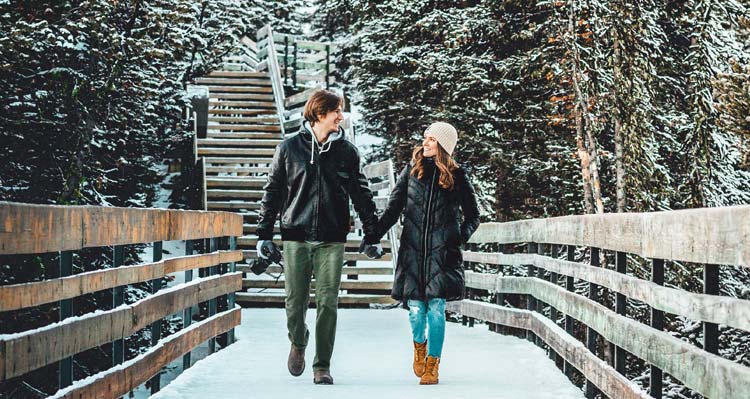 Stay for an early dinner at Sky Bistro, and cap off your day in the mountains with a delicious locally-sourced feast in the evening twilight.
Go on a Friday night through to March and check out the fantastic stargazing program with astronomers onsite.
Saturdays in Banff are for relaxing
Venture out when the day wakes you and stroll Banff Avenue in search of the perfect latte. (We recommend the Good Earth Café or the Whitebark Café, and we're fussy.)
Roam free with your take-out mug into the delightful shops and museums of downtown Banff. The Whyte Museum has a wonderful selection of original art and photography that will transport you through Canadian Rockies' history and into the hearts of its trailblazing mountaineers.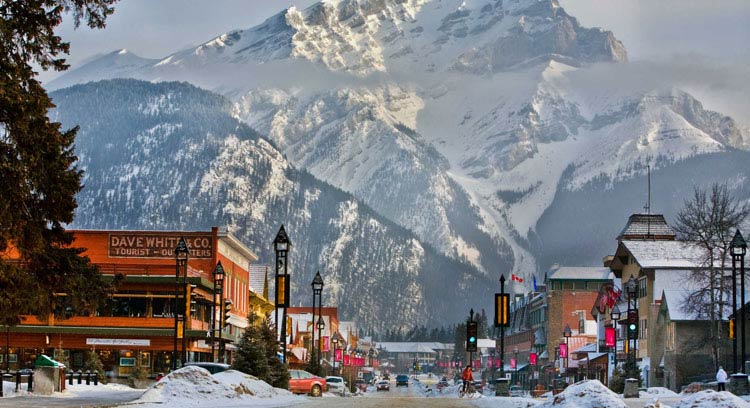 As the afternoon wears on, why not celebrate a relaxed winter day with fondue? Watch the snow fall from your window seat at Ticino, in front of a melting pot of Emmental cheese—or Swiss chocolate, if you prefer. This family-run Swiss-Italian hotspot is right on Banff Avenue. And fuel up. Tomorrow you're going snowshoeing!
Sundays are for snowshoes... and the spa
Among the 6,000 square kilometres of mountain wilderness in Banff National Park, you'll find many great places to snowshoe. This fun activity suits any level of fitness and, like ice skating, is easy on the gear. Rent your shoes through SnowTips and decide on a spot using Parks Canada's Winter Trails guide for Banff or Lake Louise. Be sure to check weather and trail reports ahead of time.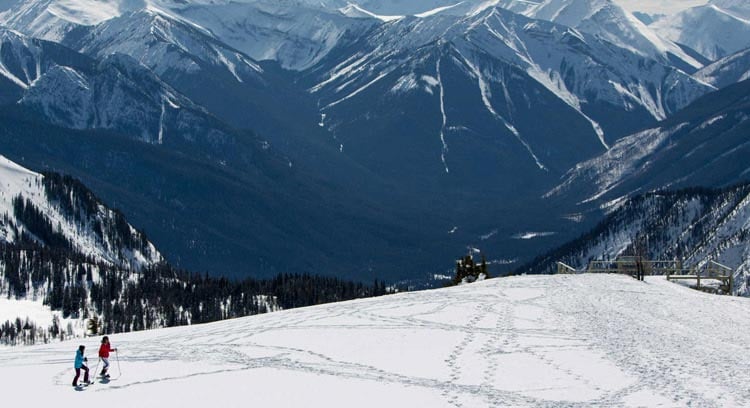 After your snowshoeing adventures, spotting wildlife and stopping for photos along the trail, you've earned a trip to the spa.
Soothe your winter-weary soul at the Willow Stream Spa in the Fairmont Banff Springs Hotel. The mineral pool is fit for royalty—the perfect way to end a no-fuss, high-class weekend. If your budget is a bit tighter, head to the Upper Hot Springs Pool for an outdoor soak before heading home.
Winter is long. Revel in it. With nothing to carry but a warm beverage and a memory of mineral pools and mountain views, you'll enjoy every minute.