Best time of day, best adventures, plus peace and quiet this summer in Banff National Park
It's going to be a busy summer in Banff. With the free Parks Canada passes, Canada's 150th celebrations and so much more going on, we're all anticipating the summer to fly by. Our team of Banff locals knows the secrets to life in the Rockies, and how to make the most of a 'busy' Banff.
Here are some insider's tips from Vicky Rochefort.
Vicky Rochefort is the Explore Rockies Supervisor at the Banff Gondola. She loves to hike! Last summer, she clocked about 500 km on her own two feet. Vicky was drawn from Calgary to Banff to live and work in the mountains because of the amazing lifestyle here—being surrounded by active people and outdoor adventures inspires her. Working at the Banff Gondola, she has a insider's view on the ins and outs of town.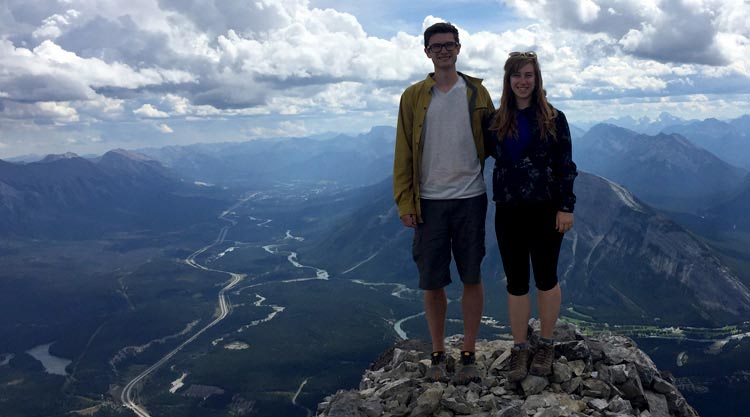 Here are some of her tips to max your days in Banff:
Get up early! Visit as much as you can in the morning. "I love the fresh, crisp mountain air, the hint of the sun coming over the mountains and the stillness of the world," Vicky says. At the Banff Gondola, she recommends being first in line for the 8am ride up and getting a warm coffee at the top. And kids ride free before 10 AM*!
Short hikes are totally worth it! Don't be intimidated by hiking—even a shorter trail can lead to amazing views. Head to the classic Tunnel Mountain hike, right in the Town. "The views never fail to impress for such an easy and quick hike!"
Treat yourself. Nothing beats a cool treat on a summer day. Vicky recommends the frozen yogurt at Skoki's, at 109 Banff Avenue. "They have so many flavours and toppings, and they have a local's discount."
Set up a picnic. Bring your blanket and your picnic basket to Two Jack Lake or the banks of the Bow River. "There's tons of shade and great spots for setting up a hammock!" Vicky likes to pick up some focaccia bread from Wild Flour Bakery, some fresh juice and a couple of the massive cookies from Evelyn's World.
Don't miss the sunset! Stretch the most out of your day by watching it come to a close from the top of Tunnel Mountain or on the shores of the Vermillion Lakes. Or if you prefer to watch the sunset with a pint in hand, Vicky recommends the views from the porch at the Banff Avenue Brewing Co (aka "the Brew Pub") or the rooftop patio at the Rose & Crown.
Leave your car behind. If you plan on hiking, Vicky says you'll definitely need a car to access the best trailheads. Otherwise, the easy, cheap and fast ROAM system will get you anywhere you need to go - the Banff Gondola, the Fairmont Banff Springs Hotel, Lake Minnewanka or even Canmore! Plus, there's a free express shuttle from Banff Avenue to the Banff Gondola. It's a smarter, easier and more green way to get around.
While it's key to plan ahead, Vicky also recommends simply being open to adventure."Get out there and have fun! Make friends with everyone you meet and you never know the kinds of spontaneous adventures that will happen to you!"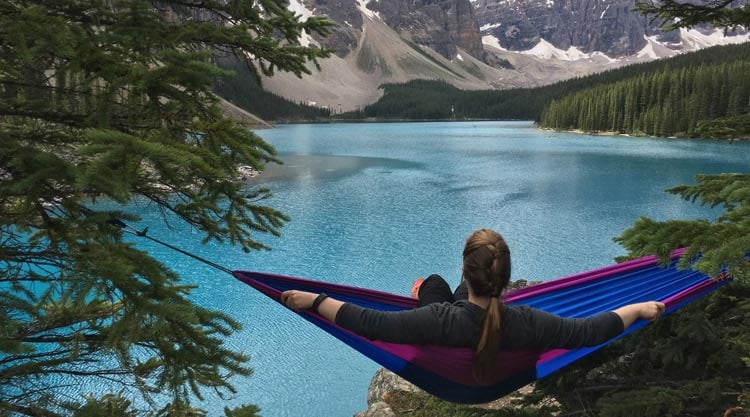 Keep an eye out for Vicky this summer at the Banff Gondola. Or maybe you'll spot her relaxing in her hammock next to some turquoise alpine waters, with a frozen yogurt in hand.
Plan ahead and save up to 15%, plus get the first choice of your tour and attraction times.
Visit us online for more information.
*Kids ride free before 10 AM with one free child admission with each paying adult.