No snowflake is alike, and neither is any layer of the sedimentary rock that forms the Canadian Rockies. For the team at Pursuit, the experience of each and every guest is likewise entirely unique.
Anne Brouillette, Interpretive Programs Coordinator at Pursuit's Banff Jasper Collection, constantly gets to relive the experience of exploring the national parks through the eyes of new staff and guests. Anne joined the Pursuit team in 2011 as a Hiking Guide at the Columbia Icefield. Her connection to the mountains grew and she returned the following summer as an Ice Explorer Driver, then as a Driver Supervisor, and now in her current role.
Anne's passion for learning lead her to further her education in experiential guiding, and she's now certified as a guide and instructor for the Interpretive Guides Association. At 5'2 ("and a half!") feet tall, Anne is used to taking a stand to make her message heard. It's a solid skill that she passes on as part of the interpretive training program she has developed for Pursuit.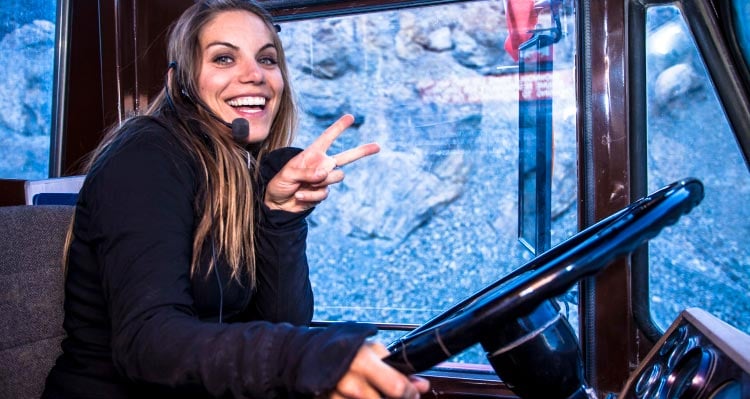 Building an Experience
The Driver Guides, Ice Explorer Drivers and Boat Captains of the Pursuit team come from all around the world to spend a season (and sometimes a lifetime!) in the heart of the Canadian Rockies. They come from diverse backgrounds, and many are new to guiding. So, in addition to comprehensive training on operating boats, buses and more, these staff also take part in interactive training sessions on natural and human history, geology of the peaks and glaciers of the Rockies, public speaking and storytelling.
"When we're searching for our guides, we hire for personality," says Anne. This is part of what makes interpretive training so essential—for the experience of guests and staff alike. "Arriving for the first time in this incredible environment…it can be as overwhelming as it is inspiring," says Anne. "The more you know about these places, the more you can really connect with them."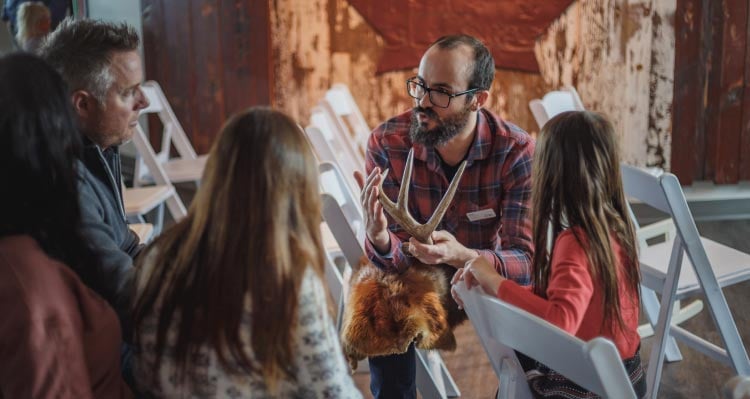 Building Connections
Any traveller knows that the people you meet on a journey can make the trip. The Pursuit guides in Banff and Jasper team take pride in being partners in their guests' adventures. And it shows—a recent guest comment reads: "Our comfortable trip between Banff and Jasper was blessed by fantastic weather, a plethora of wildlife and good-humoured commentary about the natural history, history and geology of the Banff and Jasper national parks. Well-executed stops maximised photo-opportunities and good stewardship resulted in timely arrival at our destinations. We all experienced a thoroughly enjoyable day, but one that was made so much better by our very competent, and friendly, guides."
Whenever she gets the chance, Anne takes the opportunity to connect directly with guests on tours. She recently met a lone traveler on the Maligne Lake Cruise who told Anne about how this was her third and finally successful attempt at visiting Jasper National Park. Her two prior trips, planned with her husband, had been cancelled as he faced an ongoing battle with cancer. After losing her husband this past winter and her parents-in-law soon after, this guest had bravely decided to make the solo pilgrimage to the Rockies.
Anne watched her new friend become more and more engaged with the Captain as she told the story of Mary Schäffer. The story of this pioneer of the Rockies, who discovered Maligne Lake a century ago while honoring the legacy of her late husband and parents, remarkably mirrored her own. "I was moved, and honestly just thankful, that the Captain was able to build such a powerful connection for this guest," says Anne.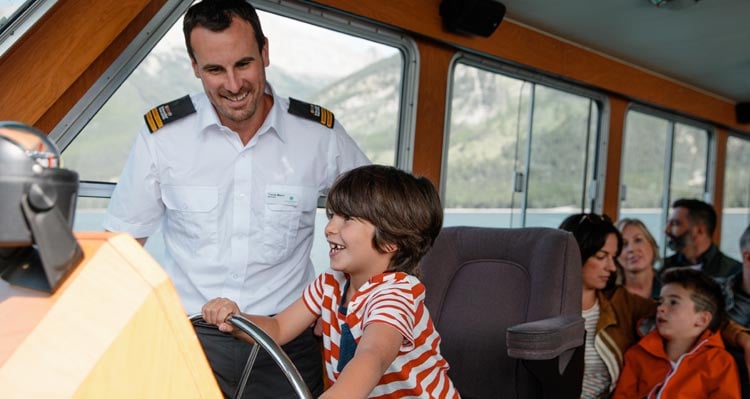 Building a Future
Anne has developed the guide training program in line with Pursuit's mission—to connect guests and staff to iconic places through unforgettable, inspiring experiences.
"It's who we are," she says. "This program helps us, our staff and our guests, to create emotional bonds with these places of natural wonder. It's our chance to open peoples' hearts and minds to this place in ways they'll never forget."