Jasper National Park is a pristine paradise offering endless outdoor recreation opportunities. The area's expansive snow-draped terrain is prime for cross-country—or Nordic—skiing in winter.
The low-impact sport is hugely popular with locals and visitors craving fresh air, epic scenery and a full-body cardio workout. Take it easy on a gently groomed loop or kick it up with a steep thigh-burning climb—you'll find an array of cross-country ski trails for every ability in Jasper.
To help plan your Nordic ski adventure in Jasper, learn about when and where to go, important safety tips and gear essentials.
When can you cross-country ski in Jasper National Park?
Parks Canada typically begins grooming cross-country ski trails in mid-December, once there's significant snow coverage and the lakes have frozen over. Trail maintenance continues through March 15, as temperatures and snow conditions allow.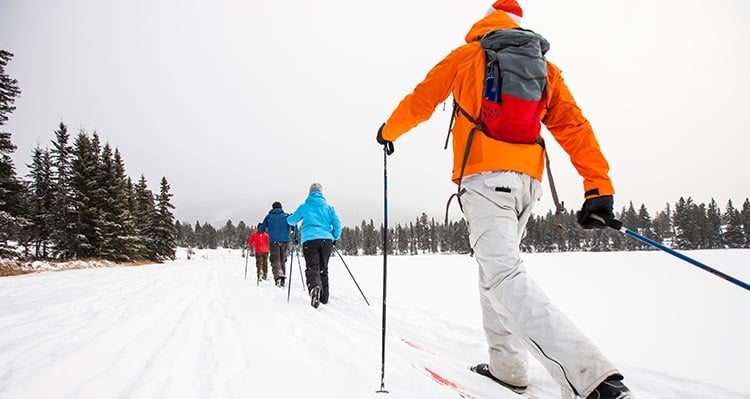 What equipment do you need for cross-country skiing in Jasper?
Light touring skis are the best option if you're new to cross-country skiing. These long, narrow, beginner-friendly skis perform well in groomed tracks for 'classic' skiing (versus 'skate' skiing which is done outside of tracks). Boots, bindings and poles are the other pieces of equipment you'll need. Cross-country ski boots fit more like a sports shoe and are much comfier than inflexible downhill boots. Bring your gear, or rent a set from Jasper Source for Sport. Also, pack fresh water for drinking and light protein-packed snacks for longer ski adventures.
What should I wear for cross-country skiing in Jasper?
Layers are the key to comfort while cross-country skiing. Your base-layer should be moisture-wicking and fitted. Merino wool long-john style pants and a top are perfect for keeping you warm without adding extra bulk. You'll likely work up quite the sweat, so avoid thick, insulated snow-gear and opt for a thin waterproof jacket and pants. Mitts, a toque, warm wool socks and a faceguard for colder weather are also needed. And don't forget sunscreen and sunglasses to protect yourself from snow glare.
How can I stay safe while cross-country skiing in Jasper?
It's essential to check trail conditions and closures online before heading out on a cross-country ski adventure in Jasper. Also, check the weather report, as winter storms can blow through the park at any time, and conditions change quickly and frequently in the Canadian Rockies. Perhaps the most critical safety measure is avalanche awareness. Given the potentially life-threatening nature of avalanches, always review the park's online hazard safety reports in advance. Finally, keep in mind that many areas of Jasper National Park don't have cell service, so if you're skiing on a remote trail, go with a friend and let others know where you'll be—just like you would do when backcountry hiking.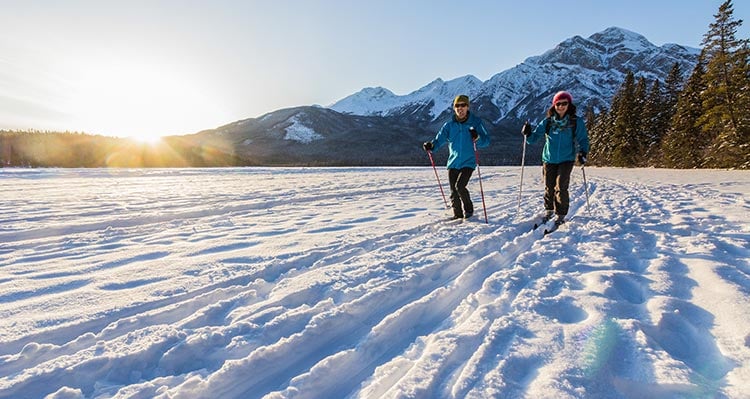 Where are the best trails for cross-country skiing in Jasper?
Jasper boasts a host of cross-country ski trails, and while the length, incline and level of difficulty are variable, the park's jaw-dropping mountain scenery is unwavering. Here are some top Nordic ski trails to consider:
Whirlpool Cross-Country Ski Hub
Head south on the Icefields Parkway (Hwy 93) and turn right after the park gate. Follow Hwy 93A for 6.7 km and look for Whirlpool Campground signs.
Moab Lake Trail
Explore this easy (7 km return) trail to the Red Chairs at Whirlpool River and take in the magical view. Return back, or keep skiing to Moab Lake for a more moderate, extended adventure (15.2 km roundtrip).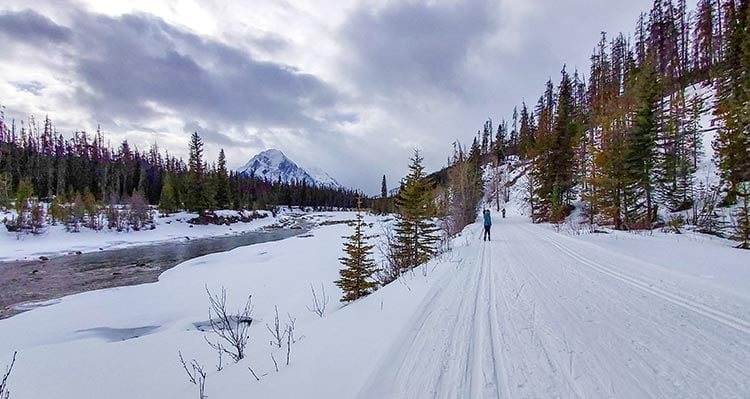 Leach Lake Trail
Take this moderate-level (7 km return) trail to beautiful Leach Lake. Craving more? Continue to Athabasca Falls for a stunning view of the mighty Mount Kerkeslin (15.2 km return).
Athabasca Falls
Head south on Highway 93 for 32.5 km and watch for Athabasca Falls signage on the right.
Leach Lake Trail
Try the Leach Lake Trail from the opposite direction. The shorter (8.2 km return) route offers spectacular views of Mount Hardisty and Mount Kerkeslin, while the extended trail stretches to the Whirlpool Cross Country Ski Hub.
Pyramid Lake
Drive to the top of Pyramid Lake Road, to the last parking lot where the trailhead starts.
Pyramid Fire Road
This moderate-to-difficult trail winds through trees and includes some heart-pumping elevation gain. Stick it out, as the downhill rush is well worth the effort. Decide how far you want to go before heading off. Typically skiers choose one of three turnaround spots: 3.1 km to the slough, 5.5 km to the lookout or 7.5 km to the end.
Pyramid Lake
Another option is to glide along the frozen lake. Look for existing tracks, and then focus on the uninterrupted views of Pyramid Mountain. Begin from the dock out at Pyramid Lake Lodge, and venture out to Pyramid Island for a gentle beginner ski session.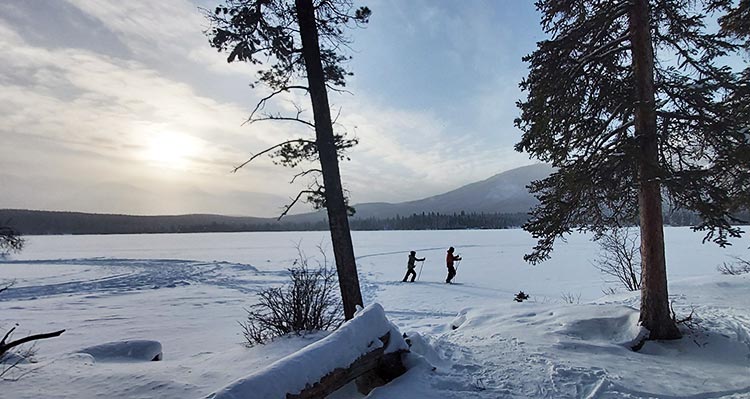 Wabasso Campground
Drive 7 km south on the Icefields Parkway (Hwy 93), then turn right after the park gate and follow Hwy 93A for 9 km to the entrance of Wabasso Campground on the left.
Athabasca River Loops
Enjoy the quiet, crisp winter air alongside the Athabasca River. You'll find six gentle cross-country ski loops winding through a towering forest.
Maligne Lake
Drive east on Highway 16. Look out for a right-hand turn and follow the signs for Maligne Lake Road. Cross the bridge over the Athabasca River and continue 44 km to the Bald Hills parking lot at Maligne Lake.
Moose Lake Loop
This easy 2.7 km forest loop, offering a few gentle descents, is ideal for novice skiers.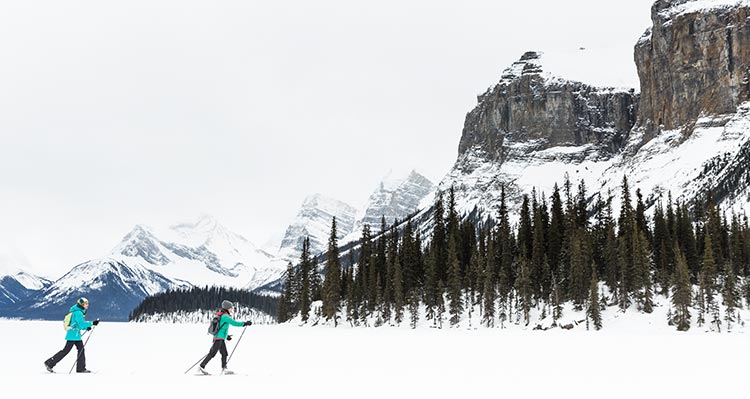 Lorraine Lake Loop
Suitable for advanced skiers, this challenging 7.3 km trail rises and falls through a subalpine lodgepole pine forest.
Maligne Lake
With the right conditions, you can even ski on top of Maligne Lake. Travel as far as 22 km south, keeping in mind that you'll have to ski an equal distance back. Take caution, as area weather conditions can change quickly.
For more information on trail conditions and a location map, visit Parks Canada. Book accommodation to start planning your cross-country ski vacation in Jasper National Park. And hit the trails this winter!