A picnic is more than a meal. It's an adventure for outdoor lovers that's entirely about pleasure. Take a rest from the city and enjoy the ultimate budget friendly activity—a picnic in the Rocky Mountains!
This classic Canadian experience is perfect if you're spending a week in the Rockies, planning a day trip or simply passing through the area. We've put together some top tips for those who want a leisurely picnic experience, but don't necessarily want to hike too far.
Tips & Tricks
Food & Snacks. The most important ingredient to a perfect picnic is the food. But if you don't have time to prepare anything, where can you pick up some quality nibbles? If you're in the town of Banff, drop by the all-new Farm & Fire restaurant for the best take-out in the Rockies. Flatbreads, fresh locally-inspired salads and full chicken dinners with all the trimmings are made for adventure dining
Our next tip is to plan something fun. Bring the canoes down for the day and paddle along the river, or rent a bike and take in a few more sights than you would on foot. The Rockies are full of wide open spaces. If you're with the family, bring along a soccer ball or toys for kids (and adults) to play with.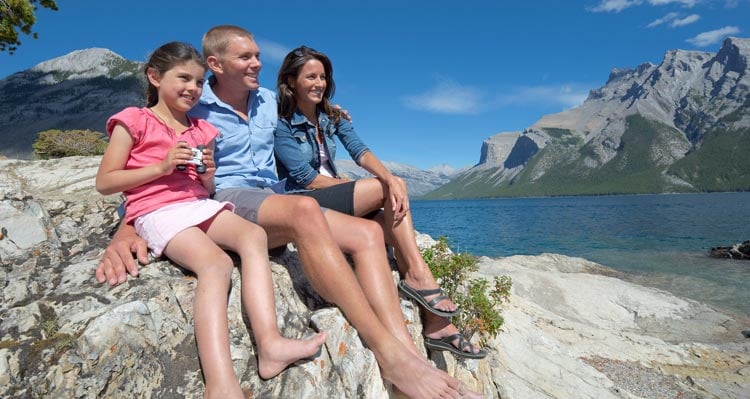 The next trick is to come prepared. If you're planning to be out in the sun all day, make sure you bring sunscreen and sunglasses with you. Remember, mountain weather can change quickly, so always bring a jacket just in case. Don't forget the fundamentals like cameras and mosquito spray if you're near a lake or river in summer!
Our fourth tip is to simply take your time and chill out, enjoy the moment and the breathtaking surroundings. It's not often we get to unwind in such a beautiful place—breathe in the fresh air and enjoy being out in nature.
Our last tip is an important one: keep the picnic site clean. Help protect this precious environment by keeping the area and waters clean, do not litter! Don't leave any rubbish, food or dangerous objects lying around—help us protect the wildlife and scenery that makes this place so special.
Top Spots
Lake Minnewanka comes in at our number one spot for families and visitors, complete with fantastic views of the famous lake and surrounding mountains, picnic benches, barbecues and the chance to catch a glimpse of some of the iconic wildlife like eagles and Big-horned sheep. Make a day out of it! Take in the turquoise waters on a boat cruise, take a scenic walk or grab a delicious ice cream at the Black Anchor to top off your blissful afternoon.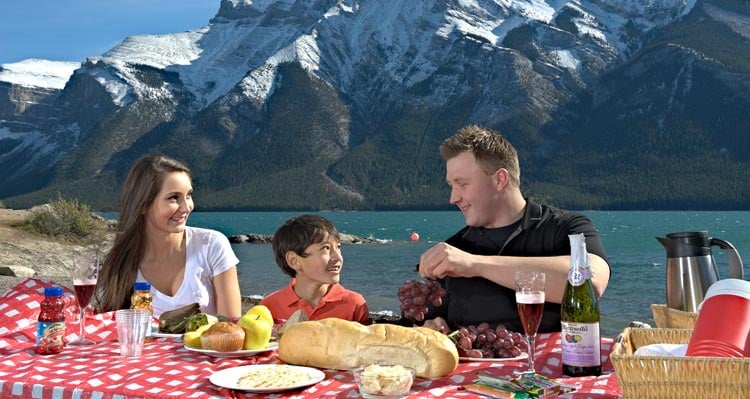 Banff Central Park is our next pick. Located right next to the Bow River, this serene spot has plenty of space to lay your picnic blanket and chill out with family or friends. In summer, this is the top place for barbecues and games—make sure you bring hotdogs and a frisbee with you!
Next on the list is Tunnel Mountain. A short 20-minute hike to the top of Tunnel Mountain rewards you with incredible views of the town and the winding Bow River, with plenty of space on the rocky outcrop or in the shade of the trees for a peaceful picnic.
The Icefields Parkway (Hwy 93) is filled with pristine picnic spots like Lake Louise, Bow Lake and Peyto Lake and well worth the drive between Banff and Jasper. Peyto Lake in particular offers a short 10-minute walk to a viewpoint with sweeping views of the valley and the lake—making it the perfect place to make a quick pit stop and have a bite to eat.