There is nothing quite like the thrill of witnessing a journey come full circle.
At Pursuit, we enjoy front row seats to these moments every day, as our guests travel from around the world to visit our iconic and unforgettable attractions. They experience wonder and amazement, all while checking a cherished item off their bucket list. We also get to witness full circle moments in the most serendipitous places.
Enter: Cooks with Stones
Cooks with Stones (CWS) is a Stoney Nakoda program that Pursuit became a part of three years ago. This 12-week holistic initiative, led entirely by the Stoney Nakoda Nations and funded by the Further Education Society of Alberta (FESA), is designed to empower Indigenous youth, preparing them for immersive work experiences in the tourism and hospitality industry by building their culinary abilities, literacy, essential skills and confidence.
Pursuit is an enthusiastic, supportive and proud employer partner, offering a seven-week rotating internship to CWS participants. During this transformative period, participants immerse themselves in Pursuit's culinary world, working side by side with teams throughout our Banff Jasper Collection. They learn the ins and outs of the food program, kitchen safety and all the ingredients they need to thrive in future careers.
An Opportunity of a Lifetime
Fast forward to June 2023. CWS received an invitation from Canada's high commissioner to the United Kingdom, Ralph Goodale, to showcase the program at the Canada Day celebration in London.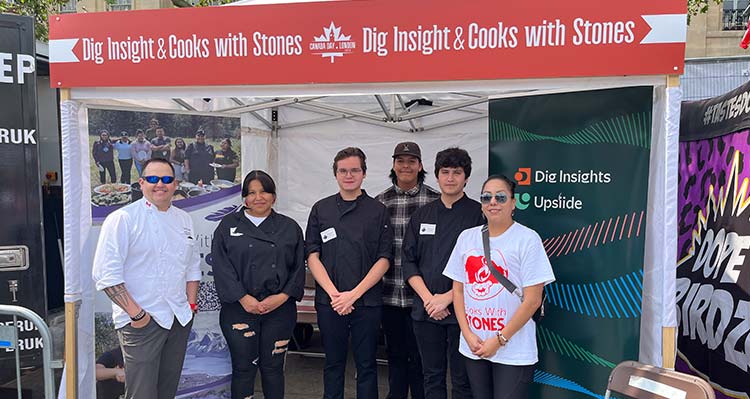 This prestigious honor presented an opportunity for participants to showcase their culinary traditions, ancestral techniques and treasured recipes.
"Participants worked with Dean Herkert, a Métis chef from Winnipeg, and created two dishes that they served specifically to Canada House, which is basically a Canadian embassy in the UK, right across from Trafalgar Square," said Scott Hergott, Pursuit's executive chef for Banff properties, who traveled to London to support participants.
Throughout the day's festivities, around 30,000 visitors passed through the square, offering unprecedented exposure for the participants and the CWS program as a whole.