Jasper National Park boasts bold Canadian Rockies scenery and brims with year-round outdoor adventure. Every season here is unique, with each month providing a wealth of activities. Jasper's beauty also never wanes, and the park's sheer size ensures there's always something new to discover. As such, there's no "best time" to visit Jasper. It merely depends on the experience you're craving.
To inspire your wanderlust, here are some of Jasper's hallmark highlights, month-by-month:
January in Jasper
Bundle up; January is crisp in the Canadian Rockies. However, cool temperatures create a magical winter wonderland. Think snow-draped trees, shimmering frozen waterfalls and a dazzling starlit sky. The new year also marks the town's beloved Jasper in January festival. Visit during this time to save on hotels, activities and restaurants and participate in the celebration.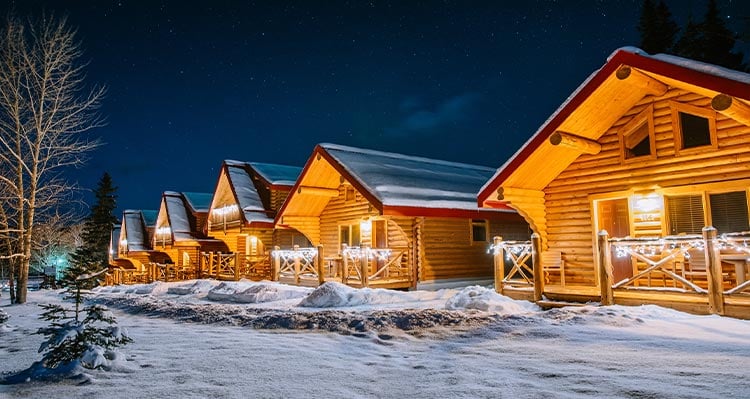 February in Jasper
Jasper in February promises epic powder and a quiet mountain escape. Head to Marmot Basin to ski or board on five mountain faces. Try some tricks in one of the two terrain parks, play in trees, whip down a groomer or glide through an alpine bowl. Marmot's diverse terrain offers runs for every ability, making it perfect for families. Après slope-side or back in town at the Jasper Brewing Company. If you're looking for a picturesque adventure off the slopes, a guided Maligne Canyon Icewalks tour is a must. Not only does the experience include a hike amidst towering frozen falls and ice caves in Jasper's deepest accessible canyon, but it also comes with a delicious smokehouse lunch at Maligne Canyon Wilderness Kitchen.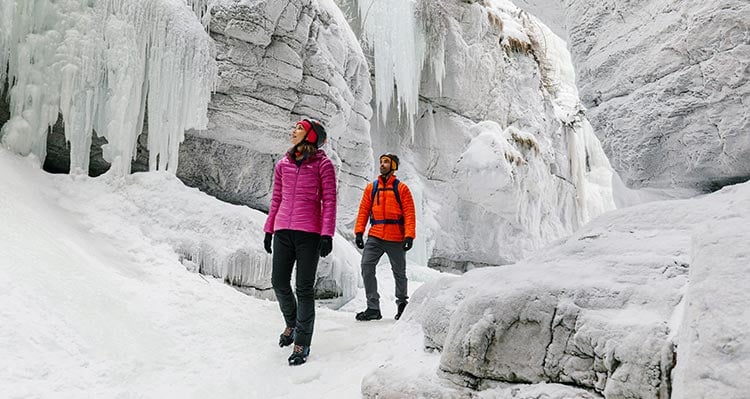 March in Jasper
Skiing, tobogganing, cross-country skiing, al fresco ice skating, snowshoeing and fat-tire biking are some of the activities awaiting your discovery in March. As the weather warms and the days stretch longer, you'll want to spend more time exploring the outdoors. Bring your camera and head off on a self-guided photo tour — Jasper's sunsets are incredible. Tour the downtown culinary scene, stroll the Pyramid Lake shoreline, then indulge in a treatment at Spa Jasper in town. At the end of the month, take a ride up Whistlers Mountain on the Jasper SkyTram — the view from the top is jaw-dropping.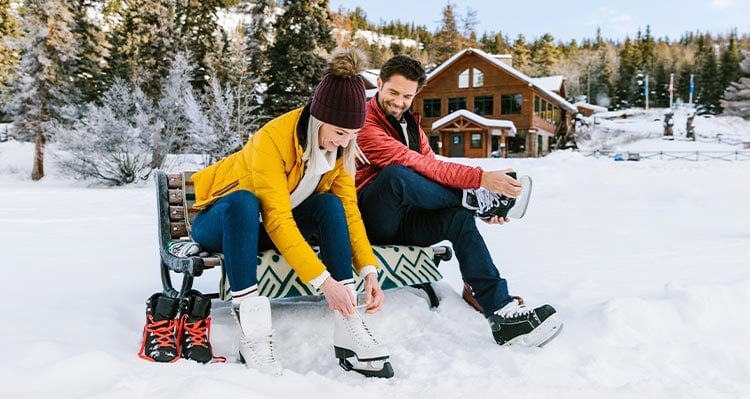 April in Jasper
In April, Jasper welcomes spring into the valley. Warmer temperatures also create an entirely different skiing experience at Marmot Basin. It's a party on the mountain as the season nears its end. Jasper Pride Festival is also held this month, and you'll find events and activities commemorating the festival both on the hill and in town. Weather conditions fluctuate in April — from sunshine to snow to rain — so you'll want to pack for almost every season.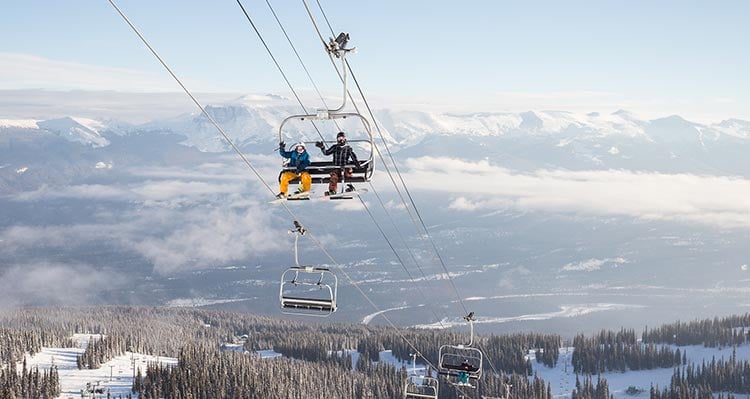 May in Jasper
With the snowmelt comes rushing rivers and waterfalls, as new life bursts in the national park. Trees begin to create a canopy of green, wildflowers bloom and Jasper's hibernating wildlife make their annual appearance. It's also the perfect season to book a tee time at one of the Canada's best golf courses. The Fairmont Jasper Park Lodge Golf Course opens in early May, and the Stanley Thompson-designed course offers an unforgettable golfing experience set against beautiful mountain scenery.
June in Jasper
Like May, June in Jasper presents an assortment of weather. However, all summer tours and attractions are open this month, and spring finally reaches the high alpine. It's an excellent time for wildlife watching, especially in the early morning and dusk hours. Take a drive to Maligne Lake Road for exceptional sighting opportunities and to experience the majesty of Spirit Island on the Maligne Lake Cruise. Explore mountain trails on foot or by bike. There's much to see and do.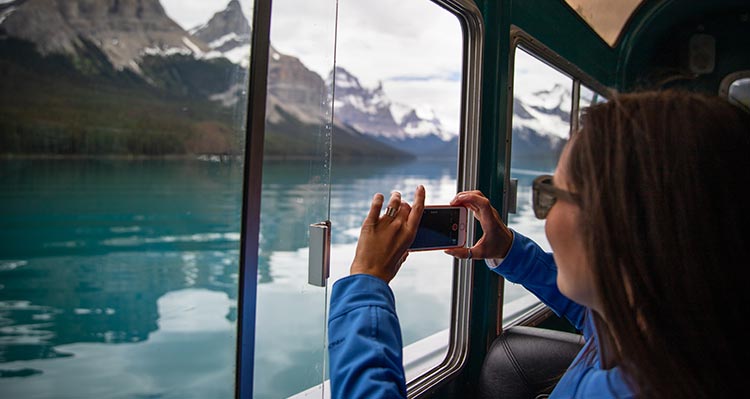 July in Jasper
Celebrate Canada Day in the largest national park in the Canadian Rockies. July marks the official summer season in Jasper, and all outdoor adventures are in full swing. The patios are sun-drenched and bustling, and the town is abuzz with activity. Seek solitude on the mountain trails or embrace the tranquility of Pyramid Lake with an early-morning paddle. The summer days are long in Jasper, so you'll have plenty of time to fill them with your favourite activities.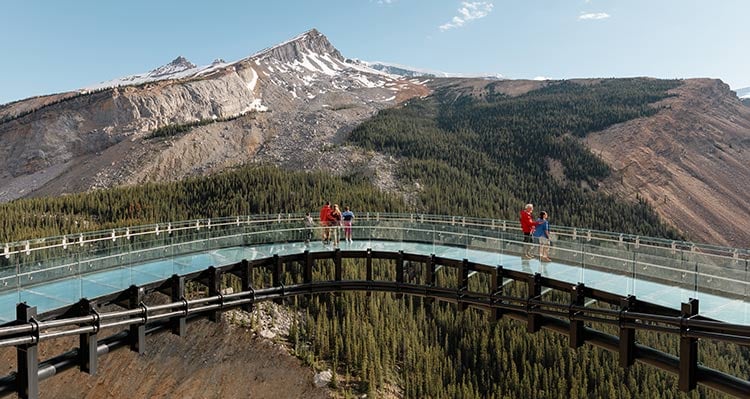 August in Jasper
August is the pinnacle of summer fun in the Canadian Rockies — from golf and horseback riding to whitewater rafting and mountain climbing. Take some time to drive down the Icefields Parkway for stunning scenery, waterfall hikes and a thrilling adventure on the Columbia Icefield Skywalk. Keep watch for wildlife, as the area is a popular haunt for bears, mountain goats, bighorn sheep and more. Dine waterfront at The View at Maligne Lake and look for locally inspired farm-to-table menus at Jasper's top restaurants.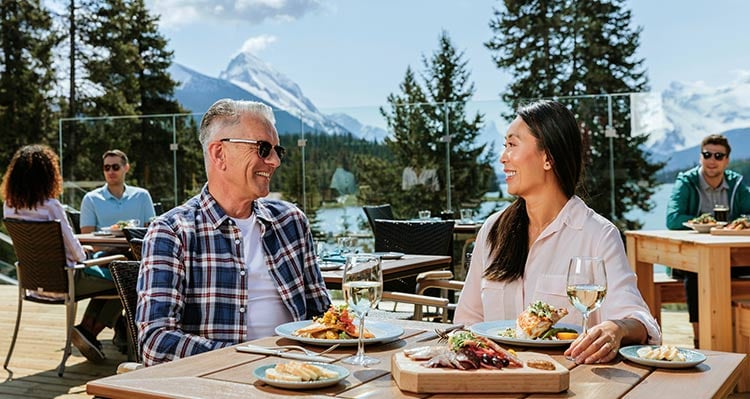 September in Jasper
Consider September the golden month in Jasper. Visit after Labour Day, and you'll enjoy most of summer's offerings with the bonus of smaller crowds. It's also a visually stunning time to tour the national park, so be sure to pack your camera. Wildlife is active, leaves are transforming into vibrant gold and the afternoon sun keeps the patios warm. Check out Maligne Canyon, then dine at the Maligne Canyon Wilderness Kitchen. Take a breath, slow down your pace and enjoy Jasper's natural beauty.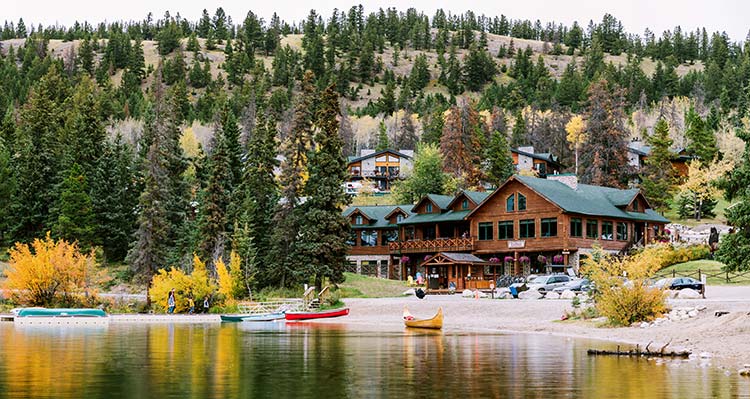 October in Jasper
Jasper wows in October, with Thanksgiving, fall foliage and wildlife galore. It's also the start of the park's rutting season, so listen for the clashing of horns and antlers as male elk, deer and bighorn sheep compete for female attention. Catch one of the season's last Maligne Lake Cruises, then drive out to Miette Hot Springs for an evening soak and stargaze. The annual Jasper Dark Sky Festival, celebrating the world's largest accessible dark sky preserve, is the event of the season. You'll have to reserve well in advance to partake in the many concerts, light shows, starlit dinners and Jasper Planetarium experiences.
November in Jasper
November is a quiet, in-between month in Jasper. The weather varies, and the park feels calm and peaceful. It's a lovely time to wander through town, check out new restaurants and rejuvenate at a spa. Shoulder season prices are wallet-friendly, and the ski season typically kicks off mid-month. If you want to "live like a local," November is your best bet.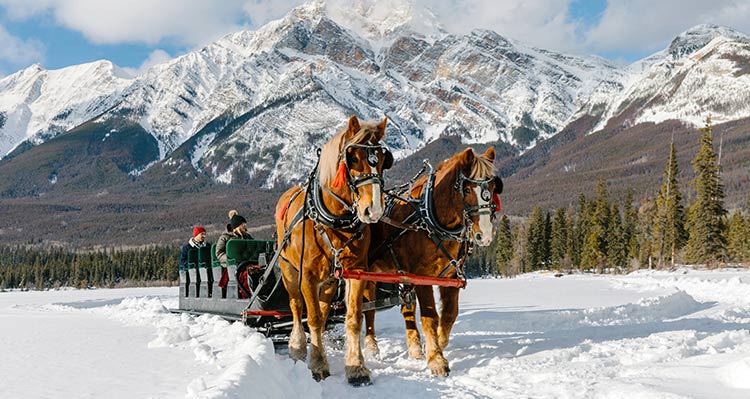 December in Jasper
Wishing for a white Christmas? December in Jasper feels like the inside of a snow globe. Trees are trimmed, fires roar, fairy lights sparkle and all the quintessential winter activities are back. Glide across a frozen lake, roast marshmallows beneath the stars, fly down a toboggan hill, then make a snowman. Head out on a horse-drawn sleigh ride. Come for the holidays, and stay to ring in the New Year. Many local hotels have festive events like cookie decorating and scavenger hunts throughout the month. December may just be the most magical month of all.
Jasper National Park offers something special every month, so save yourself the difficult decision and visit every season. Check out Jasper's hotels and lodges to start planning your next adventure.