Autumn is the season for selfies in Banff National Park. While the Canadian Rockies offer jaw-dropping scenery in every month, September and October grant visitors a particularly impressive gift. Banff's autumn larches are a top natural attraction in the Rockies — drawing visitors from near and far.
Throughout this annual hallmark affair, the region's gilded landscapes promise awe-inspiring backdrops for hikers, photographers and influencers seeking dreamy swoon-worthy shots. Picture sky-high peaks, impossibly blue lakes and mountain trails swathed in gold.
So how exactly does Banff get its golden glow on? Read on to learn all about the larch phenomenon, including where and when to see them.
What are larches?
The Alpine — or Tamarack — Larch is a needle laden tree, perfectly suited for the rocky dry soil prevalent in the Canadian Rockies. During spring and summer, the larch is rather unremarkable, as to the untrained eye, the coniferous tree looks like most pine species growing throughout Banff National Park. However, come autumn, summer's unassuming larch begins its dazzling transformation, from verdant green to a mesmerizing burnished gold.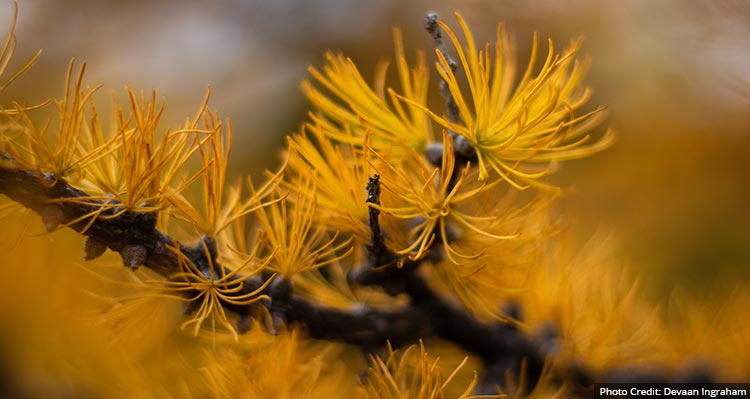 Why do Banff's larches change colour?
Banff's larches are unique because they're deciduous pines, not evergreens. This means that when cooler weather settles in the Canadian Rockies, the larch's needles change from green to gold, just like the region's beautiful aspen, birch and poplar leaves. Soon after, the tree sheds its needles, leaving all of its branches bare over winter. With spring's arrival, new growth begins, and the larch sprouts green once more.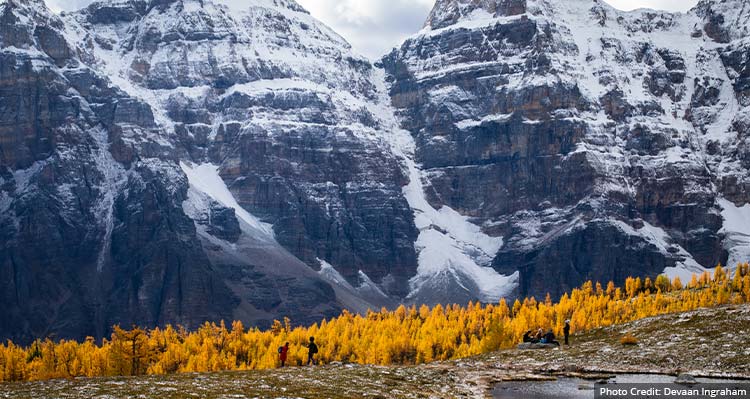 Where can I see larches in Banff National Park?
For the pinnacle of the season's splendour, head to Larch Valley in Lake Louise. A hike here offers twice the magic, as the trailhead begins at breathtaking Moraine Lake. Sparkling turquoise water and a wash of gold make for a flawless pairing. It's about a 4 km trek uphill, and another 2.5 km further to Sentinel Pass, which boasts sweeping views of the valley's golden foliage.
Banff's Sunshine Meadows* is another multi-season spectacle. Celebrated for its vibrant wildflowers in warmer months, this Sunshine Mountain beauty mesmerizes hikers with gold in September. Pack a picnic for an unforgettable al fresco lunch. Post-hike, grab a table on the Farm & Fire patio on Banff Ave to refuel on great grub and craft cocktails made from locally sourced ingredients.
*Note: The village and chairlifts are closed in fall 2021 due to COVID-19; however, mountain trails can be accessed on foot from the Sunshine Village parking lot.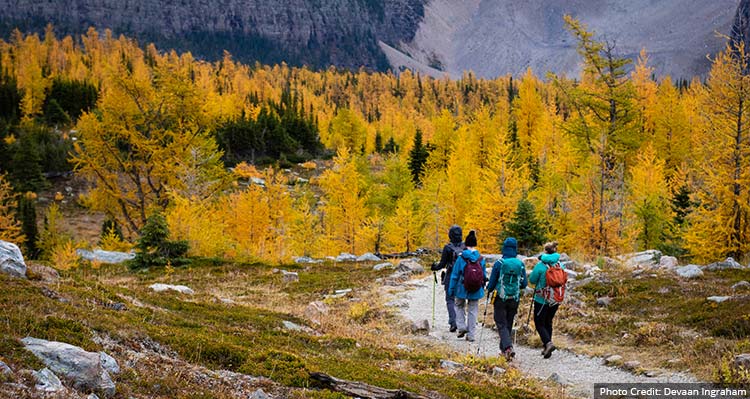 How long does larch season last?
Have your camera ready, Banff's larch season is fleeting. The magical colour conversion begins around the middle of September and lasts only a few weeks. As autumn is a hugely popular time for visiting the Canadian Rockies, it's essential to plan your trip in advance.
If you can make it work, go mid-week, early in the morning for fewer crowds. Hotels like the Elk + Avenue and Mount Royal Hotel also book up quickly, especially on weekends, so secure your accommodation well before your intended visit.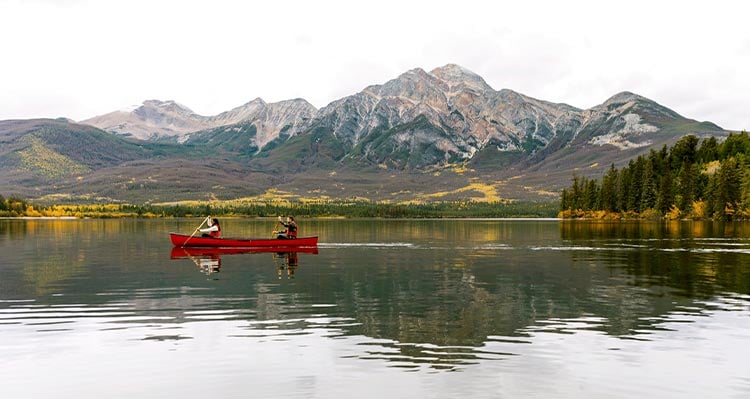 Are there larches in Jasper?
While there are larch trees to be found in Jasper National Park, they're mainly up in the high alpine and much more difficult to see than in Banff. If you're up for the hike, head to the iconic Skyline Trail and soak up the autumn gold at Shovel Pass.