"Banff is the first place I went to after coming to Calgary, it's the first time I left the city, and the first time I stood on a mountain," says Rahel. "It was very fun, all of the students were so excited and happy. Before our teacher gave us information about Banff in class, I had never heard of it before."
Beginning in October of 2016, the program was born from an inspiration for language teachers to connect new Canadians with places they talked about in the classroom. Language Instruction for Newcomers to Canada (LINC) is a program that helps develop English skills in Calgary. Banff and the Canadian Rockies proved to be an engaging lesson topic—even more so when students learned they would visit these places for themselves.
"All of the students came from a different country, and this trip was very helpful for us," said Rahel. "We had never seen a place like this before, even in our own home countries. We saw some animals too, it was all very beautiful. If they decide to take us again we're not going to say no!"
New Canadians Grow Roots in the Rockies
Devon DaDalt, Contracts and Sightseeing Manager at Pursuit, said the program coincided at a time that Calgary saw a large influx of Syrian refugees, although participants with several different backgrounds also took part. The goal of the program was to help new Canadians see more of Alberta, learn about the local culture and build their own relationship with the Rockies.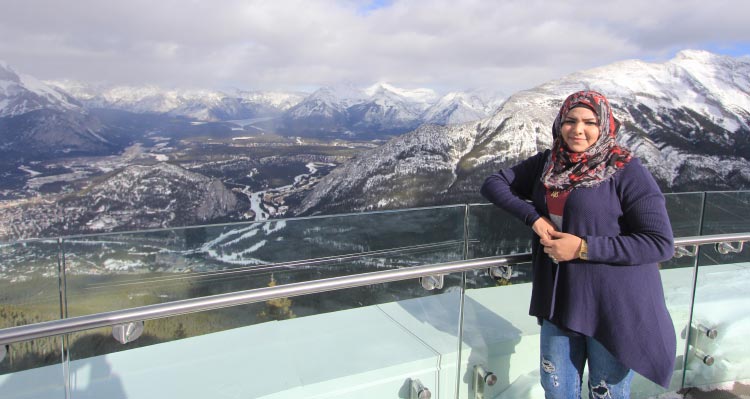 The full day tour included lunch, a gondola ride to the top of Sulphur Mountain and stops at several iconic viewpoints, including Lake Minnewanka and Bow Falls. They enlisted the help of Arabic-speaking tour guide bus drivers, which helped in translating for students and talking about the area's history and local attractions.
"Many times, new Canadians get into one city, and they don't have the means or social network to be able to expand past the first place they originally visit," Devon says. "The difference between Calgary and the Bow Valley is huge. Visiting a new place helps them realize that wherever you go, it's the same safe environment to visit, and you're able to travel freely while experiencing different cities and landscapes."
DaDalt said that first hand experiences—like seeing a mountain peak or touching snow for the first time—helps new Canadians to develop a sense of belonging, and that it may be the first of many future experiences here throughout their lives.
So far, over 1,600 new Canadians have visited Banff on a Brewster Sightseeing tour. They've summited Sulphur Mountain with the Banff Gondola and enjoyed a delicious lunch at the Elk + Avenue Hotel. On a recent trip, the families who joined the excursion ranged in age from 5 to 70 years old. There were families from 19 different countries including Syria, Eritrea, Iraq, Nigeria and Afghanistan. Some of the children had been in Canada for over a year, and some had arrived as recently as a month or two before.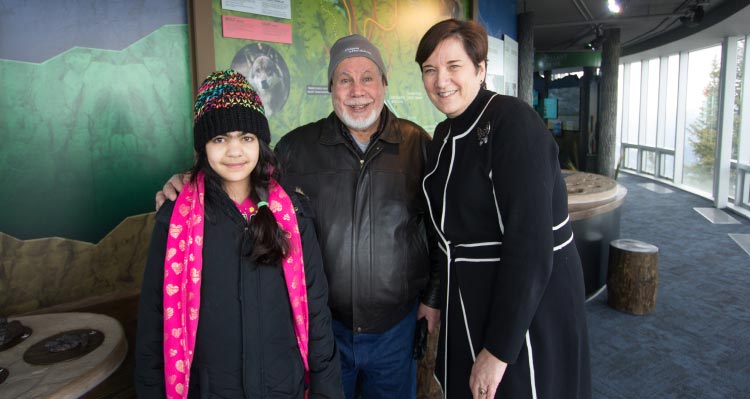 A recent survey of trip participants found that the program is accomplishing just that. Eighty percent of the survey participants said that they wouldn't otherwise have been able to experience Banff and the Rockies. Ninety-six percent felt that they learned about the culture and history of Canada during the trip, and the same number felt more comfortable as newcomers in Canada after the trip.