Inside the kitchen: When the Mount Royal Hotel was the centre of town
Sifting through the archives at Banff's venerable Whyte Museum, it was like stumbling on a hidden treasure—a pile of preserved menus from the Mount Royal Hotel, dated through the 1950s and 1960s. For a history-buff, it was jackpot. Bull's eye.
After all, a menu says much more than what can be eaten on any given day. A menu tells us about the people who were sitting in front of the menu. It's a window into their tastes, their sense of style, the size of their wallet, their geography and their culture.
And after a little more digging into these menus, a story emerged about a time when the Mount Royal Hotel was the heart of Banff and when a special man nicknamed "Sunshine" ran the kitchen.
Yuk Soy Goon, aka "Sunshine", was head cook at the Mount Royal during the 1950s and 1960s. This was an era when the white-pillared outdoor wrap-around porch at the Mount Royal was the place to be in Banff, the heart of the town. Locals and visitors alike would linger to chat, sit on the steps, gossip and watch the world go by. Located at the corner of Banff Avenue and Caribou, the location was grand.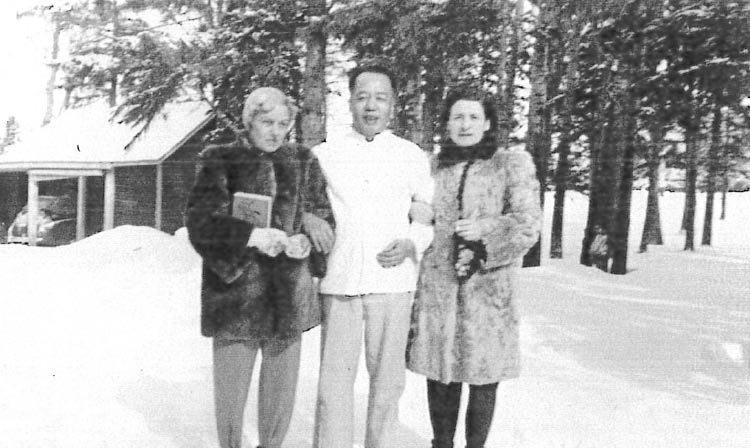 In the early 1960s, Bill Larson's Barbershop was where Banff men had their pomade applied and their shoes shined. It was at the Mount Royal, just up the steps onto the white-pillared porch. Dorothy Cranstone's gift shop, also at the Mount Royal, sold mementos like vintage souvenir plates, felt pennant banner flags and tea spoons. Next door, the Brewster Garage would clean your car and fix your engine.
In the kitchen inside the Mount Royal, Sunshine Goon cooked elaborate and renowned dishes rooted in local products—that was what was available. (And this was decades before locally-sourced became a 'trend'.) He'd emigrated from China as a 15-year-old in 1911, eventually finding his way to work as a camp cook at Assiniboine for Erling Strom, where he spent time with legendary Banff artists Catharine and Peter Whyte and mountain guide Erling Strom.
It was Catharine who gave Yuk Soy the name "Sunshine" after he accompanied her on a trip out of Assiniboine. It was his first time on horseback, the weather was stormy as they headed over Brewster Pass and Yuk Soy was wearing a yellow rain slicker and had a yellow hat tied around his neck.
"He always had a smile on his face," says his son Howie Goon, a Banff resident. "That's how he got the nickname."
Along the way, Goon made acquaintance with Pat Brewster who put him to work inside the Mount Royal kitchen. Howie Goon says his father loved to make pies and a seafood combo, that he was a passionate pastry chef. He worked long hours, serving fine dining to the crème of Banff society and tourists alike. For Banff locals, in the 1950s and 1960s, the Mount Royal Dining Room was the place to go for all special occasions – birthdays, parties, New Year's Eve. There was a large dining room with tables covered in fine white linens. A fire was always roaring in the hearth. Live music was essential for special occasions.
Meals included dishes that are still requested by Banff visitors today—like the classic prime Alberta sirloin steak with oven-browned potatoes and Brussel sprouts. Back then, dinner would start with a glass of V-8 juice and end with banana cream pie.
For New Year's Dinner in 1964, Goon served shrimp cocktail, jellied Waldorf salad, roasted Alberta goose or young turkey. On the side, diners could opt for pineapple rings, baked apples or Yorkshire pudding. For $4, the meal was completed with a dessert of a chocolate éclair or lime sherbet.
Yuk Soy Goon retired from his job as head cook at the Mount Royal Hotel in 1965. He had the foresight to donate old menus to the Whyte, and that has allowed his story to live on.
As Brewster Travel Canada works through the exciting process of rebuilding the Mount Royal Hotel, we look forward to sharing some of the stories of the venerable Banff landmark.
All historic images courtesy of the Whyte Museum Archives.