It's Christmas at the summit of Sulphur Mountain! With Santa and his elves, cookie decorating and all the other jingle bells and whistles, it's practically a slam-dunk for the kids. With so much of the fun included and kids riding free before noon, it's loaded with parent appeal, too.
If you're looking for a new family tradition, here's your plan.
Arrive in style
This year, Santa has a swanky new ride. And you and your family could join the fun with his elves. We're talking about our newest experience, the Elf Express. Get picked up from your downtown Banff hotel in a coach all dolled-up for the Christmas. Enjoy a fun storytelling ride to the Banff Gondola with Santa's personal helper, then soar up to the top of Sulphur Mountain in a gondola to experience all the Mountaintop activities including a picture with Santa. Head back down just in time to catch your ride back to your hotel. Be the first to join Santa and his helpers in this new Christmas adventure.
Where and when to start
Take the Banff Gondola up before noon so the kids ride free. The summit is where the fun stuff is happening. As you go, look for the jolly guy in red… He's brought his Workshop all the way from the North Pole.
While up there, check in to the decorating station to fuel up for the afternoon. Your kids can decorate cookies at Santa's Bakeshop!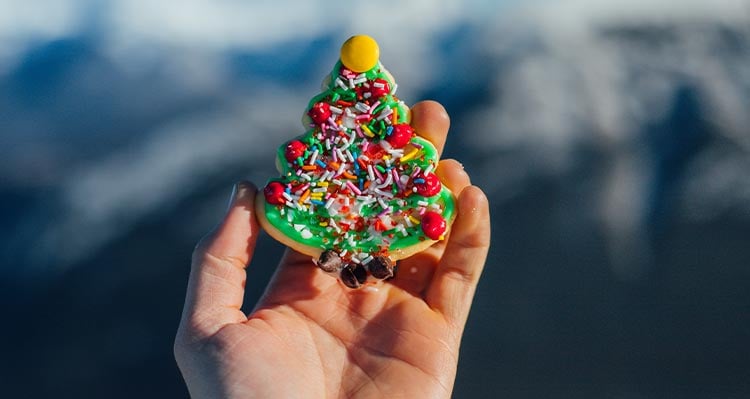 Where to eat
If you're looking to complement your cookies, visit Castle Mountain Coffee Co to find the perfect warm drink. If you feel like something more substantial for lunch, take advantage of the Sky Experience Lunch package when you first arrive at the Gondola—it's great value!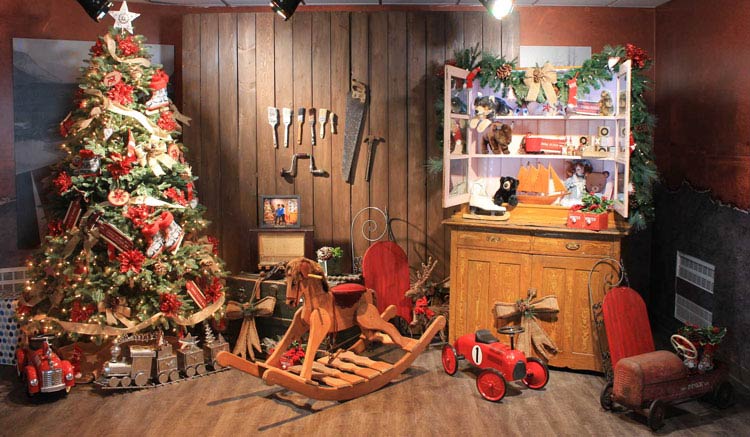 Get the kids creativity soaring
Kids can create something festive to take home this Christmas at our craft and cookie decorating stations. Staff will be there to ensure these activities are done safely.
Christmas movie!
With time wrapping up and the kids losing steam, have a few laughs at the Above Banff Theater. Every day on the hour, we'll be showcasing a 20-minute Christmas movie.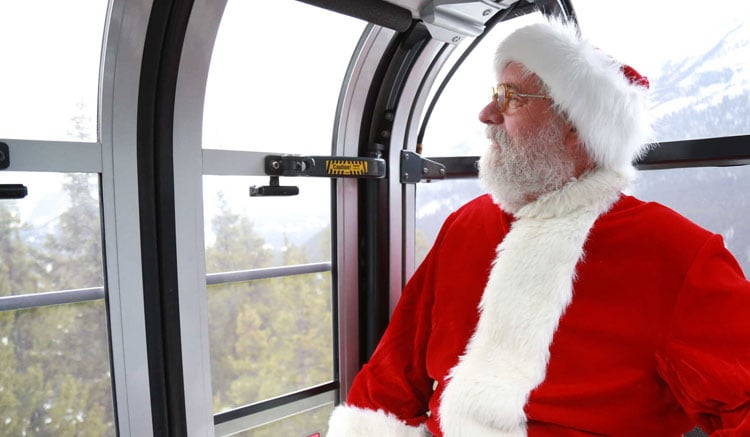 Stay Safe
Like most things to do with the holidays this year, Mountaintop Christmas will look a bit different in 2020. But the spirit of the season—and the fellow in the big red suit - are back at the summit Sulphur Mountain.
For the annual pic with St Nick, this year kids will have their own seat next to Santa allowing proper space between him and the kids. There'll be no physical contact at any moment and the chair will be wiped after every use.
All kids over 2 years of age and without any medical condition will be required to wear a mask, with the option to momentarily remove for the photo.
For cookie decorations, our chef will hand out an allotted amount of decorations of their choice to kids. They'll each have a plate on which to decorate; there'll be no sharing of decorations. Kids can also take the plate to a more spacious area to decorate.
For our seasonal craft, our elves will hand out supplies and then kids can decorate in a spaced out area. Children will have to sanitize their hands in advance and after crafting since some items will be shared. Our elf will keep an eye on everything!
Final planning tips for the family:
Tell the kids some of what to expect, but be sure to keep a few elements a surprise. That'll fill up the anticipation and ensure an unforgettable day.
Check our Mountaintop Christmas event listings before you go, or call 1.866.756.1904 to ensure the activity you want is happening that day.
To avoid crowds, arrive early. Early birds do get the Christmas worm.
Have fun and happy holidays!