For some, the top of the mountain is a place for inspiration. For others, its a place of healing. And for Stoney Nakoda artist and Elder Roland Rollinmud, it's a place to connect with history and culture.
In the fourth floor Citizenship Pavillion at the top of the Banff Gondola, Rollinmud's piece Whitebark Pine, Centennial Tree, takes centre stage. The piece was commissioned by Pursuit to help tell the story of First Nations peoples' relationship to to this place.
Rollinmud, who is known as "White Bear" in his community, was inspired by a trip he took to Sulphur Mountain (which is known as "Spiritual Mountain" to the Stoney) in 1974. There, he walked to the summit with his father and first saw the whitebark pine which now stands on the edge of the fourth-floor terrace.
"It was one of the best moments of my life," he recalls. "It really inspired me."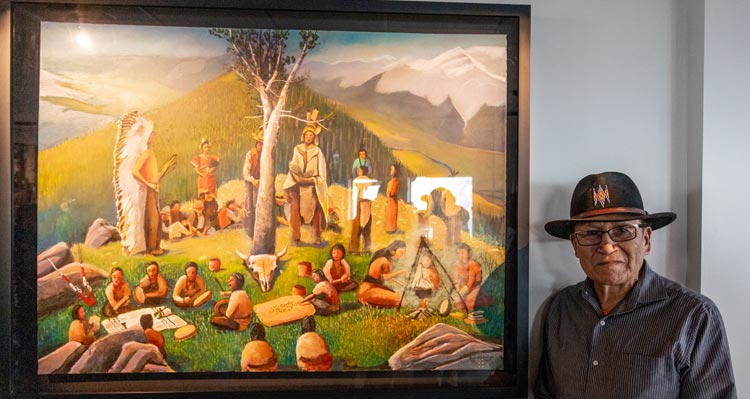 His father told him that their ancestors had long journeyed to this spot. The tree's bark, like so many other elements of nature, provided medicine to the Stoney—it is known to help heal eczema. The painting depicts a group of Stoney Nakoda people gathering in front of the tree.
"My father, and his father's father were here long before anyone else, looking for medicine," he says.
And although the surroundings have changed, this is still an important place for gathering.
Sharing Wisdom
On a sunny day this spring, Rollinmud told the story of the painting to a group of students from the Stoney Nakoda and from a small village in Nunavut who were visiting Banff as part of an exchange program supported by the YMCA of Northern Alberta and the Canadian Student Exchange program. They spent a week exploring Banff and Kananaskis, hiking, tubing, skiing, soaking in hot springs and taking in the view from the Banff Gondola. Most of the students from Arviat, Nunavut, had never been to the mountains before.
"Actually, for some of the kids it was their first time ever seeing trees," says Adam Lindenburger, counselor at the Morley Community School and coordinator of the program. Arviat is located in the sub-Arctic tundra, along the western shore of Hudson Bay.
The exchange program aims to inspire the kids to think big and follow their dreams, Lindenburger says. "It's a cross-cultural exchange to share and learn from each other."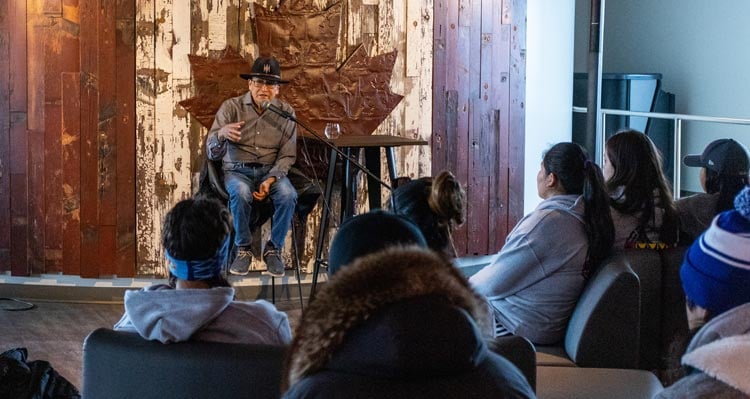 Thinking Big and Pushing Boundaries
Edith Issakiark, 17, says her home community is flat tundra, so the ride up the Gondola made her feel a bit nervous. But for her, this trip was all about pushing boundaries. And while she misses home, she says she's feeling empowered by this experience—be it making new friends or trying something completely new like skiing and tubing.
"I sometimes struggle with communicating, so this is helping with that," she says. "I'm conquering a lot of my fears! It was my goal to meet new friends. It's hard but I'm working on it."
Some of Roland Rollinmud's own grandchildren were part of the group, and the artist took the opportunity to share some of the wisdom he's learned over a celebrated four-decades career as a professional artist. He encouraged the youth to get engaged in their community and their school. To look for inspiration and follow their own curiosities.
"That's my instruction—whatever you want to be, you can do it," he says.
Following his presentation, students from both Morley, where Rollinmud and his family live, and from far-off Nunavut, were keen to learn more and have their photos taken with the celebrated artist.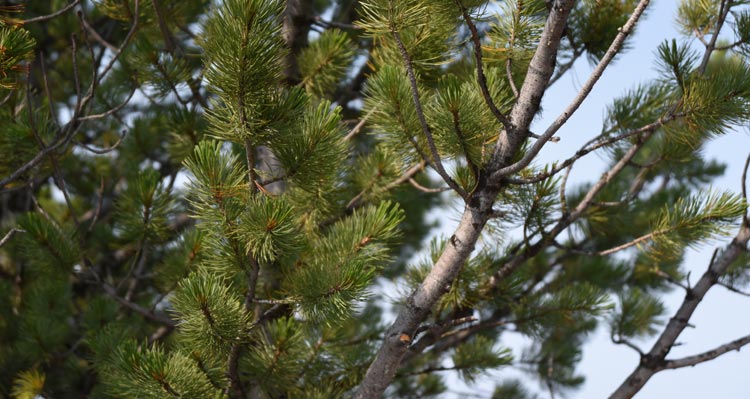 The Endangered Whitebark Pine
According to Parks Canada, whitebark pines play a key role in the alpine landscape to help stabilize steep slopes, influence the amount of snow melt by sustaining snow drifts and providing critical food, cover and shelter for wildlife. However, the whitebark pine is declining in the Canadian Rocky Mountains, threatened by factors including fire suppression, climate change, mountain pine beetle and disease.
Visit the painting yourself in the Citizenship Pavilion and then head out on the terrace to see the whitebark pine tree yourself. You can also see Roland Rollinmud's majestic mural at the Cave and Basin National Historic Site in Banff, another location with deep spiritual and cultural significance to the Stoney Nakoda.