There were two surprises involved in Kenny and Melissa's trip to Banff last September.
First, Melissa Angarano surprised Kenny Ballard, her boyfriend of seven years, with a trip to Banff. They both love the outdoors and they'd seen stunning images of Banff on social media. Melissa thought a trip from their home in Philadelphia, PA to the Canadian Rockies would be a great way to celebrate Kenny's birthday.
After spending a summer day canoeing and hiking at Lake Louise early last September, the couple headed up for dinner at Sky Bistro. That's when Kenny's surprise came—halfway up the 698 metre (2,292 feet) ride to the top of Sulphur Mountain, he offered Melissa a gift. She wasn't expecting any gifts—she guessed it was perhaps a box of chocolates.
"He unzips his backpack and pulls out a ring box, opens it and asks, 'Will you marry me?'," she remembers. "Then, he got down on one in knee in the Gondola! And, of course I said 'YES!'"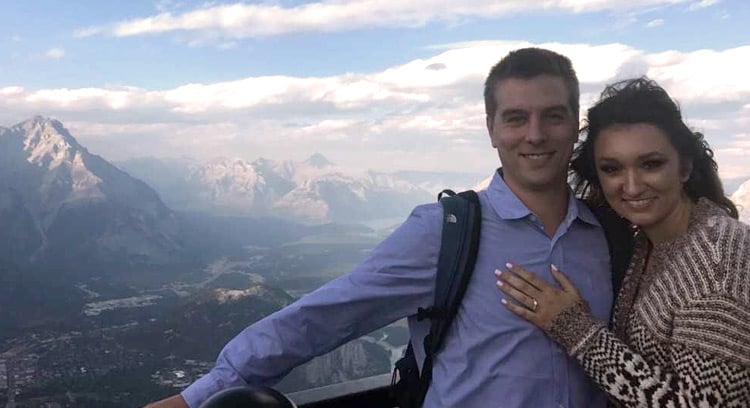 Views to match the ring
Melissa says the ride up the Banff Gondola was just the beginning to that memorable evening. Once they got to the top, there was a spontaneous photo shoot on the observation deck with the mountains in the background—the sparkling rock set against the giant rocks! Then, they had dinner at Sky Bistro and watched the day come to a close.
"It was definitely one of the happiest days of my life," she says. "From the view to dinner at the Sky Bistro, the pictures we were able to capture outside on the deck and the Gondola ride down...I couldn't stop staring at my ring. It was a night I will never forget!"
Kenny and Melissa are planning their wedding for September 1 in Pottstown, Pennsylvania. It'll be held outdoors, of course.
"We're very excited," she says.
Michelle send thanks to everyone who made "Friday, September 1, 2017 such a special evening for us. I can't wait to come back again!"
They're not the only ones to have found the top of the Banff Gondola to be Banff's most romantic location. It's a popular place for proposals of all kinds. It happens regularly. With the amazing views any time of year, it's also the best spot for special occasions and just connecting with the gal or guy you love.
Follow our Banff Gondola Facebook feed to feel the love.