It's a long way from the top of Sulphur Mountain to the North American culinary limelight. With the big win in the books at Banff's Cochon555, Sky Bistro's chef Scott Hergott now is looking towards the finals—the Grand Cochon. They'll be held September 15 in Chicago, IL, and will see Hergott go head-to-head with top chefs from places like Miami, New York City, Los Angeles and Houston.
Created in 2008 in response to the lack of awareness around heritage breed pigs, Cochon555 is a nose-to-tail culinary event dedicated to supporting family farmers and educating buyers about the agricultural importance of eating heritage breed pigs, some of which are on critical watch lists. Nine select chefs go head-to-head in a culinary competition centred around heritage pork and duke it out to be crowned the "King or Queen of Pork."

In April, Chef Hergott beat out four of the finest chefs in Banff to win the only Canadian competition.
Like the event that was held here in Banff in April, chefs at the Grand Cochon are tasked with serving 700 people and a distinguished panel of judges the very best of a nose-to-tail menu built around heritage pork. It includes six unique dishes. They'll be judged by a panel of experts and one chef will be named the ultimate winner.
Living and working in small town in the mountains of Canada puts Hergott in a different league than other competitors from big cities. He sees it as an advantage. Life in Banff definitely helps him appreciate his work and keep a level head in the notoriously rocky world of top-level restaurants, he says.
"Living in Banff, I really believe that people connect emotionally with the food they experience," he says. "I really just love what I do and where I get to do it."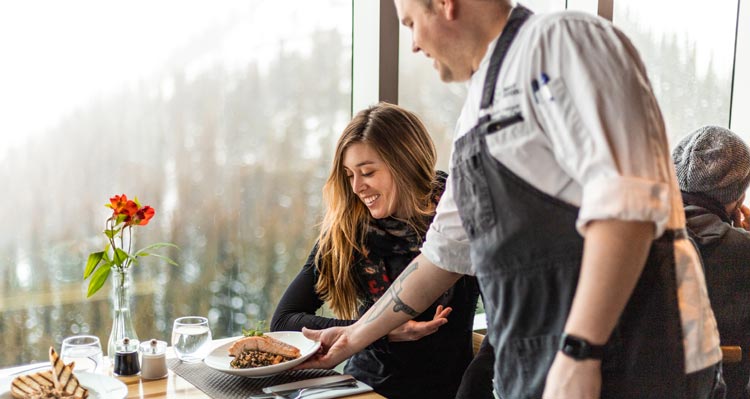 Teamwork for the Win
Hergott gives full credit to the team at his side for the many successes of late. After all, the restaurant business is all about collaboration. At Cochon555 in Banff, he says Sky Bistro Sous Chef Anthony Mason and the culinary team went full-tilt to prepare meals for 700 people. No breaks, no looking up. The win, he says, comes down to hard work and feeling united and supported as a team.
"Everything that happened at Cochon was about team work," he says. Under huge pressure from a large crowd full of serious foodies, Hergott kept his cool, as he's known to do. Thanks to those at his side, he was able to step out from behind the booth to welcome everybody and connect with people. Couple that with 'next to no' expectations and a positive attitude. "And of course, there was an element of luck. Everything literally came together just as we had intended."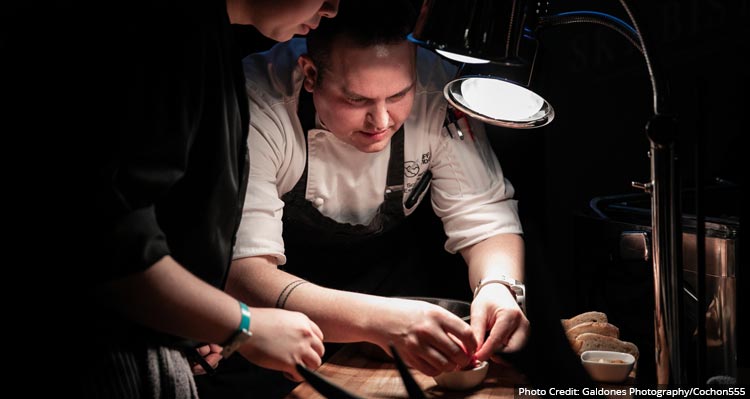 Behind the scenes there's been a large team of supporters encouraging Hergott at every step.
"From the team in the kitchen to everybody in this company, we're all just focused on and dedicated to being the best we can be at what we do," he says. "There's not one person on the team that doesn't support me."
Planning for Chicago Cochon555 Finals
Once the busy summer season has kicked off in the next few weeks, Hergott and his team will begin finalizing plans for Chicago. Once again, they'll be presenting six dishes based around heritage pork to the judges, and serving 700 lucky event ticket holders.
There are a lot of challenges, a lot of unknowns this time. Complications include sorting out if Hergott will be able to continue working with his partners from Bear and the Flower Farms for the key product (a full heritage pig), given the border crossing. Then there's how to get the team there, all the others products there, how to set up their equipment, plates, cutlery and table decor. After logistics comes inspiration—the menu he selects needs to represent his own personal style.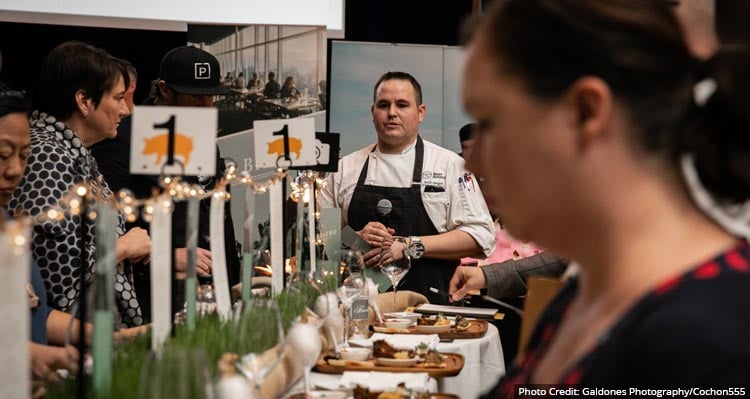 While he won't reveal the menu, Hergott can say it'll highlight Canadian cuisine and he'll be "keeping it simple."
Hergott, who is also on the Banff Volunteer Fire Department, has been working as a chef for 25 years now. He's somewhat notorious for being a hard-worker, regularly going months without taking a day off.
"I'm here because I want to be every single day. We're doing great things, I don't want to miss anything."
Sky Bistro's reputation is definitely soaring right now. Head up to sample some of the team's culinary magic yourself, but be sure to reserve a table ahead of time!
Keep up to date as the big event in September draws near by following Cochon555. And best of luck to Chef Scott and his team!