"People travel here from all over the world—they're rushing through airports, rushing from A to B and we used to do the same thing on the boat cruise," says Travis. "We tried to cover as much distance as quickly as possible. But this mindset actually prevented passengers from truly soaking in the surroundings."
Turn Off the Engine, Tune in to Nature
With a lowered speed and less distance covered, the benefits blossomed. Engines are quieter, allowing guests to hear the tour guide more clearly. After reaching the turnaround point, the boat captain now turns off the engine altogether, allowing guests to appreciate the vistas in a more intimate way. During this time, it's also an opportunity for guests to interact with the guide and captain, to ask questions about their experience or points of interest for a more organic conversation.
"If guests or the tour guide are interested in something they see, there's a chance to go more in-depth on specific topics, as opposed to zipping right past them and being tied to a strict itinerary," Travis says.
Although the boats now make it out 12 to 13 kilometres compared to 20 on previous itineraries, cruise passengers don't seem to mind. In fact, frequent guest requests to slow things down a notch were what first inspired the change.
The 2018 summer has started, with a full schedule of the new itinerary, and visitor feedback remains positive. Travis Mann says he thinks there is a direct correlation from when the cruises slowed down, and when guest experience scores went up.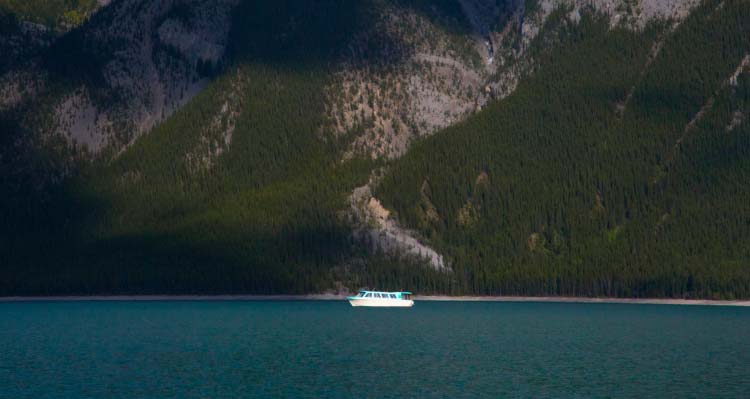 A Step Back Reduces Impact
In addition to increased visitor satisfaction, Lake Minnewanka Cruises also saw another positive outcome—a 60% decrease in diesel consumption. 2016 marked the last year of running full length tours. During this time, a total of 104,000 litres of diesel was used by four boats, running three to five tours per day. In 2017, this amount dropped to 41,000 litres.
The vessel named 'Daughter of the Peaks II'—a testament to one of the cruise boats at Minnewanka Landing in 1912—used 49,000 liters of fuel in 2016 alone. An amount surpassing the entire fuel consumption for four boats in 2017.
All in all, it's a win-win situation. Plus, the 'full length' experience is still available to those wanting to see more of Lake Minnewanka via the evening Wine and Cheese Cruise, which runs at the same reduced speed. But with a longer ride time, more distance is covered.