"Really what it's all about is just taking the Indigenous touchstones of information and sharing it with the youth so they can take over my position," says Chartrand, who leads Banff Hospitality Collective's Indigenous programming.
On a sunny August afternoon during the second half of the program, Chartrand is heading a workshop in Calgary's Confederation Park. Participants are preparing a wide range of dishes — spicy summer salads, Spanish-inspired paella and bison heart, to name a few — over open flames.
"At the end of the day, we're all going to sit together as a family, as new friends, and eat the food that we've created," says Chartrand. "It's pretty important and it's pretty incredible."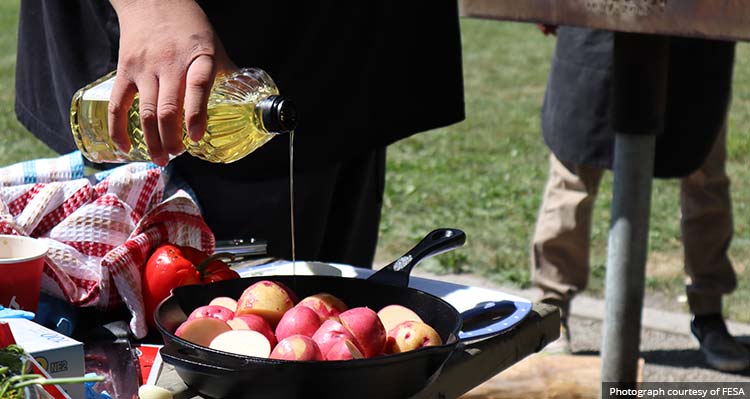 Growth meets tradition
Over its first three years, Cooks with Stones' profound impact has been recognized on an ever-growing scale.
In 2022, FESA was the recipient of the Canada Life Literacy Innovation Award for the Cooks with Stones program. Accolades continued into 2023, as participants received an invitation from Canada's high commissioner to the United Kingdom, Ralph Goodale, to showcase the program at the Canada Day celebration in London.
Cooks with Stones is continuing to evolve and grow year-over-year. An additional section, added in 2023, has seen select participants continue into an interview process. Chef Hergott hopes the program will lead to around three permanent hires per year, allowing young cooks to further explore a career within Pursuit kitchens.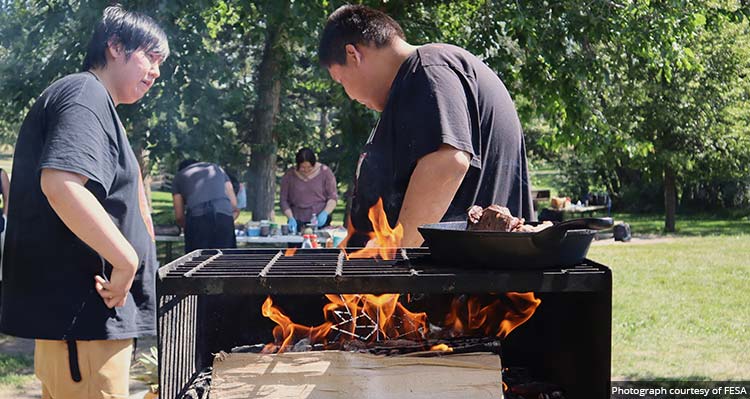 From the program's first introductory classes to dinner services in world-class kitchens and everywhere in-between, Smallboy-Wesley says her goal with Cooks with Stones always includes empowering Indigenous youth to embrace who they are.
More than a century beyond Pursuit forefathers Jim and Bill Brewster's earliest partnerships with Stoney guide William Twin, Smallboy-Wesley says she feels the modern parallel in how Cooks with Stones carries a Canadian Rockies tradition forward.
"It's very fitting for us to continue a historic relationship with Pursuit, to say that we're friends in work and life in the mountains," says Smallboy-Wesley. "Part of how we're continuing that is through Cooks with Stones."