Make this winter magical with a mountain getaway in Banff.
While the national park's world-class 'Big 3' — Banff Sunshine, Mt. Norquay and Lake Louise Ski Resort — are the season's biggest draw, there are plenty of other outdoor adventures to discover beyond skiing and snowboarding.
From winter walks and ice skating to sleigh rides and fat biking, here are some of our favourite chilly weather activities to experience in the winter wonderland that is Banff National Park.
Dog Sledding in Banff
A dog sledding tour is a thrilling, quintessential Canadian Rockies experience. All tours begin with a team meet and greet to learn about the enthusiastic pups who will be pulling the sled. Then it's a heart-pumping fast-paced adventure, navigating through the snowy course. Tours typically range from 30 to 90 minutes in length, with some operators offering up to half-day expeditions.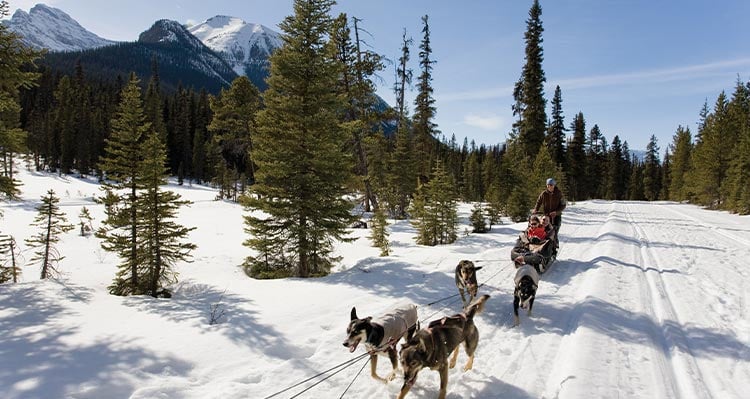 Tubing in Banff
Finding thrills on Banff's best hills isn't exclusive to just skiers and snowboarders. Snow tubing gives you the excitement of a downhill adventure with no prior alpine experience required. Both Norquay and Lake Louise Ski Resort host groomed tube parks through the winter, perfect for the whole family to get in on the high-speed action. Purchase passes in advance to ensure you'll have a spot at the starting line.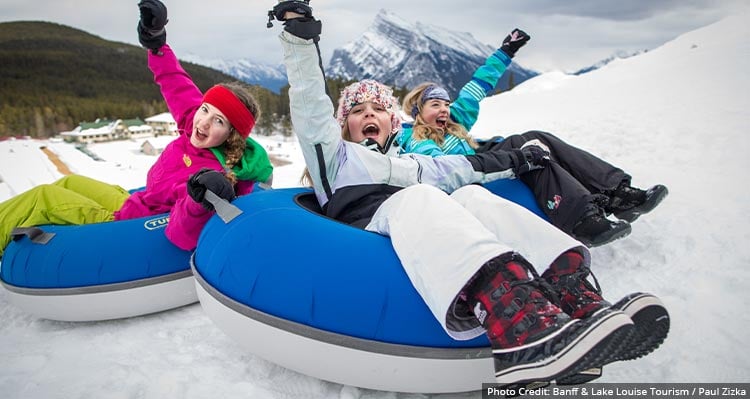 Winter Hiking in Banff
Hiking through sparkling snowy landscapes is a refreshing way to get your heart rate up in winter. And thankfully, many of Banff's top trails are accessible year-round. Beginner routes typically only require a good pair of warm, weatherproof hiking shoes, while some trails call for ice cleats or snowshoes.
Johnston Canyon is one of Parks Canada's most popular and beginner-friendly hiking spots, but ice cleats are recommended. The Sundance Canyon and Tunnel Mountain Summit winter trails are some of the more adrenaline-boosting options near the town of Banff. Or, head to Lake Louise and explore the Moraine Lake Road and Lake Louise Lakeshore trails for beginners.
More advanced hike can navigate switchbacks on Sulphur Mountain during a 5.5 km trek up to the iconic summit. The trail gets steep at points, so you'll want to pack ice cleats if conditions are icy.
Looking to get the view without the burn? Sulphur Mountain is also home to the Banff Gondola, operating year-round to whisk you up the mountain for a sky-high vantage point or a delicious meal with an unmatched view at Sky Bistro.
Remember to explore with caution! Some trails in the Lake Louise area — including Mirror Lake and Taylor Lake — pass through avalanche terrain. When travelling beyond marked trails, or past an avalanche danger sign, assume you are in avalanche country. Travel in avalanche terrain requires specialized knowledge, skills and equipment.
Check the current avalanche forecast at a Parks Canada Visitor Centre or avalanche.ca. Visit parksmountainsafety.ca for more information on backcountry travel and how to stay safe in the mountains.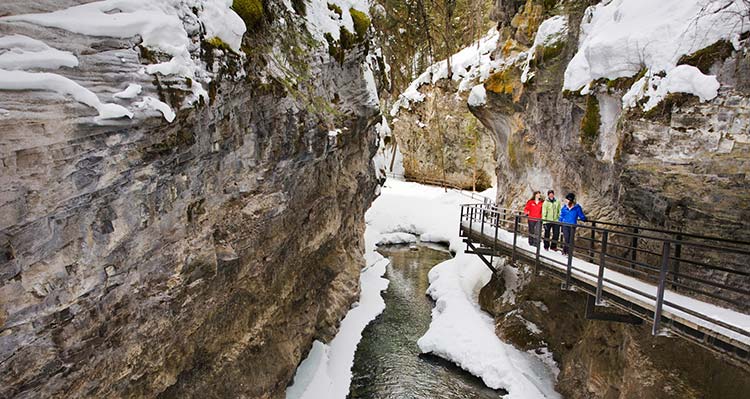 Our Advice: Exploration works up an appetite! Pack a picnic, or grab lunch to-go from Farm & Fire for an al fresco feast to fuel your adventure.
Sleigh Rides in Banff
Guided horse-drawn sleigh rides are a time-honoured tradition in Banff. The classic adventure is a perfect way to enjoy Canadian Rockies scenery while learning about park history, geology and wildlife.
Choose a group tour or make it an intimate occasion and book a one-horse-sleigh for two. Afternoon rides highlight Banff and Lake Louise's stunning winter landscapes, while evening trips present exceptional star gazing opportunities.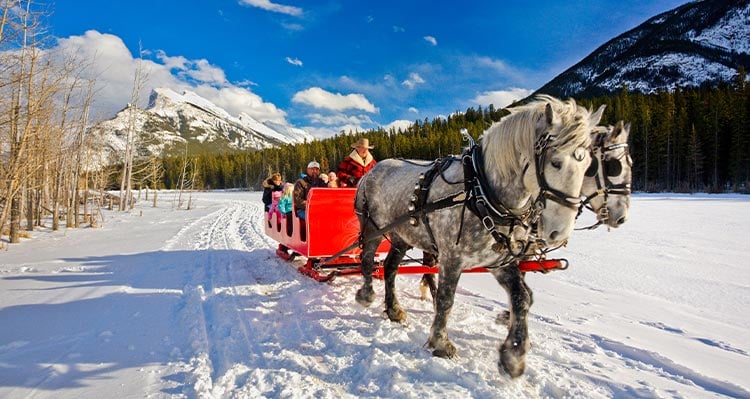 Snowshoeing in Banff
Snowshoeing is one of the easiest winter activities to take up, with adventures available through guided tours or by blazing your own trail in Banff's vast backcountry. As the saying goes, "if you can walk, you can snowshoe."
Many of Banff's winter trails are multi-use, making snowshoeing super accessible for beginners. Johnson Lake, Tunnel Mountain Drive and the Lake Louise Lakeshore and Peyto Lake Viewpoint trails are all entry-level. Banff's Surprise Corner to the Hoodoos and the Highline Trail to Paradise Creek in Lake Louise are more challenging treks.
As with any outdoor winter trail activity, check the Parks Canada website for conditions before setting off.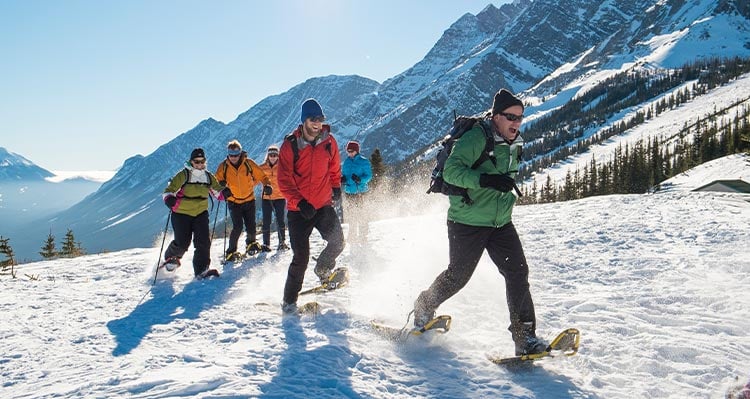 Cross-Country Skiing in Banff
Cross-country skiing is a soul-quenching experience, especially in Banff. The national park boasts one of North America's longest ski seasons and offers several beginner and intermediate track-set trails.
The Tunnel Mountain Winter Trails and Spray River West Trail near downtown are great options for those new to the sport. For something more intense, Brewster Creek to Sundance Lodge is breathtaking — in more ways than one. The Lake Louise Loop, across the Canadian Rockies' natural landmark, is another fun trail to try.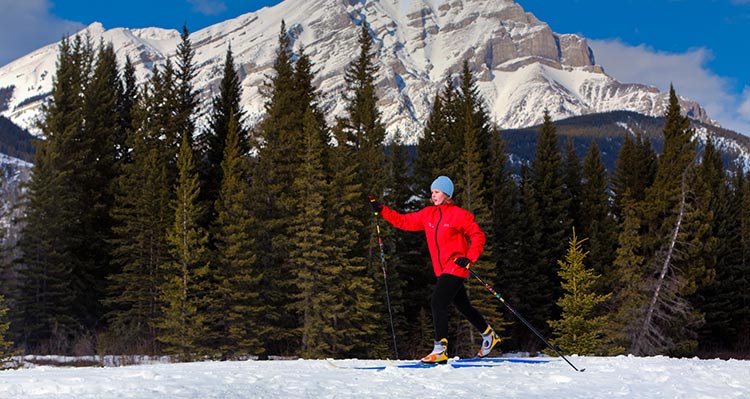 Our Advice: The winter days fly by in Banff. Get the most out of your trip by staying a night or two at the Elk + Avenue or Mount Royal Hotel in town.
Ice Skating in Banff
There's something spectacular about skating outdoors in the Canadian Rockies, and there's no shortage of beautiful frozen lakes in Banff to glide atop. At the east end of town, Johnson Lake is a popular spot, as are Two Jack Lake and Vermilion Lakes. The Lake Minnewanka reservoir is another option, though it usually freezes over later in the season.
Lake Louise is, of course, the most iconic rink in Banff National Park. If you're looking to experience it firsthand, aim to arrive early or around lunchtime to increase your chances of finding parking. Downtown Banff also has three flooded outdoor rinks that are free to use but require registration in advance. Bring your skates or rent them in town, wear a helmet and always check ice conditions ahead of time. Parks Canada is a great resource.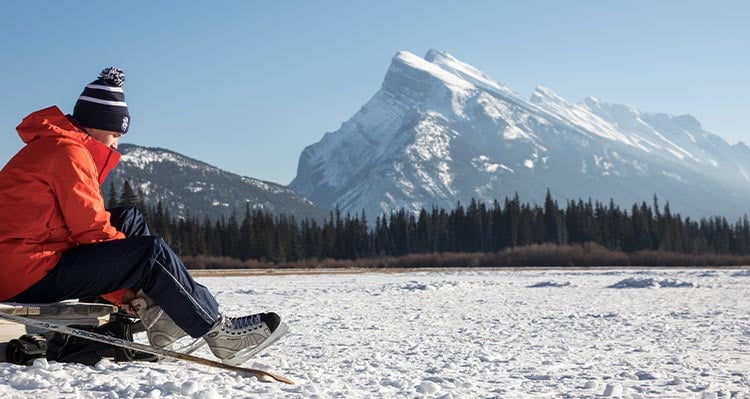 Fat Biking in Banff
Biking has become an all-season sport in Banff National Park. Fat bikes have wide snow-gripping tires that make it easier to cycle on slick surfaces. There are six recommended fat biking trails near downtown Banff.
With minimal elevation gain, the three beginner options are Spray River East, Sundance and the Tunnel Mountain winter trails. Intermediate options include the Banff Avenue Trail, Tunnel Bench Loop and Lake Minnewanka. Moraine Lake Road, just before Lake Louise, is another challenging trail boasting amazing views.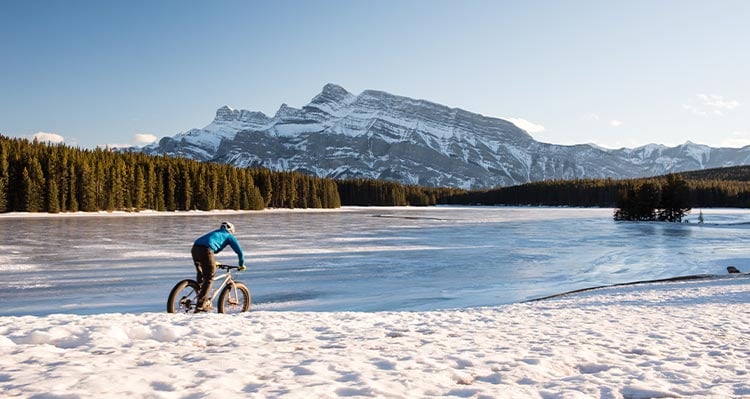 Ready to plan your winter escape to Banff? Contact us to learn more about winter specials for Albertans, and book your accommodation, tours and equipment rentals.