Winter hiking lets you take in the same breathtaking landscape through a whole new lens.
Formerly thundering waterfalls transform into impressive ice pillars. Tree branches don their winter attire in the form of hoar frost or light fluffy flakes. Even the fresh mountain air takes on a different energy, as it glimmers and refracts the sparkle of sunshine.
With a couple of pieces of extra gear and a sense of adventure, summer hiking favourites can also be enjoyed during the winter. As the snow begins to fly, embrace the season with these easy hikes in Banff and Jasper.
Winter Hikes in Banff
Sulphur Mountain Boardwalk
Accessible year-round, this gentle one kilometre trip offers unparalleled views of the Spray and Bow Valleys. From the Sulphur Mountain summit, follow the ridge-top boardwalk towards the Cosmic Ray Station National Historic Site, perched high above the town of Banff. Take some time to read the interpretive signs along the route and learn about the history of Banff National Park.
After exploring the trail, visit the Banff Gondola rooftop observation deck for breathtaking 360-degree panoramas. When you've worked up an inevitable appetite, enjoy a matchless meal at the award-winning Sky Bistro.
Access: Take the Banff Gondola 2,281 metres (7,486 feet) above sea level to Sulphur Mountain's upper terminal, enjoying show-stopping Canadian Rockies scenery throughout the ride.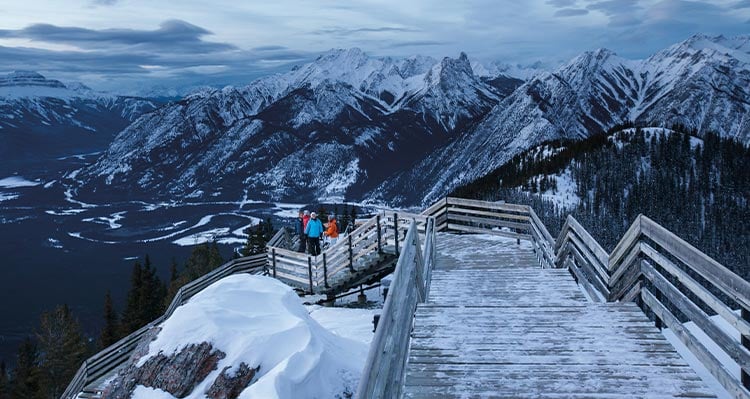 Johnston Canyon
This popular summer trail along the Bow Valley Parkway is much quieter in the winter. However, it is just as impressive as it transforms into a full-blown winter wonderland.
Walking along the canyon's edge and suspended catwalks will bring you right into the canyon depths. Just over one kilometre into the hike, you'll find spectacular sights of the lower falls frozen in time. Continue on to the upper falls for even more otherworldly ice formations and views of ice climbers scaling the falls.
Access: Follow the Bow Valley Parkway west from its eastern interchange with the Trans-Canada Highway 17.5 kilometres (11 miles) to Johnston Canyon.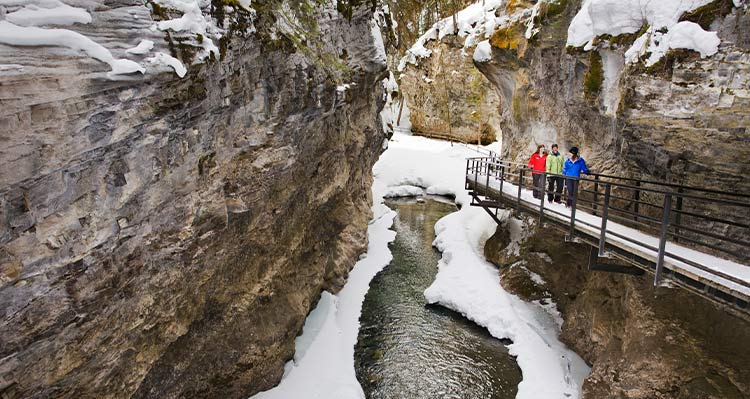 Tunnel Mountain
Tunnel Mountain is a local go-to and is easily accessed right from the Banff townsite. This trail is well-maintained all year and has been recently upgraded with new trailheads and handrails. From the top, you can enjoy views of the Bow Valley below from east to west, including Mt. Rundle's jagged face and the Banff townsite.
Access: The lower trailhead on St. Julien Road, near the Banff Centre.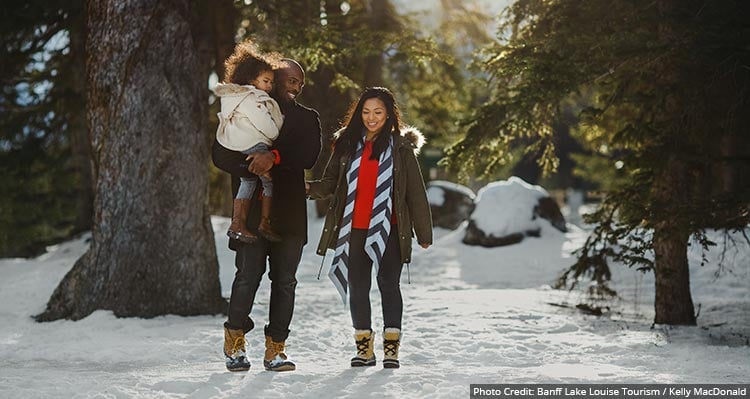 Hoodoos Viewpoint
While the Hoodoos Viewpoint itself doesn't require much of a journey, it's also the beginning of a longer trail along the Bow River. After walking through an expansive meadow, you'll find yourself at the forested base of Tunnel Mountain. From there, you'll head back up at Surprise Corner lookout for stunning views of the Fairmont Banff Spring hotel.
Access: Parking lot at the Surprise Corner Viewpoint, at the top end of Buffalo Street.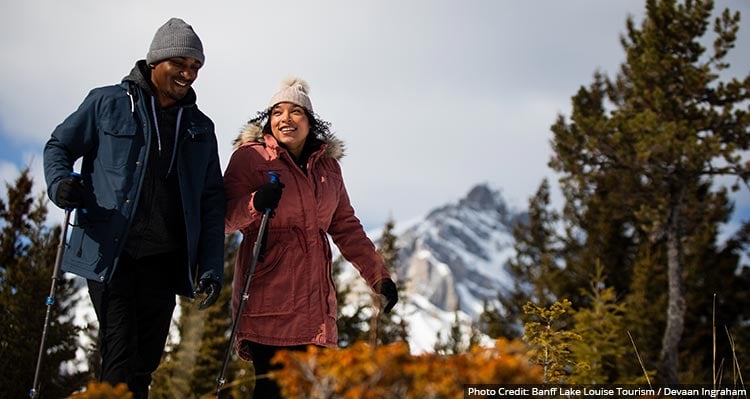 Worked Up an Appetite?
After a late-day walk in the fresh mountain air along the Bow River, stop by the buzzworthy Farm & Fire for Banff's finest takeout. The to-go wood-fired menu is delicious anywhere and pairs perfectly with Banff trails!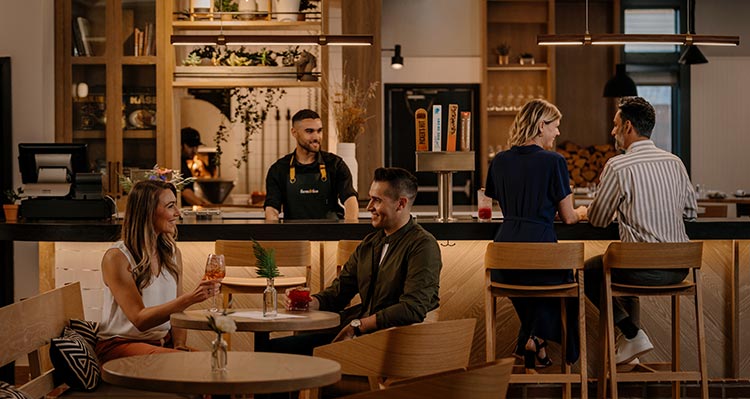 Winter Hikes in Jasper
Maligne Canyon
The deepest canyon in Jasper National Park is no other than Maligne Canyon. Reaching depths of up to 50 metres, this trail features six bridges and is brimming with frozen waterfalls and icy caverns. For a guided experience, join an icewalk tour which includes a smokehouse lunch at the charming Maligne Canyon Wilderness Kitchen.
Access: From the Jasper townsite east end, follow Highway 16 east for three kilometres and take the right turnoff for Maligne Lake Road. Proceed over the iron bridge across the Athabasca River and stay left at the fork in the road. Follow the road to Maligne Canyon (on your left side).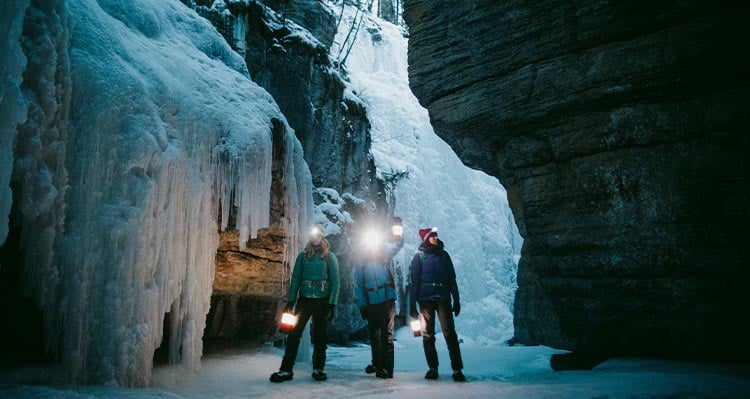 Pyramid Lake and Athabasca Overlook
For a fun family trail with a little bit of everything, look no further than Pyramid Lake and Athabasca Overlook trails. Just a short trip from the Jasper townsite, this trail features beautiful aerial views of Patricia and Pyramid Lakes. Head into Aalto at Pyramid Lake Lodge for a warm beverage and a delicious meal following your hike.
Access: From downtown Jasper, take Pyramid Lake Road to the parking area at the far end of the road, past Pyramid Lake Lodge.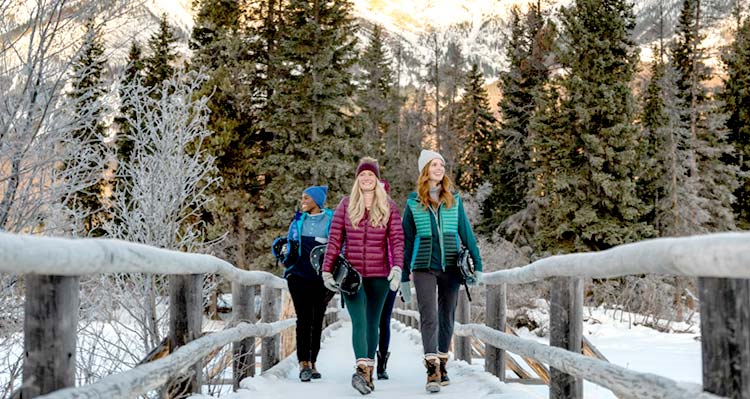 Lake Annette
The Lake Annette loop brings winter hikers along a well-marked trail, encircled in vistas of alpine landscapes. Lake Annette's frozen surface invites a sense of tranquility and calm, and a journey along its frozen shores serves as meditation in motion. Pack along a winter lunch to enjoy on the beach area picnic table at the end of your hike.
Access: Follow Highway 16 east towards Edmonton. Take the Maligne Lake Road across the Athabasca River and make your first right towards Jasper Park Lodge. Take the left turn at one kilometer towards Lake Annette.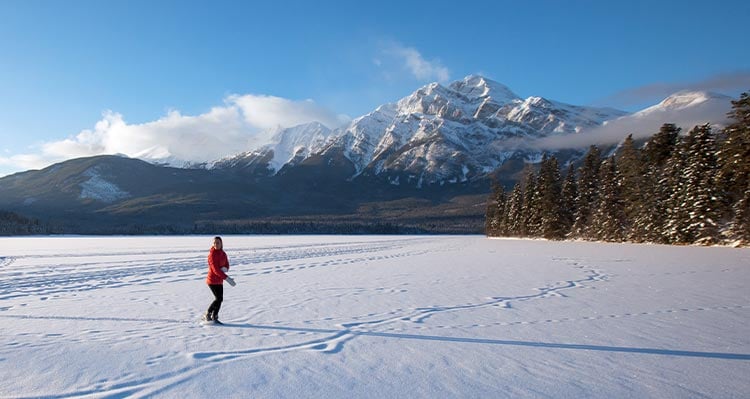 Jasper Discovery Trail
The Jasper Discovery Trail is aptly named, as the scenic stroll explores the best of the townsite. The loop encircling the town of Jasper is broken into three sections — Wapiti Trail, Bighorn Alley and Red Squirrel Trail. By following the bear symbol signs, you'll make your way through natural woodlands and meadows, along the Athabasca River and across historic points of interest such as Old Fort Point.
Access: This trail circles around the Jasper townsite, and can be started from anywhere. Just look for the bear symbol that marks the route.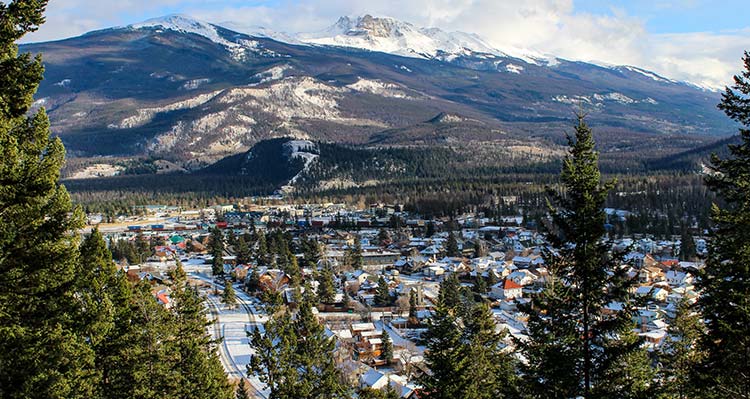 Looking for an early start?
Book a stay at one of Jasper's best lodges, from the chic chalet vibes at Pyramid Lake Lodge to cozy mountain-style living at Marmot Lodge.
What to Bring Winter Hiking
Microspikes: This piece of gear acts as low-key crampons that easily stretch over a regular hiking boot. They easily pack away in your backpack and are simple to slip on for icy areas. Microspikes are a must for hikes with any incline, such as Tunnel Mountain or Maligne Canyon.
Gaiters: Essentially a jacket for your ankles, gaiters fit around your boots and zip up the calf to prevent snow, mud and moisture from creeping into your socks. They also help keep your feet toasty warm.
Hiking Poles: Hiking poles are nice to have for extra stability on icy, snowy or uneven surfaces.
Warm Socks: There's nothing worse than chilly toes on a winter hike. Be sure to wear a pair of warm socks to enjoy your day out and avoid having to cut it short.
Thinking of heading out on other winter trails not mentioned here? Be sure to verify that the trail is not in avalanche terrain ahead of time and check with Parks Canada for updated trail reports in Banff and Jasper.