Unbeatable views, festive activities and a chance to raise a glass to the spectacular place we call home — all from 7,486 feet above sea level.
Locals Day took over the summit of Sulphur Mountain once again on November 28, 2022, allowing Bow Valley locals to ride to the top of the Banff Gondola by donation to the Banff Canmore Community Foundation (BCCF).
The day is more than just a chance to celebrate the Rocky Mountain community; it's an opportunity to give back to it as well, all while highlighting all the good the BCCF has made happen.
"Locals Day is a chance for us to get together and share the good stories of BCCF with our community," says Laurie Edward, executive director of the Banff Canmore Community Foundation. "As BCCF continues to grow and extend our reach to new donors and partners in the valley, this event helps us build trust and awareness. It's something we all look forward to every year, and it's a real community-builder."
This year's Locals Day marked its 12th edition in Pursuit's Banff Jasper Collection. A $5 minimum donation per Bow Valley local covered Banff Gondola admission for 1,275 guests throughout the event. By day's end, $6,370 was raised from community donations and a selection of non-perishable food items were donated to the Banff Food Bank.
On the summit, guests celebrated the holiday season through Mountaintop Christmas, with Santa visits, Christmas crafts and festive treats.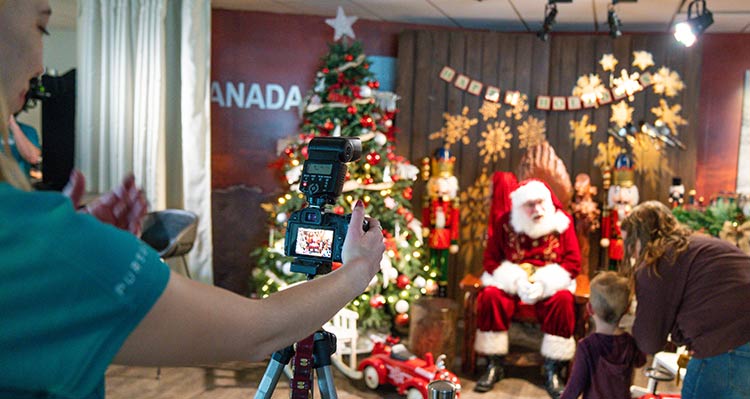 Pursuit and the BCCF have long acted as a team in fostering community in the Bow Valley. This year, however, Pursuit is committing even further to the partnership and to its Promise to Place by establishing the Pursuit Community Fund.
Facilitated by the BCCF, the new dedicated fund will let Pursuit play a larger role in directing donations, allowing for more focused alignment with team values. Pursuit will also be able to share beyond the Bow Valley, with donations finding their way to charities and community organizations in Jasper and Golden, B.C., in addition to Banff and Canmore.
Funds from the most recent Locals Day at the Banff Gondola will be used in part to support holiday charities throughout Alberta, including the Bow Valley Christmas Spirit Campaign, Santas Anonymous Banff Lake Louise and Santas Anonymous Jasper.
The creation of the Pursuit Community Fund represents the most recent evolution in Pursuit's relationship with the BCCF — one that's made a lasting difference in the Bow Valley and will now help foster community mindfulness throughout the Canadian Rockies.
"The Pursuit Community Fund will allow us to elevate our giving to new heights," says Stuart Back, chief operating officer of Pursuit's Banff Jasper Collection. "We're thrilled to further strengthen our partnership with the BCCF, and to make more meaningful contributions in all our communities."