The sky above Lake Minnewanka is clear and blue on a chilly winter Saturday in December. With a cloudless sky, Mount Inglismaldie is visible, towering above the ice-covered lake for visitors to look at its incredible beauty.
But for some, the mountains aren't what's grabbing attention.
"The most exciting thing? The snow," says Fatima, before picking up a handful of dry snow and throwing it into the air, laughing at the way it blows in the sub-zero winds and sprinkles back to the ground.
Fatima is one of more than 40 new Canadians visiting Banff for the first time on this Pursuit-sponsored trip with the Calgary Catholic Immigration Society (CCIS), an organization that helps settle immigrants in southern Alberta. Like most of this year's visitors, Fatima is originally from Afghanistan. Many along for the trip have had to endure a number of hardships before arriving safely in Calgary.
The initiative, which Pursuit has been participating in since 2016, aims to share Banff National Park with new immigrants who may be unable to visit themselves, and make them feel a little more welcome in their new home. It's part of the company's Promise to Place, which includes fostering connections in its communities. This year, the itinerary included a stop at Lake Minnewanka, lunch at the Elk + Avenue Hotel and a visit to the Banff Gondola.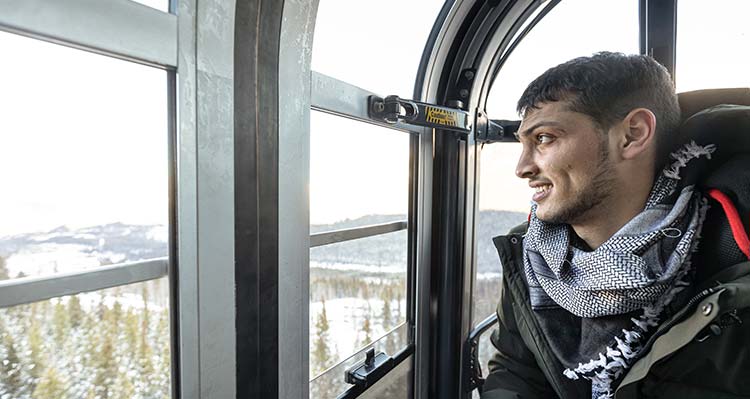 "We're proud to call the Canadian Rockies home," says Stuart Back, chief operating officer for Pursuit's Banff Jasper Collection. "And to be able to share the beauty of Banff with new Canadians as it becomes their home as well is an absolute honour."
The daytrip begins in Calgary, where CCIS clients load onto two Brewster Sightseeing buses. Excitement is palpable, and as the driver shares facts about the city, support workers help translate into Farsi-Dari for all to enjoy.
The buses arrive at Elk + Avenue in Banff to enjoy a lunch of pita, mixed vegetables, falafel and rice, roast chicken, chickpea salad and more. Among the group is Sajida, along with her sister and four nieces and nephews (between eight and 16 years old), who arrived in Canada only nine days before this trip. Most of the of the visitors here have only been here for, at most, a few months.
"I don't know that our clients would be able to access that opportunity otherwise, at least not in the first couple of years of their arrival, just due to the overwhelmingness of resettling in a new country," says Amanda Koyama, director of Strategic Engagement at CCIS. "The fact that it's brought to them and they're able to experience it — that's incredible."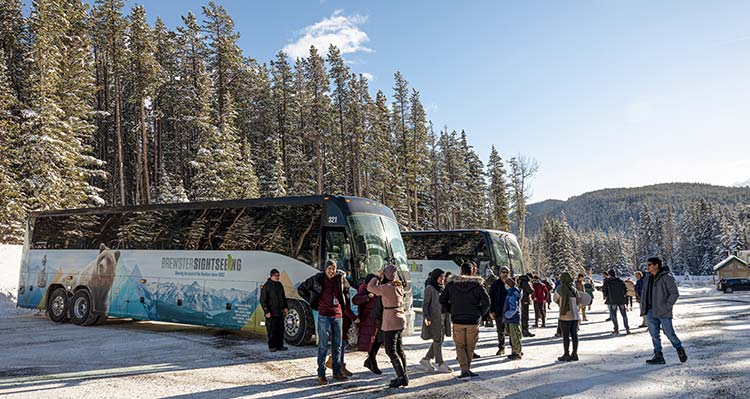 After the snowy fun at Lake Minnewanka, the buses head to the Banff Gondola. It's Mountaintop Christmas time, which means after the short ride to the top, visitors get to enjoy holiday activities on the summit, including a visit with Santa. While the cold Canadian wind is more obvious on the observation deck, it doesn't stop anyone from getting the full view atop Sulphur Mountain.
"Most clients are most excited to see the Banff Gondola," Shahenshah, a CCIS support worker, explains to the bus driver.
It's obvious as they return to their warm seats this is true. After being asked if they had fun, Sajida, her sister and her four nieces and nephews all gleefully respond with a resounding "Yes!"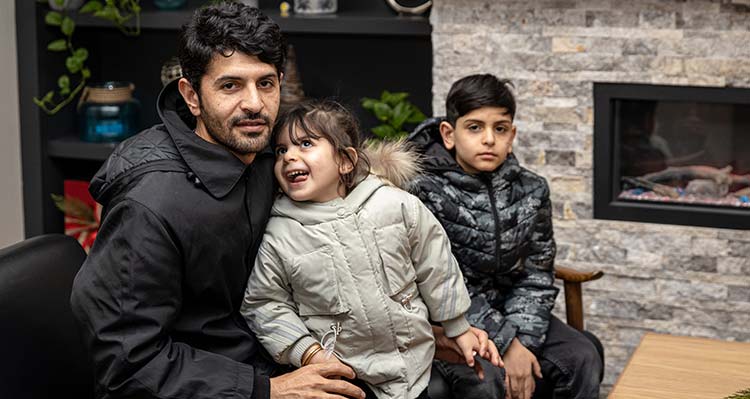 As the buses begin the journey back to Calgary, taking the scenic route along Tunnel Mountain Road (and spotting a few deer in the process), soft Pashto- and Farsi-Dari-language music plays over the speakers. The exhausted newcomers are the latest of over 2,000 others who have taken a similar trip to Banff with Pursuit.
"To see the mountains through someone's eyes who have never seen it is pretty inspiring," says Koyama. "In terms of creating welcoming communities, the mountains are now part of the community that they're welcome to participate in, live in and enjoy."