Located along Pyramid Lake's iconic shoreline, Aalto brings Jasper's most stunning natural wonders to the table.
Debuting in summer 2023, Aalto pulls inspiration from both near and far. Coastal cuisine meets alpine flavours here, while Scandanavian accents add further international flair. The result is something you'll only find at Aalto — a dining experience deeply inspired by both Pyramid Lake and the beauty beyond.
Here's five things to know about lakeside dining at Aalto in Pyramid Lake Lodge.
The Food
Aalto specializes in "lake-food" — a mountain-fresh interpretation of seafood that spotlights regional ingredients. Menus change with the seasons to keep things fresh, though you're sure to find a variety of both fish and shellfish on any visit, along with Alberta-raised beef and garden-fresh salads.
Finding vendors that aligned with the Aalto ethos was crucial to the restaurant's discovery phase. Partners like Gindara Sablefish and DelicaSea's Road 17 Arctic Char allow Aalto's team to provide fresh, sustainable and high-quality seafood in a spectacular Canadian Rockies setting.
The Inspiration
The name Aalto comes from the Finnish word for "wave" and the Italian word for "high," paying homage to both its lakeside and alpine location.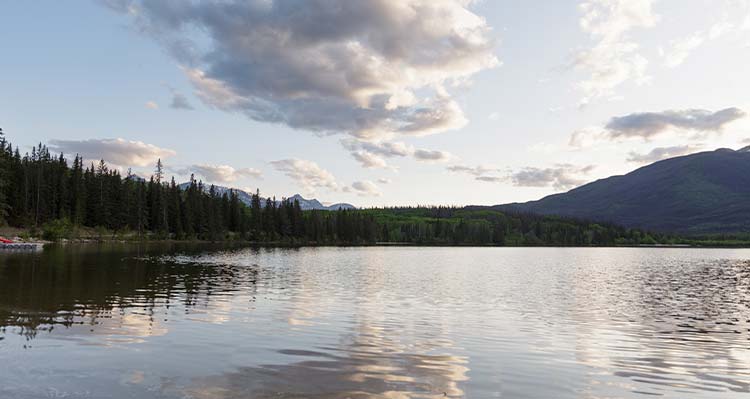 These points of reference go far beyond just the name. From Scandinavian and classic mountain lodge design elements to menus that spotlight fresh regional ingredients and seafood favourites, Aalto makes its natural inspirations known wherever possible.
The Menus
Aalto is open for breakfast and dinner daily.
Stop in early for morning classics with inventive twists, such as a duck confit scramble and delicious gravlax toast. Settle in, savour your morning coffee and plan your day of Jasper adventure.
Dinner, of course, is the main event. Seasonal tartares and East Coast oysters are among the menu's constants, while an evolving list of mains keeps each experience fresh depending on when you dine.