Summer in Jasper National Park evokes thoughts of fresh alpine air, hiking boots hitting forest trails and of course, a camera roll full of panoramic mountain beauty. Whether you're new to hiking or tight on time, these five trails deliver scenery to leave you more than satisfied, all in short order.
1. Maligne Canyon
Discover Jasper's deepest canyon, complete with waterfalls and bridges, on this classic trail for those of all experience levels. Choose how far you venture, but don't miss the second bridge—it's the canyon's highest point. Afterward, check out Maligne Canyon Wilderness Kitchen for your smokehouse fix.
Round-trip distance: 3.4 km (2.1 miles)
Elevation gain: 118 metres (387 feet)
Time to hike: 1-2 hours
Trailhead: Take Maligne Lake Road off Highway 16 to Maligne Canyon parking area.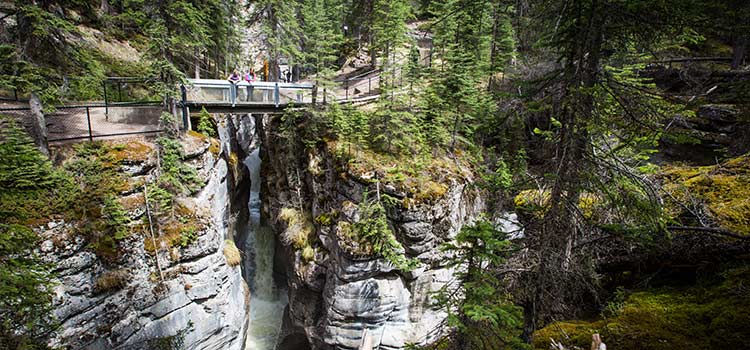 2. Path of the Glacier
Enter a land of ice as you marvel at Angel Glacier and the turquoise water below in Cavell Pond. If you're up for it, extend your hike through Cavell Meadows (7 km return, 500 metres elevation gain, 3-5 hours). Trivia: Edith Cavell was a British nurse who helped Allied prisoners escape occupied Brussels during World War I.
Round-trip distance: 1.4 km (0.85 mile)
Elevation gain: 70 metres (230 feet)
Time to hike: 1 hour
Trailhead: The end of Cavell Road, off Highway 93A south of Jasper townsite.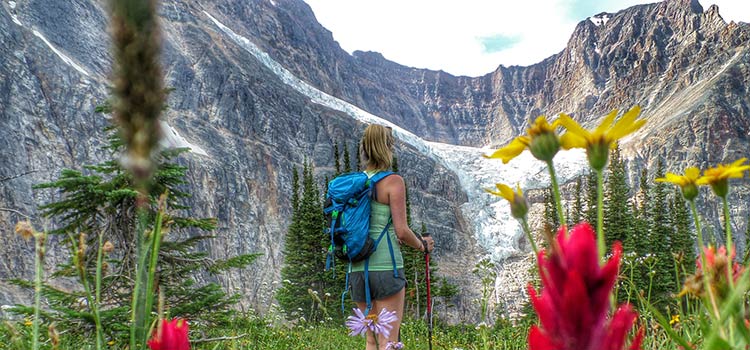 3. Valley of the Five Lakes
Head south of town on the Icefields Parkway to explore these breathtaking lakes with jewel-coloured water (they get their hue from glacial rock flour as well as algae). You can hike to all five lakes, or enjoy a shorter jaunt to just one or two.
Round-trip distance: 4.5 km (2.8 miles)
Elevation gain: 66 metres (216 feet)
Time to hike: 2 hours
Trialhead: 9 km (5.6 miles) south of Jasper townsite on Highway 93.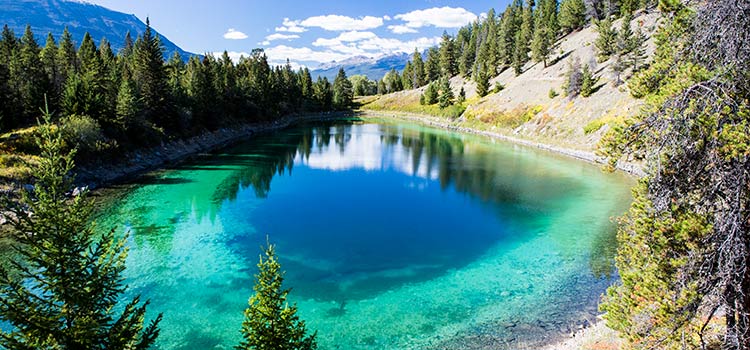 4. Whistlers' Summit
Ride the Jasper SkyTram to the top of Whistlers Mountain, and boom, the hard work is done! From the SkyTram's upper terminal, walk the trail and soak in the stunning view of the Athabasca Valley and mountain peaks galore. Note: this trail does have some elevation gain and an upward incline.
Round-trip distance: 2.2 km (1.4 miles)
Elevation gain: 150 metres (492 feet)
Time to hike: 1-2 hours
Trailhead: Jasper Tramway is located south of town off Whistlers Road. Ride the tramway then follow signs to summit.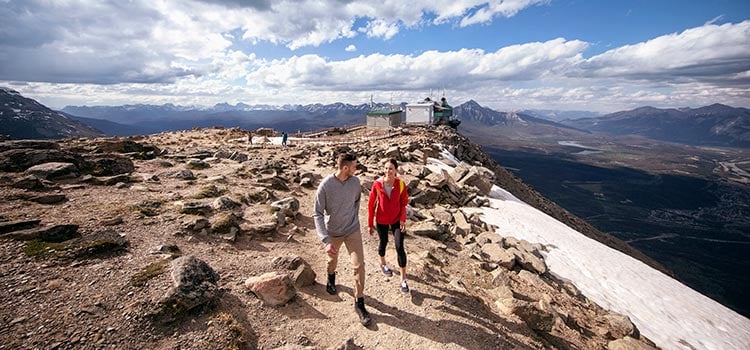 5. Old Fort Point Loop
This trail is close to town and offers a bird's eye view of the townsite as well as many lakes in the area, and of course, mountains. The loop can be hiked in either direction. Be mindful of some steep sections. Watch for wildlife—you'll likely spot some bighorn sheep!
Round-trip distance: 3.8 km (2.4 miles)
Elevation gain: 130 metres (426 feet)
Time to hike: 1-2 hours
Trailhead: South of Jasper townsite on Hazel Avenue. Turn left south of the intersection with Highway 16.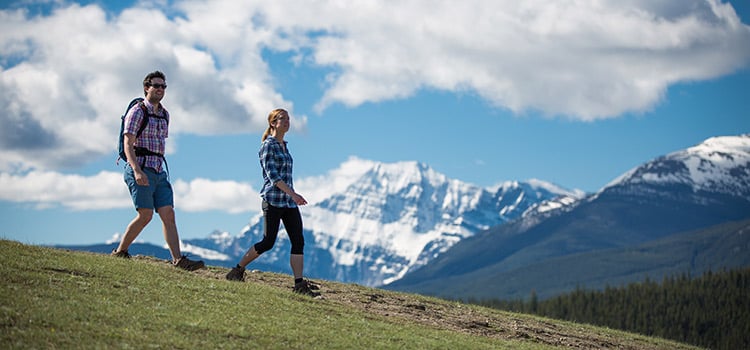 Must Knows & Must Dos
Hiking is a fantastic way to appreciate the landscape in Jasper—and we can all be stewards of our environment's natural beauty. To help you do so, here are our top three tips for hikers.
Jasper National Park is in bear country. Although bears generally avoid people, you should still be bear aware and hike with bear spray.
Do not feed any wildlife. Human food causes wildlife to become conditioned, which can result in their death.
Hiking with your pup? Dogs must be on lead at all times in Jasper National Park. Know before you go which trails allow dogs.
All this information plus trail conditions can be found on the Jasper National Park website. Happy trails!