Wild and beautiful Jasper National Park is a protected wonderland boasting jaw-dropping and photo-ready backdrops. It's majestic, inspiring and romantic.
Picture sky-scraping peaks, dramatic canyons, cascading waterfalls and impossibly blue lakes. A charming town centre, flourishing alpine-inspired culinary scene and diverse array of accommodation choices complement its natural beauty and elevate Jasper to a world-class wedding destination.
To help plan your Canadian Rockies nuptials, our event specialist — and long-time Jasper resident — Trina shares her five tips for hosting a picture-perfect mountain wedding.
1. Start with the Season: When is the best time to get married in Jasper?
Jasper's natural beauty stuns in every season — choosing a date for your big day will simply depend on your wedding vision. Winter transforms the park into a whimsical snow-draped Canadian playground, complete with ice skating, skiing and snowshoeing. The town also tends to be quieter, which can help keep wedding costs down.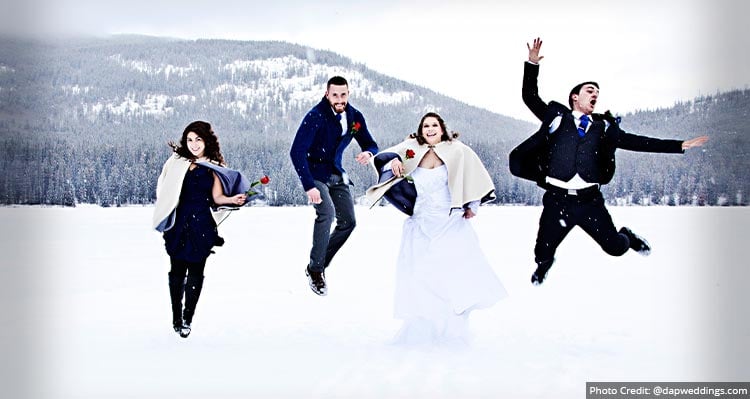 A spring wedding in Jasper offers a unique sampling of both summer and winter at once, as the valley bursts to life in a kaleidoscope of colour. Summer is the pinnacle season for weddings and, like winter, the adventure opportunities are vast and varied. Outdoor ceremonies are also a lovely possibility during the warmer months.
In fall, the park's vibrant foliage and soft golden light are the biggest draw. Autumn's shorter days also afford magical stargazing opportunities in the world's largest accessible Dark Sky Preserve.
2. Start Now: How far in advance should I book a wedding in Jasper?
Given Jasper National Park's natural beauty and four-season appeal, wedding venues are typically reserved between a year and a year-and-a-half in advance. The most popular days for weddings include any Saturday in the summer and holiday weekends at any time of year.
3. Location, location: Where can I get married in Jasper?
There are infinite wedding-perfect settings in vast Jasper National Park. Whether you're planning an intimate dream day for two or wish to celebrate in style surrounded by friends and family, you'll find a host of venues to suit your style and budget. Popular ceremony sites like Pyramid Island and the Athabasca Day Use area at Jasper Airfield are managed by Parks Canada and should be booked well in advance.
The event coordinators at the Forest Park Hotel are experts at pairing stunning park ceremonies with elegant resort receptions for up to 240 guests. If you'd prefer a swoon-worthy outdoor hotel setting, Pyramid Lake Lodge, located just a few minutes from downtown Jasper, is spectacular. Specializing in bespoke weddings, the picturesque property is a short distance to the Pyramid Island Ceremony area and offers an elegant reception space for up to 60 people.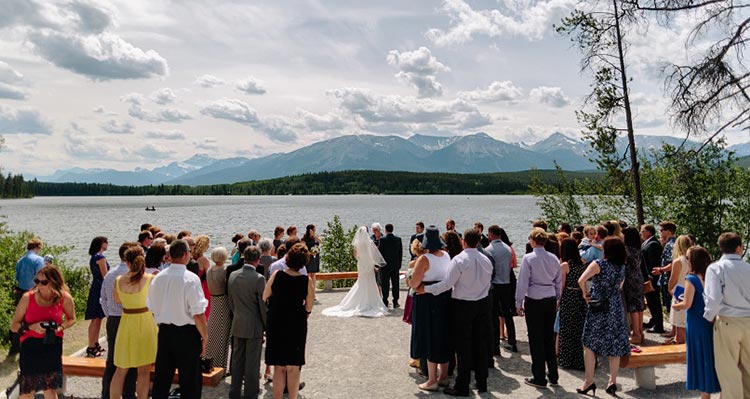 4. Fueling Up: Where can I hold our rehearsal dinner?
Aalto at Pyramid Lake Lodge and Terra's private room at The Crimson are fantastic choices for a rehearsal dinner. However, if you're looking to wow your guests with an off-property eatery, the cozy Maligne Canyon Wilderness Kitchen is perfect. The chef's smokehouse-inspired menu features tender Alberta meats, hearty barbecue sides, as well as salads, flatbreads and soup. Craft cocktails, B.C. wine and local beer complement the impressive menu. Wilderness Kitchen can offer either formal plated dinners or casual family-style sharing platters, and roundtrip shuttle service can also be arranged.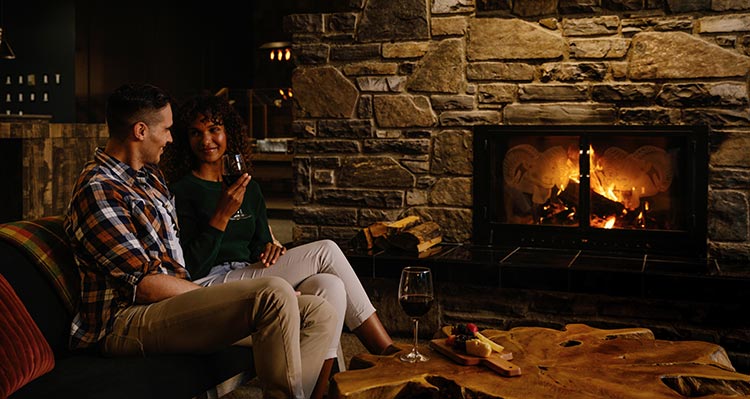 5. Get Active: What can I plan as a group adventure activity?
If your wedding date falls between late May and early October, the Maligne Lake Cruise is fabulous. Try to book early, as the waters are calmest in the mornings. Plus, the quieter surroundings increase your odds of spotting wildlife along the shoreline. Or, surprise your guests with a private evening cruise, complete with appetizers, B.C. wine and local craft beer.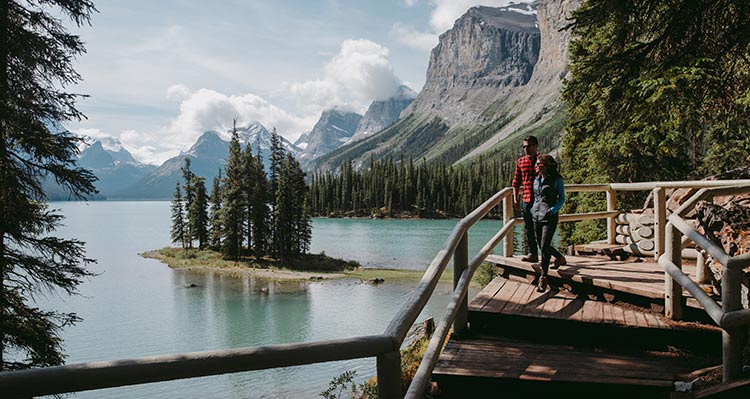 Another popular excursion that highlights top warm weather attractions is Brewster Sightseeing's Explore Jasper tour. Planning a winter wedding? Bring the group on a guided ice walk that explores the frozen waterfalls found in Maligne Canyon. Guests of Pyramid Lake Lodge can enjoy easy access to year-round adventure activities directly on-property. Snowshoeing, cross-country skiing, ice skating and horse-drawn sleigh rides can be organized in winter, and kayak, paddle board and mountain bike rentals are available throughout the summer.