Banff is famous for its beauty and is a favourite of travellers from across the globe. Known for its jagged mountain peaks and celestial turquoise lakes, Banff is Canada's oldest national park and is located in the province of Alberta. Teeming with wildlife and abundant with natural wonders, Banff National Park should be on your bucket list (if it isn't already)! It's definitely worth the trip. But how do you get here?
Flying to Banff
The closest international airport is in Calgary. It's about a 90-minute drive (145 km or 90 miles) from the Calgary International Airport to Banff. Flights from across Canada and around the world connect Calgary and Banff with travellers from every corner of the globe.
Let Someone Else Do the Driving
Brewster Express
The easiest way to get to Banff from Calgary International Airport is to take the Brewster Express that will take you straight from the airport directly to your door. With luxury seating, large viewing windows and complimentary Wi-Fi in their coaches, its a stress-free way to finish your journey and relax as you arrive! Brewster drivers know a lot about the area and always have useful tidbits of information about the Rockies—satisfying your curiosity right off the bat.
Tip: This lets you relax and recover from your journey, and arrive in Banff energized and excited!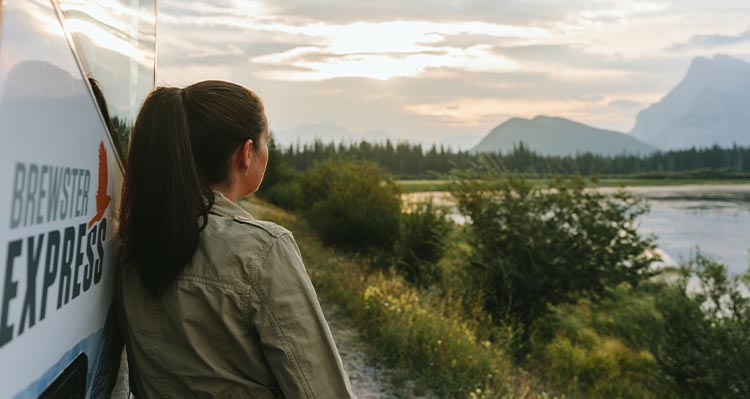 Brewster Sightseeing
Another option would be to travel between locations on a sightseeing tour and see Banff in a day. Brewster Sightseeing offers a wide range of tours with pick-up and drop-off locations in Calgary, Canmore, Banff, Lake Louise and Jasper. Start your journey by visiting the must-see attractions, waterfalls, lakes and valleys with an expert guide, as you travel to your destination through jaw-dropping scenery.
Getting to Banff by train
It's actually surprisingly difficult to get to Banff by train. You can ride the luxurious rails with Rocky Mountaineer. VIA Rail (Canada's national passenger rain service) stops in Jasper to the north, but not in Banff. Transfers are available between Jasper and Banff, though.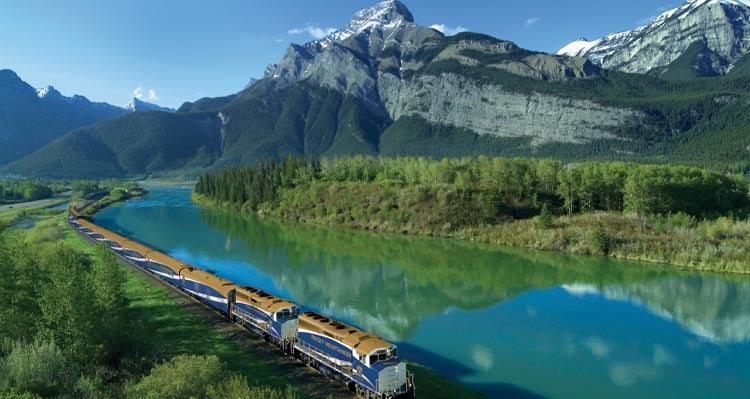 Getting to Banff with a car
You can pick up a rental car at the Calgary Airport if you're keen to drive yourself. Most major rental agencies have desks and a variety of vehicles available.
Tip: Remember that parking in Banff is limited, especially in high season. If you do drive to Banff, you may choose to leave your car at the hotel and take one of the town's comprehensive bus routes to get to your destination, without all the hassle of trying to find a parking spot.
The Route to Banff
Whether it's a rental car or your own vehicle you've brought all the way from home, here's the route:
Driving from the east
The drive from Calgary in the east to Banff is spectacular. The drive is about 1.5-2 hours (145 km or 90 miles), but it is a pleasant and scenic one. The town of Banff is located along the Trans-Canada Highway, a well maintained, easy-going road that gently meanders through the Rockies. Remember that in order to gain entry to Banff National Park, you will need to purchase a Parks Canada Pass, which you can do so at the gate or online prior to your arrival.
Tip: Another thing to consider is that wildlife in the park is the most active at dusk, so proceed with caution if your flight lands in Calgary in the evening and you plan to travel to Banff at night.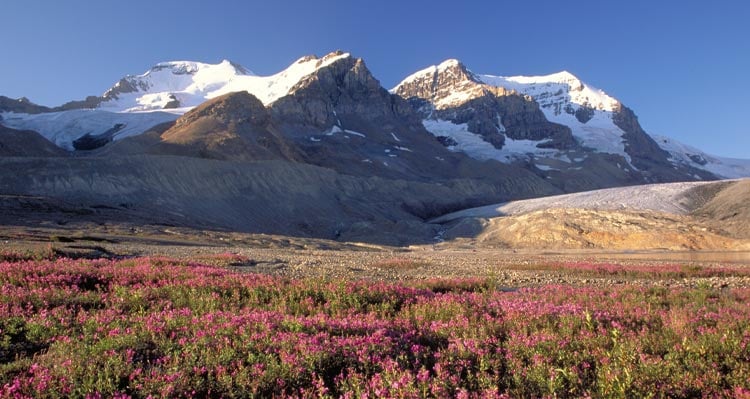 Driving from the west
If you're not coming from Calgary and are road-tripping from the west, the Bow Valley is a spectacular drive that will take roughly around 8-10 hours (850 km or 530 miles) from Vancouver. You can pick either the south route – through the Okanagan Valley and beautiful vineyards and fruit orchards of BC before reaching the Rocky Mountains, or the north route along the TransCanada Highway #1 through scenic mountains and rivers at Rogers Pass in Glacier National Park, Revelstoke, Golden and Yoho National Park (all in neighbouring British Columbia). Either option will be breathtaking.
Driving from the north
Many travellers link a trip to Banff with its neighbour just to the north, Jasper National Park. It's a straight-forward and incredibly stunning drive down the Icefield Parkway, Highway 93. Make a day out of it, and spend a few hours (at least) exploring the Columbia Icefield, which is about half-way between Jasper and Banff.