September 2022 arrived with more than its fair share of challenges in Jasper National Park, largely thanks to the nearby Chetamon wildfire. But as of September 14, we're thrilled to report that our mountain town is once again ready to welcome guests with open arms.
The Chetamon wildfire north of the town of Jasper began burning on September 1, impacting nearby ATCO powerlines on September 4 and causing the town to switch to less-than-reliable generator power over several days.
Thanks to a tireless team effort between ATCO Electric, fire crews, Parks Canada and the municipality of Jasper, stable energy was re-established in the town on September 14, prompting a clear message to visitors — Jasper is open once again.
And to welcome guests back, Pursuit is offering 10% off at many of our Jasper properties with promo code JASPER10 for stays between September 19 and October 7, 2022.
Jasper's return of stable power means a return to form for this spectacular early-fall destination — one that has a rare case of vacancy at this time of year. Here's the latest from Jasper, and why you should make the trip this fall.
What's open in Jasper?
Just about everything! Jasper has been quick to recover from the effects of the power outage, with Jasperites eager to share their community with visitors once again.
Restaurants are back to capacity throughout town, including Pursuit's recent addition to the Jasper dining scene, Terra. Just beyond the townsite, Pyramid Lake Resort is expected to re-open its acclaimed dining experience at The Pines by September 21.
The restoration of power also comes just in time for late-season adventure throughout Jasper. Open Top Touring's old-school-cool vehicles will remain on the roads until October 10 to help visitors uncover legendary Jasper. On the water, Maligne Lake Cruise continues to operate through early fall, as does Columbia Icefield Adventure on the Athabasca Glacier. We know you'll have no problem filling your Jasper itinerary during your autumn visit.
How is the fire still impacting Jasper?
It's important to note that while power has been restored to Jasper, the Chetamon wildfire is still burning. That said, the fire poses no threat to the Jasper townsite, and its status has been downgraded from "out of control" to "being held."
You may experience some smokey conditions during your visit, as is the case throughout Western Canada, though the views remain stunning in the Canadian Rockies. Plus, as fall foliage makes its way to the park, you'll get the unique experience of exploring this fleeting season before the snow begins to fly.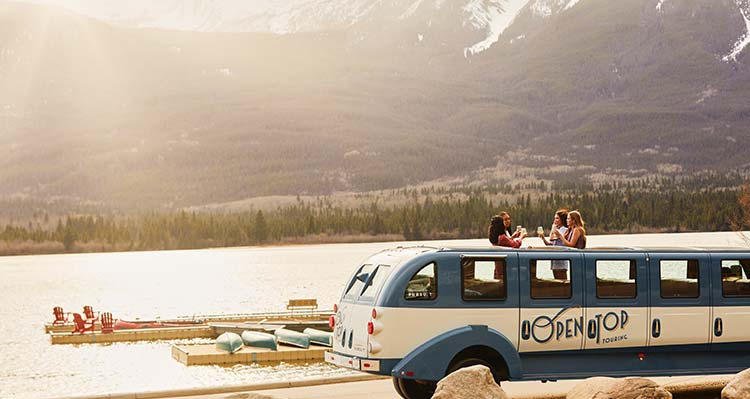 Why you should visit Jasper now
Autumn conditions don't stick around in Jasper for long and finding a vacancy at this time of year is a rare occasion. What's even more rare is saving on your fall adventure, which you can do right now by using promo code JASPER10 when you book a stay at The Crimson, Marmot Lodge, Forest Park Hotel, Chateau Jasper, Lobstick Lodge or Miette Mountain Cabins.
Beyond the savings, the autumn beauty and the opportunity to book a late-season getaway, a trip to Jasper also means a chance to support a community following a difficult time. Jasper is excited to welcome you — don't miss out on an extraordinary escape to the Canadian Rockies.
Learn more about Pursuit's Jasper Re-Energized offer and book your trip today.