And while it's always been de rigeur for tables to be wiped between settings, that would normally be done in a refined and dignified way with a fine cloth only. Discretion was key. Now, it's important to make these measures visible.
"We'll be taking sanitizer directly to the table. We want people to see what we're doing," she says.
Physical Distancing
Farm & Fire is fortunate to be in a spacious room with wide windows and a small patio. The team can easily fit 50 percent capacity and maintain two metres between tables, Marshall says. They've pulled out tables and shifted the floor plan. That part is good to go.
Menus will now be printed for one guest use only instead of menu binders. Then, they'll be recycled. All single-use items, Marshall says, have to be compostable or recyclable if we're all going to continue to work towards a sustainable planet.
"We've made sure we're sourcing, using and offering the right products," she says.
Focus on Takeout
The Farm & Fire menu, designed by Chef Scott Hergott, has always had a strong focus on takeout. He says people are looking for delicious and locally-inspired food to eat at a picnic spot in Banff, in their hotel suite or with friends on a deck somewhere. The wood-fired flatbreads make for a simple lunch on a hike and the full rotisserie chicken combo meal will feed a small crowd of adventurers at a picnic table overlooking Cascade Mountain.
But now, in a time of social distancing, more and more people will want to spend their meal times outdoors. Locals are more interested in takeout than ever before. So Marshall and Hergott both expect that to be a key foundational shift when Farm & Fire opens.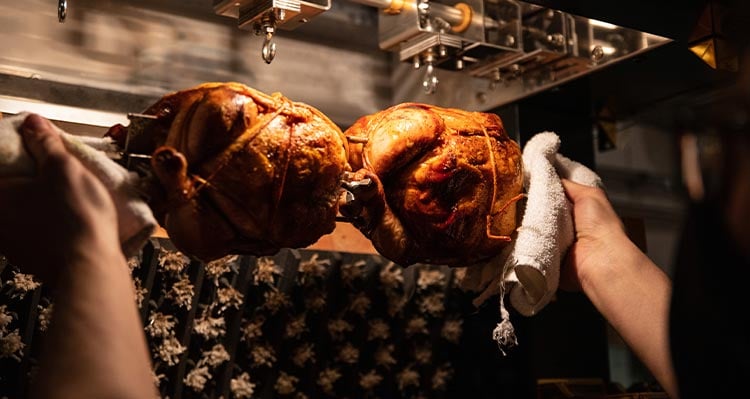 Community Support
No restaurant exists in isolation, even now. The Farm & Fire team's connections and relationships with suppliers, from produce to tableware, have been key. Marshall says so many of them are also struggling with limited resources, scaled-back teams, transportation and logistic complications and supply-chain issues. It's an industry-wide concern and the delay in opening has left some time for the team to catch up.
But now that it's finally so close to opening, the team at Farm & Fire are keen to get back at it.
"Those of us who work in hospitality, it's really a way of life," Marshall says. "We're social people. We're used to socializing all the time. We can't wait to get back to doing what we love."
For more information on Pursuit's Safety Promise and how it's being applied to restaurants, please visit here.