In February, Fonda found out she'd been selected by the panel.
"Of course, I was honoured," Fonda says. "But really, I was super excited to get started on it because I really wanted to make this painting."
Over the next two months, she worked around-the-clock in order to deliver her work on time. Now at the printer, the work will be unveiled at the end of June.
Banff Family History
Fonda's great grandfather James Richard Godlonton and his three brothers immigrated from England to Calgary in the late 1880s. Working as a foreman for the Canadian Pacific Railway in its glory days—as it drove west towards the Last Spike (which he witnessed)—James Richard was a "squatter" in what is now Banff National Park. Fonda says he may have been among the small group who first stumbled upon the hot springs in Banff.
Fonda inherited many boxes of old family photos. Within one box was a buckskin leather-covered album that has a smokey smell. Photos dated to 1928 showed a group of young people having fun in Banff. There's a simplicity and enduring innocence to the photos that stood out. She was struck by the timeless feel of the old Banff photos.
"I think these photos belonged to my grandfather's sister," Fonda says. "They're young people living in the moment. They're real pictures of real people having a lovely time in Banff."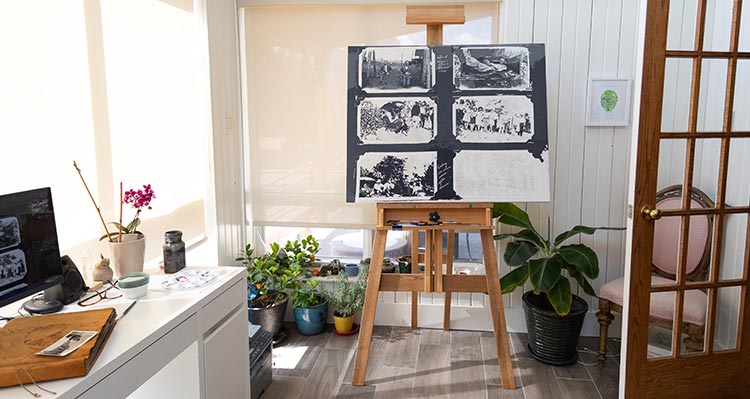 The Artistic Process
Translating her inspiration for a 40-ft by 32-ft piece that will hang outside year-round was a challenge unlike any the artist had undertaken before. Fonda started on her computer working with the old images in digital format in Adobe Photoshop. Then, in her light-filled studio in Canmore, she traced the old photos with carbon paper on a canvas. For the next step, she used only seven very specific acrylic colours to paint above the tracings. She added delicate and faded handwriting alongside the photos, just as they appear in the album. It was demanding and required much attention to detail, she says.
Next, a professional photographer took a photo of her finished work and delivered that to Canmore Sign Co, where the image is being blown up to scale. One inch of Fonda's paintings expands to equal one foot of the final piece.
"From my work on the painting to the photographer and the amazing team at the Sign Co, this project has really turned into a community builder," she says.