Wondering how long to spend at Golden Skybridge? We have you covered.
Located minutes from the Trans-Canada Highway and nestled between six national parks, Golden Skybridge is a Rocky Mountain destination that offers adventure for all ages and levels of boldness.
While our broad advice is that more time is better, we understand that vacation itineraries get busy. That's why we've put together this guide for a quick drop-in, an afternoon or a full day at the Golden Skybridge.
How to spend an hour at Golden Skybridge
Golden Skybridge's location just off Highway 1 outside Golden, British Columbia, makes it a spectacular place to stretch your legs during your Canadian Rockies road trip. Even if you can only spare a short amount of time, you can still take part in the excitement!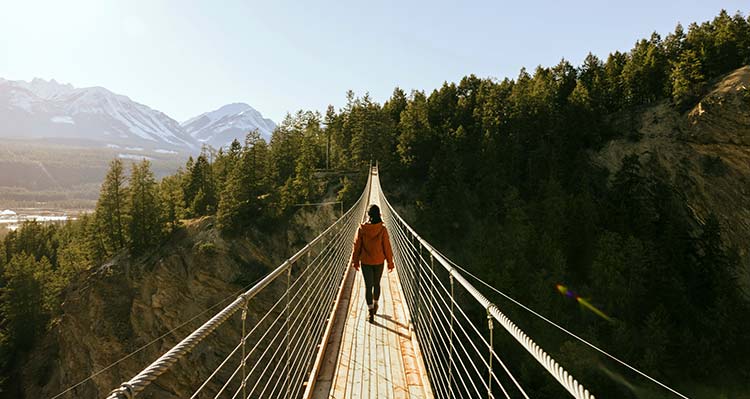 You'll likely want to opt for General Admission tickets for a short visit. This includes access to Canada's two highest suspension bridges along with The Village — a plaza where you'll find food and drinks for purchase, along with washrooms, a bean bag toss game and a water bottle refill station. The little ones can also explore Golden Skybridge's awesome playground here, complete with mini bridges and a treehouse.
From The Village, you'll start your short trek to Canada's highest suspension bridges. The two suspension bridges are part of an accessible hiking trail, allowing visitors to walk up to 426 feet above the canyon, complete a quick loop and be back at The Village within an hour. As you make your way along the route, be sure to scope out the Sky Zipline and the Railrider Mountain Coaster for the next time you visit!
How to spend 5 hours at Golden Skybridge
Budgeting extra time allows you to experience so much more at Golden Skybridge.
If you're dedicating a few hours to your visit, we recommend picking up an Adventure Pass when you arrive. This pass allows you to experience all the signature attractions at Golden Skybridge.
Start by crossing the first bridge, taking time to soak in the views and stop for photo ops along the way. Next, take on the Canyon Edge Challenge Course — a treetop network of skill-testing obstacles and mini ziplines. Start by learning the ropes from the team, then pick your route in the canopy. From beginner-friendly obstacles to stamina-testing challenges, you'll find your match in the treetops.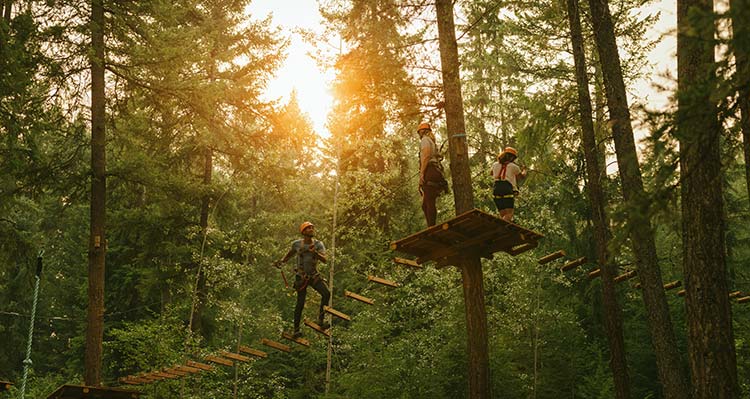 When you've returned to solid ground, head down to the Railrider Mountain Coaster. Measuring in at 1,029 metres (3,375 feet), the Railrider is the longest coaster of its kind in Canada. Manual brakes let you control the thrill level as you speed into the forest, through a tunnel and along the canyon. All the while, you'll be treated to spectacular views of the surrounding alpine scenery.
After having your share of thrills on this side of the canyon, it's time to glide over the gorge with the Sky Zipline. Located back up the trail, the Sky Zipline features four 1,000-foot-long tracks, so you and your crew can all ride through the open air together. Be sure to savour the moment and take a look around — the vantage point from high above the canyon is unlike any other.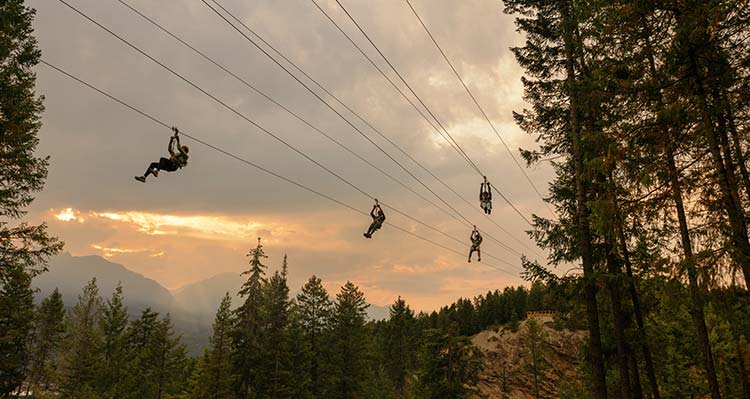 All that excitement tends to work up an appetite! After crossing the finish line and landing back near The Village plaza, grab a bite to eat at The Village Grill, where you'll find hit-the-spot classics like smash burgers, plus vegetarian and gluten-free options. The excitement doesn't end there, though! The Village is also home to axe throwing lanes to test your aim, along with a 28-foot-tall rock-climbing wall, both of which are included in your Adventure Pass.
---
The truly daring can also purchase a ride on the Giant Canyon Swing — Golden Skybridge's most high-octane experience. Suspended in a paragliding harness, riders drop into a freefall towards the canyon floor before being caught by bungee cords and swinging across the canyon. Excitement meets serenity while swaying between the canyon walls, taking in sights of the bridges, the roaring waterfall and the surrounding alpine scenery.
---
How to spend a full day at Golden Skybridge
Make Golden Skybridge the main event of your entire trip and prepare for an unforgettable day of fun.
If you're spending the day, an Adventure Pass is a must. You can also purchase Adventure Encores for your favourite rides and attractions along the way, giving you the opportunity to relive the excitement a second time.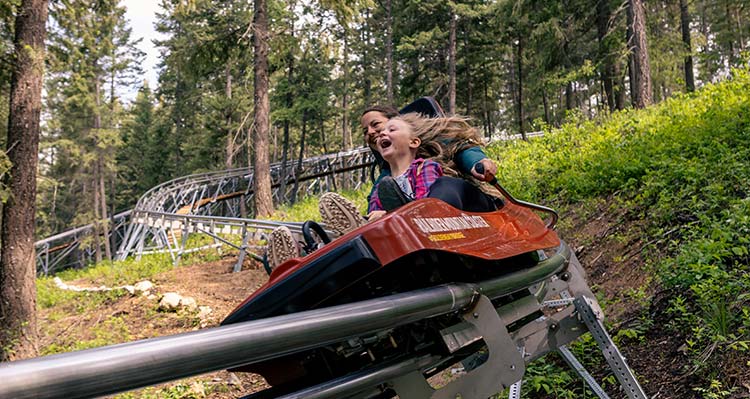 Take your time exploring every last adventure opportunity during your visit. Chances are you'll run out of room on your SD card or phone before you run out of photo-worthy scenery out here! So, pro-tip, make sure you have plenty of space ahead of time.
Evenings at Golden Skybridge
For dinner, settle in at a picnic table, order at The Village Grill, and enjoy a cold beer or other refreshment as the sun begins to descend.
If it's a Saturday, stick around for one of Golden Skybridge's signature events. Throughout the season, you'll be treated to live music as part of the Summer Concert Series in The Village. Catch top acts from around the region and beyond as they perform in an incredibly scenic venue.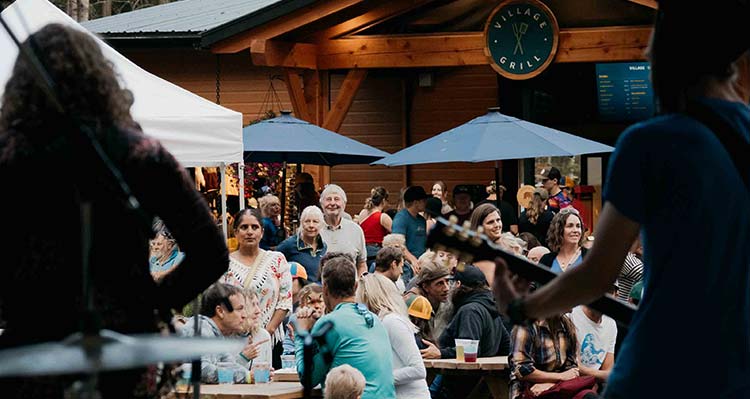 Every second Saturday has even more excitement in store, as live music is paired with the Golden Night Market. Browse local goods made by local creators, from handcrafted jewelry to artisan home goods and pick up an entirely unique souvenir.
Regardless of the length of time you spend at Golden Skybridge, it's sure to be a summer day worth cherishing. Book your tickets today and get ready for a sky-high day of fun.