What a place! There's so much to see along the road that follows a glacier valley between the Maligne and Elizabeth mountain ranges, cruising along the ever-changing surface of the Palliser Formation.
The earth feels alive and raw here—like a rare sneak-peek inside our planet. Change feels ever-present, from an eroding limestone canyon to a lake draining into underground caves.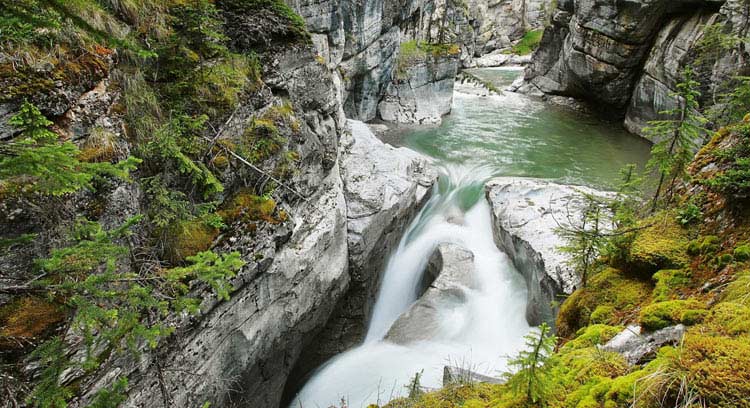 Here's how to spend the perfect day in the Maligne Valley:
Head east from the Town of Jasper on Highway 16 and then south on Maligne Road. Turn left at the Sixth Bridge sign.
Start at the Canyon: Get out of town straight away and have breakfast at the canyon. Grab a coffee at the brand-new Maligne Canyon Wilderness Kitchen (opens at 8 AM in summer). Then, follow the interpretive trail to hike the canyon, exploring the erosion of ancient limestone—the ever-changing face of Earth. At times 50 meters deep yet only a few metres wide, there's high drama here. Some geologists say the canyon was once a series of caves, but they've been exposed by scraping glacier and erosion. GIve yourself 3 hours here.
Wildlife and Wonders: En route to Maligne Lake, take some time to pull over and explore Medicine Lake. It's the famous 'disappearing lake' that vanishes and then re-appears annually as it drains and then refills underground caves. Watch for wildlife en route. It's also place to learn about fire ecology after the 2015 Excelsior Wildfire.
Walk it Off: When you arrive a Maligne Lake, give yourself a few moments to soak in the scene. This is the second-largest glacier-fed lake in the world. And it's a stunner! Walk the interpretive Mary Schäffer Loop to explore some history as well. Book your tickets for an afternoon cruise (see below).
Lakeside for lunch: Head inside for the renowned Lakeside Luncheon at the Historic Maligne Lake Chalet featuring a menu of regionally-inspired dishes served buffet-style.
Wilderness by Water: Sail 14 kilometers across the stunning blue-green lake to Spirit Island, surrounded by snow- and ice-capped peaks. The Premium Cruise gives you extra time at the island and offers more chances to learn and explore.
Happy Hour: Back on dry land, your spirits may be soaring! Stop in the Day Lodge for a cocktail and be sure to take some time for a walk along the easy Mary Schäffer loop that goes past the historic Curly Phillips Boathouse for a view over Home Bay.
Sundowners: Call it a day back at the Maligne Canyon Wilderness Kitchen where apres snacks and drinks are served next to the firepit on the patio and smokehouse-flavoured meals are served family-style inside. You'll head back to town full of stories of adventures and inspiration in this amazing place.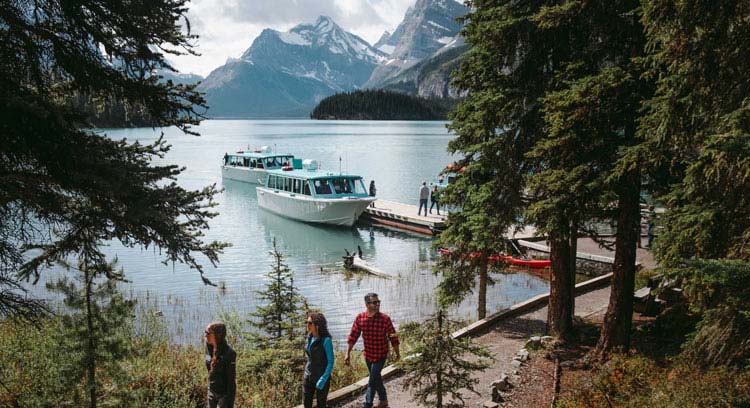 Tip #1: Give yourself at least 6 hours for this itinerary, and up to 10 if you are able to include both breakfast and afternoon tea.
Tip #2: Heading out early in the morning means better chance of wildlife. Remember to stay in your car.
Tip #3: If you're driving, be sure to fill up your tank in Jasper.
Tip #4: Hiking in Maligne Valley is very popular. There are many outstanding trails for all levels. Pick up a trail map at The Maligne Canyon Wilderness Kitchen or at the Maligne Lake Ticket Office