A trip into Maligne Valley can be completely transformative.
Whether you're chasing waterfalls in Maligne Canyon or having a culinary adventure lakeside, you'll find plenty of opportunities to carve out your own story with Maligne Valley's range of unforgettable experiences. Here are just a few suggestions to get your adventure started.
Explore Maligne Canyon
Venture more than 50 metres beneath the Earth's surface into Maligne Canyon. There, you'll walk pathways set along the towering Devonian-limestone canyon walls and see sights of flowing waterfalls. The falls freeze solid in the winter, making views just as – if not more – spectacular.
A stop at Maligne Canyon Wilderness Kitchen is the perfect bookend to your time in the canyon. Pick up a specialty coffee and a grab-and-go sandwich as you head into the Canyon, or savour a smokehouse dinner and enjoy the company of your travel companions indoors, on the patio or fireside after your subterranean adventure.
Uncover natural gems
Like any great journey, navigating your way through Maligne Valley is half the fun. Keep an eye open as you travel Maligne Lake Road, as wildlife residents are known to make appearances enroute to Maligne Lake. Elk, moose, sheep, deer, bears and countless other creatures call the region home.
Be sure to stop at Medicine Lake, where, depending on the season, you'll find either a beautiful alpine lake or nearly no water at all. The disappearing act in the fall and winter is thanks to the underground network of caves, which water drains into throughout the season and emerges 16 kilometres downstream in Maligne Canyon.
Hit the trails
Heading off on a hike is a perfect way to reconnect with nature in Maligne Valley. And regardless of your ability on the trails, there are options near Maligne Lake to help you explore the beauty of the valley.
Mary Schaffer Loop Trail is a mellow forest walk that welcomes hikers of all levels. The 3.2-km trail embarks close by the boathouse, and is flanked by pine, spruce and subalpine fir forest. For slightly more advanced hikers, Moose Lake Loop offers a 2.7-km walk with lakeside views and opportunity to see the namesake creature along the shores. Most often, moose are spotted at the far end of the lake along the trail.
Advanced hikers can dedicate their day to Opal Hills Loop, a steep, 500-m climb that takes place over just 4.5 km. The challenge comes with its share of rewards though, from guaranteed spectacular landscape views of Maligne Valley to budding wildflowers and occasional sightings of moose and woodland caribou.
Enjoy a lakeside breakfast, lunch or dinner
No matter where you dine or what you order, dinner with a view over Maligne Lake is bound to be memorable. Though with three fantastic restaurants to choose from during the summer season, you're sure to get a spectacular meal as well.
The View serves elevated Canadian cuisine on Jasper's most breathtaking patio, applying inspiration from its beautiful surroundings onto its menu. Enjoy summer salads, Rocky Mountain steelhead trout and Alberta beef burgers lakeside and in the fresh mountain air. The adjoining Lake House Café offers casual eats like delicious sandwiches and a range of poutines, both to enjoy in the dining room with lake views, or to grab and go. Craving something sweet for breakfast? The Waffle Hut serves up a range of decadent buttermilk creations, along with savoury waffle options, sundaes and specialty coffees.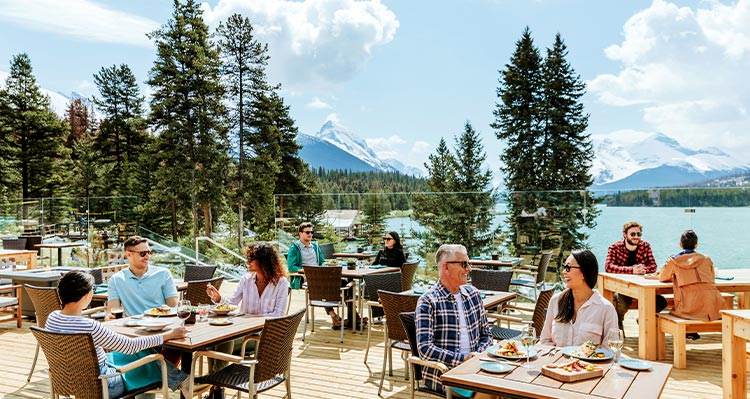 Set your own course on Maligne Lake
Rent a canoe and find true serenity atop the water on world-famous Maligne Lake. The lake's scenic shores are populated by dense forests and panoramic mountain scenes, and the calm waters make it perfect for exploration by paddle power. Head to the historic Maligne Lake Boat House, where you can take out a canoe, kayak or rowboat from early June to late September — you can also book ahead of time online to secure your rental. From there, the adventure is up to you as you push off into an unforgettable alpine setting.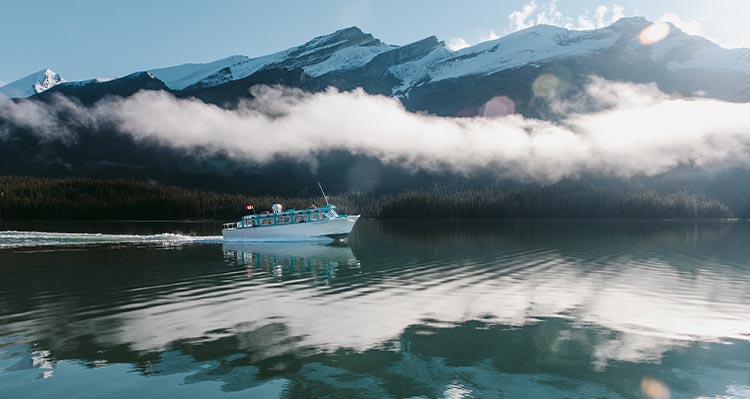 Discover Spirit Island with a Maligne Lake Cruise
Sit back and take in the wonders of nature aboard a Maligne Lake Cruise, an iconic experience in Maligne Valley. Under the lead of knowledgeable tour guides, you'll hear stories of the area's rich history while travelling below skyscraping mountains and glaciers. The boat's destination is Spirit Island, one of the best photo ops in the Canadian Rockies and beyond. And while a photo is sure to be a lasting memento of the trip, the experience on its own is something you'll never forget.
Start your planning and book a Maligne Valley adventure all your own today.