Banff is a magical place to visit at any time of year. With a world-class array of seasonal activities, sports and festivals, not to mention the drastic differences in weather conditions, it can be hard to decide on the perfect month to visit. We're here to help.
Banff sits in the heart of the jaw-dropping Rocky Mountains and can range from a winter wonderland to the perfect summer adventure. Here's our month-by-month guide to figure out the best time to visit Banff (for you).
January in Banff
January is an exciting time in Banff. With winter fully settling in, there are plenty of seasonal events and festivals to keep you busy. Check out the fantastic winter-themed art at SnowDays, an outdoor gallery of snow sculptures in the town of Banff, or the spectacular ice carving contest at the Ice Magic Festival in Lake Louise. You can ice skate on the famous lake with a backdrop of mountain ranges — it's a truly fantastic way to spend a winter day with the family.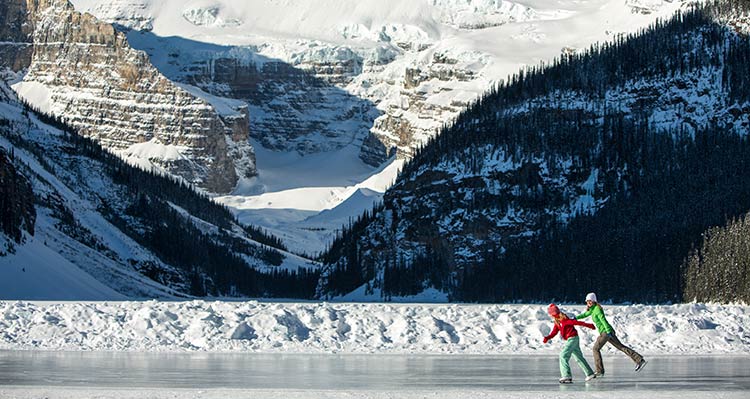 February in Banff
In many ways, February is the heart of winter in Banff — so make sure you bring lots of warm clothing! This is a popular month for skiing and snowboarding as the conditions are at their prime, with some of the fluffiest, driest powder there is. Plus, Banff is only a short distance away from several ski hills, like Sunshine Village and Lake Louise Ski Resort. The days begin to get slightly longer in February, giving you more time to explore winter activities like ice walks, tobogganing or tubing.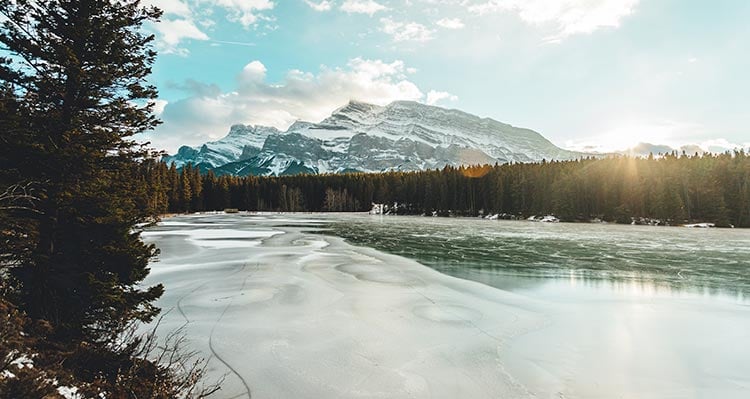 March in Banff
As the likelihood of severe cold snaps starts to wane and the average daily temperature warms up to around 1°C, we begin to see the first signs of spring in March. The mild conditions paired with plenty of winter scenery make it a popular month to visit Banff, particularly during spring break.
Despite the warmer weather, March often sees Banff's biggest snowfall of the year, making this month a fantastic time to ski and snowboard. Spend your evenings curled up by a fireplace, watching alpenglow from the top of the Banff Gondola or checking out one of the events in town or at the Banff Centre.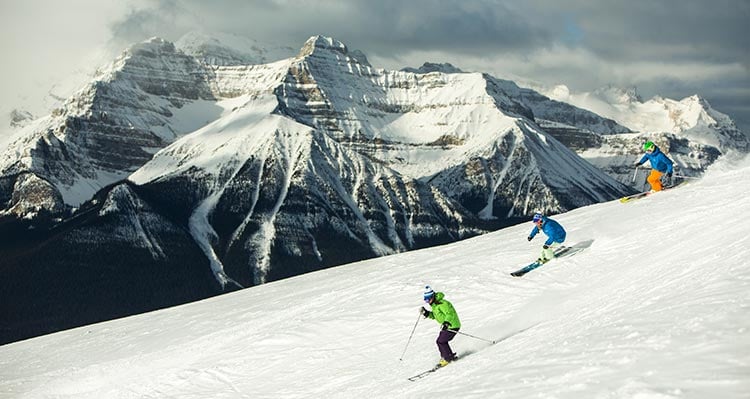 April in Banff
One of the "secret months", April is a hidden gem in the calendar and can be superb here in Banff. Skiing and snowboarding conditions generally remain excellent, but the temperatures are more moderate — usually ranging from 2°C to 10°C. The weather can be a little unpredictable, from crisp sunny days to heavy snowfall.
Mid-April also marks the opening of Open Top Touring, our historic sightseeing experience in Banff. Hop on-board custom vintage-style vehicles and learn about how our mountain town came to be.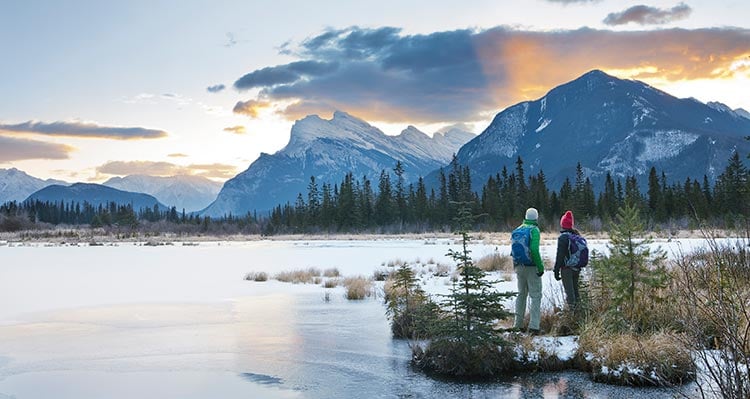 May in Banff
May is when spring really starts to take over. The frozen lakes and rivers thaw and begin to flow again, making for an incredibly picturesque shoulder season. More hiking trails become available in May with loads of active wildlife, and this is usually a great time for barbecues and bonfires.
Visitors can also take advantage of the May opening of Columbia Icefield Adventure, where you can explore the Athabasca Glacier and experience the glass-floored Skywalk. You can arrange a sightseeing tour that departs from Banff so there's no need to figure out directions yourself!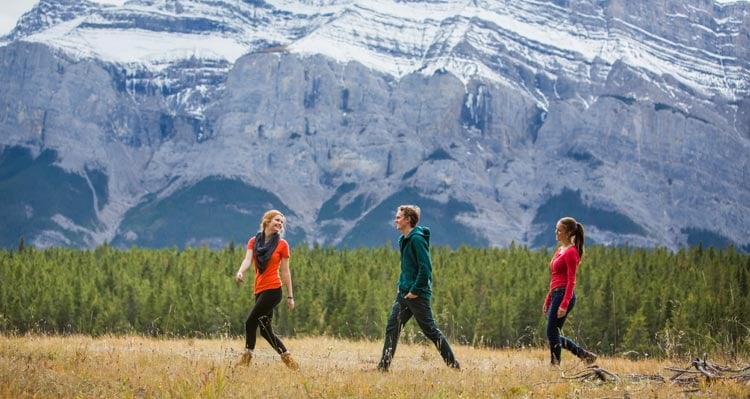 June in Banff
Things start to pick up in June as the lakes and rivers transition into a stunning turquoise blue colour and the temperatures begin to rise. Water sports and activities like whitewater rafting and kayaking grow in popularity.
June is a great time for hikes and picnics — locals tend to come out of their shells in June and patios are hopping. With the long days and late evenings, Banff is active from dawn to dusk. It's one of the most popular times to visit, with peak season beginning midway through the month.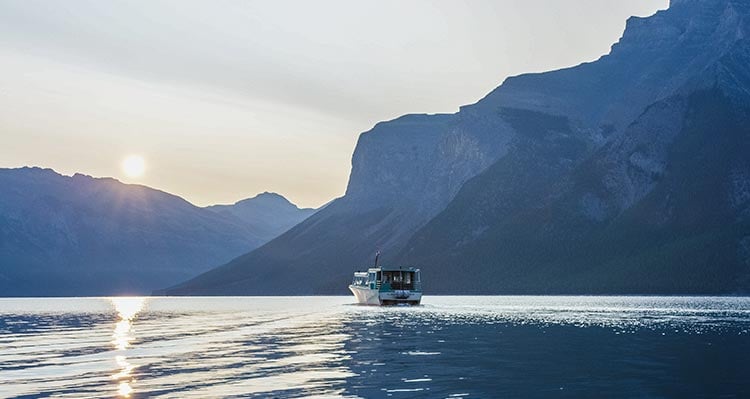 July in Banff
July kicks off with celebrations and festivities to celebrate Canada's birthday on July 1. The town of Banff is the perfect place to celebrate Canada Day. There are fun family-friendly events running for the whole day, including the colourful parade down the main street (Banff Avenue) and a lively show in the evening at Central Park.
July is usually the busiest month of the year, so rates can be higher than other months. But it's also the perfect time to go canoeing, hiking and get some fabulous pictures of your surroundings.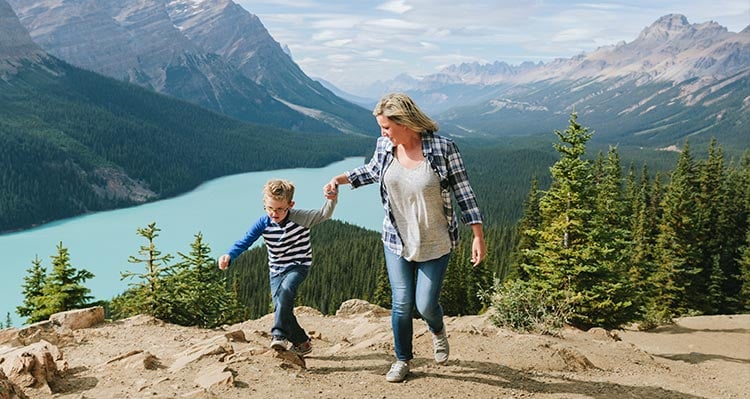 August in Banff
August is considered prime time in the Canadian Rockies. There's so much to see and do — everything is open and everyone is here! Nature and wildlife are at their most impressive during this time and the days are long and sunny.
You can do anything from lake cruises and horseback riding to mountain biking and cave tours. August's clear blue skies also make it a great time to catch magical mountain views atop Banff Gondola. Simply put: August is divine in the Rockies.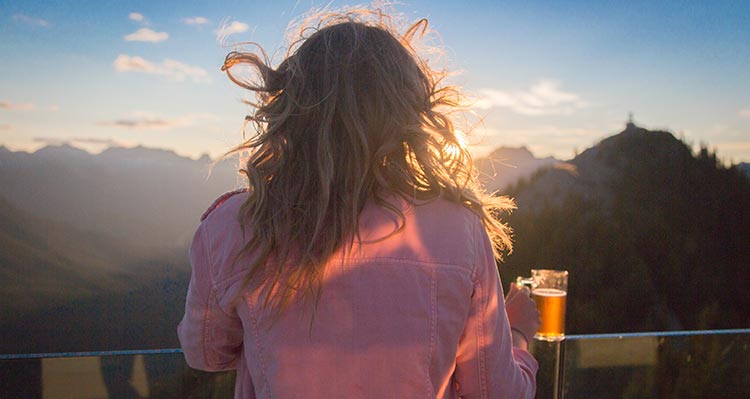 September in Banff
Locals love Banff in September. It's the second of the "secret months." September is the optimal season for hiking, with plenty of dry trails and fewer hikers. Temperatures start to cool down and prices in town drop as well.
September is also a great month for nothern lights sightings and the wildlife in the evenings is spectacular — keep an eye out for beavers building dams in the Bow River!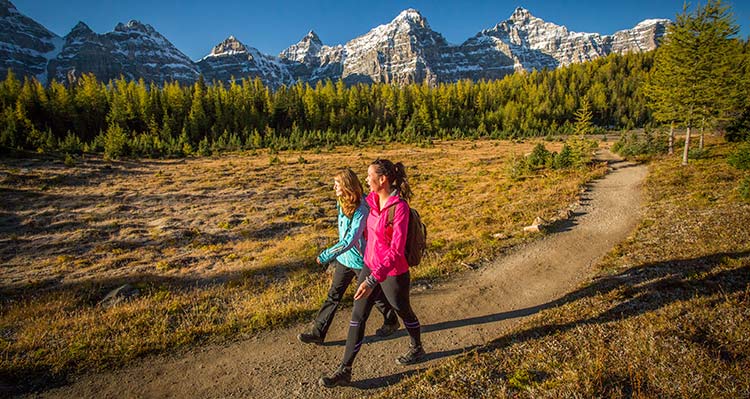 October in Banff
October is peak fall in Banff, when all the aspen and larch trees turn from green to yellow to autumnal browns and reds. It's shoulder season! If you're visiting Banff in October, make sure to check out the annual Banff Centre Mountain Film and Book Festival, a world-renowned festival showcasing the best adventure and mountain films from around the globe. Biking is still popular in October before the first snowfall hits.
November in Banff
November is a very quiet month in Banff. If crowds aren't your thing, this is the month for you! With ski season kicking off, it's a great time to get in some early skiing while lift lines are still short. Many of the restaurants in Banff have amazing dining specials for both locals and visitors during this time.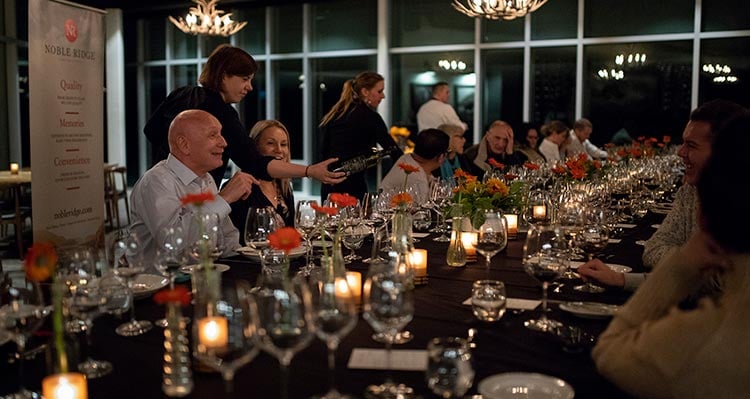 December in Banff
December is an especially magical and festive time in Banff, with Christmas lights hung through the town and winter events running on a daily basis. Christmas at the Banff Gondola is becoming a new tradition among locals — join Santa at the top of Sulphur Mountain for a bird's-eye view of the quaint, snow covered town below. There's also plenty of opportunities for early-season skiing and snowboarding. December is the best time to do the ice walk at Johnston Canyon for that extra-special festive day out with friends or family.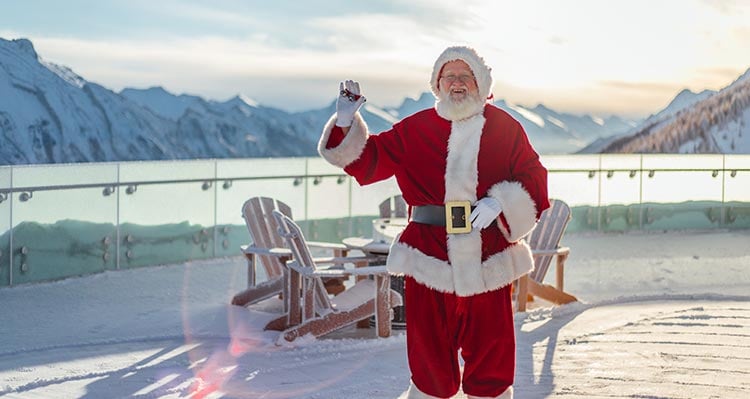 From winter getaways to a summer weekend in the Rockies, there's no wrong time to make your mountain escape. Whenever you arrive, we'll be thrilled to welcome you to Banff!