On a rainy day in Banff you could tour galleries and museums, explore unique shops, eat something delicious overlooking a glorious mountain range and then settle in for the night at a grand hotel that oozes with history. How's that for perfect?
While a good rain might limit our outside adventures, it's also an excuse to stay close and explore this town's history. On a rainy day in Banff, trade recreation for culture. Soak up Banff's rich history at the local museums and galleries; they're plentiful, exciting and true celebrations of Rocky Mountain life and culture.
Banff Culture and History
Banff Centre for Arts and Creativity is a nationally-renowned creative learning hub with a spectacular campus nestled right in the mountains. Banff Centre nurtures artists across a wide spectrum of disciplines and offers hundreds of events year-round. Take in an event or workshop and nurture your inner artist.
The Whyte Museum of the Canadian Rockies is a Banff treasure and a delightful family activity. Take in a private tour in the summer offered on a drop-in basis.
Learn about the lives of Banff area adventurers on the Gateway to the Rockies tour beginning June 1. Art tours beginning June 22 explore the art collected during the lifetimes of Catharine Robb Whyte and Peter Whyte. Young children and museum members are free.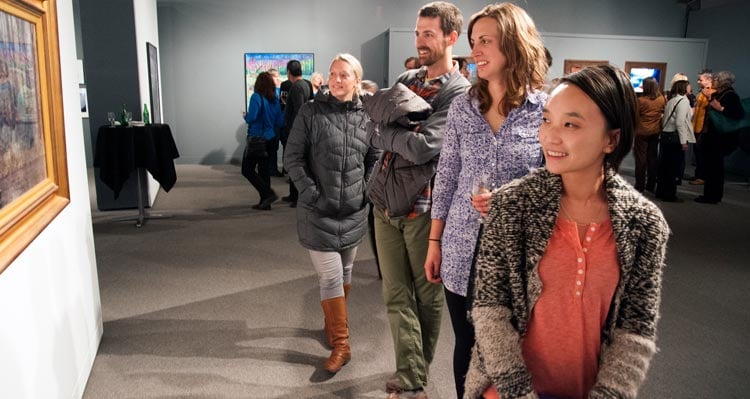 A vibrant museum and gift shop on Birch Avenue, the Buffalo Nations Museum is dedicated to the cultures and traditions of North America's First Nations people. At Buffalo Nations expect to find beautifully ornamented costumes and tipi, quillwork and a rich cultural display of Indigenous art.
The Luxton family home of 90 years is an accredited Alberta museum maintained as it was left by Eleanor Luxton, the daughter of Georgina McDougall Luxton and Norman Luxton. The Luxton Home Museum displays Banff lifestyle throughout the 1900s as shared through the lives of this pioneering Banff family.
Best Banff Galleries
An art house mainstay since 1974, the Canada House Gallery showcases the work of local and international painters, Inuit artists, sculptors and jewellers at its downtown location on Bear Street.
Aboriginal visual artist Jason Carter's second Bow Valley location, the Carter-Ryan Gallery features paintings and soapstone sculptures in his signature style. You may recognize his work already—You might have been greeted by one of his 45 original works on display at the Calgary International Airport.
Those with a love for wildlife and photography should be sure to visit the All in the Wild Gallery on Banff Avenue showcasing Jason Leo Bantle's wildlife photography. Human and natural history buffs can't miss the Cave and Basin National Historic Site, and the Banff Park Museum National Historic Site.
Banff's Best Views, Rain or Shine
Top off your cultural rainy day at Sky Bistro atop the Banff Gondola. This spectacular location overlooking multiple mountain ranges and down upon the town of Banff is matched by an award-winning menu. Chef Hergott of Sky Bistro recently took home one of the highest honours from Cochon555, a prestigious celebration of culinary arts and chefs held at the Fairmont Banff Springs in April 2019.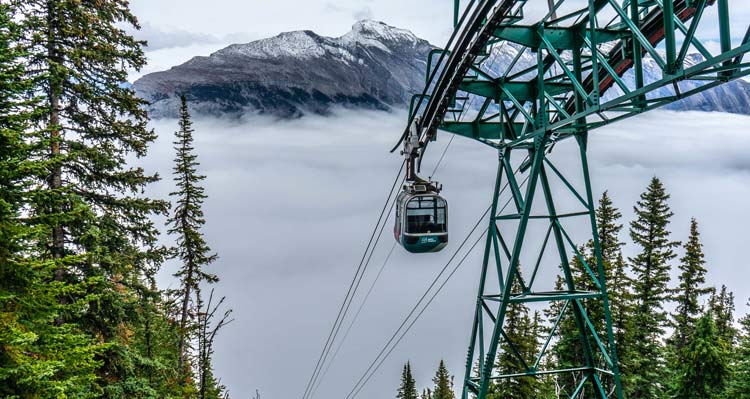 After a day dedicated to Banff's rich history, settle in for an evening at the iconic and refined Mount Royal Hotel. Situated in the heart of downtown Banff at the corner of Caribou Street and Banff Avenue, there are a million histories buried inside the walls of this grand hotel.
For more than a hundred years, the Mount Royal Hotel was the meeting and resting place for park adventurers and world travellers. Make it your own. Settle in at the Cascade Lounge, watch the rain fall over Banff and call it home on this rainy night in Banff.