Banff's a scenic escape from the bustle of city life. A chance to reconnect with nature, and with one another. It's also the perfect place to bring the family for a beautiful winter experience.
From the snow-covered mountains, to the sparkling frozen lakes—this picturesque little town epitomizes the cozy wonder of winter. To prove it, we've planned out the perfect day trip in Banff!
Morning
Start your morning the right way, and head out on a breathtaking drive through the Rocky Mountains after breakfast. Banff is only one and a half hours from Calgary, making it a favourite destination for local families. Don't forget to pack your warm clothes, ice-skates and a swimsuit!
Begin your exploration of Banff at the summit of Sulphur Mountain. Try and catch the first ride gondola of the day for your chance to see Canadian Rockies pixie dust shimmering in the crisp mountain air. Scientifically speaking, it's actually ice crystals that reflect the morning sunlight, but it's a pretty magical sight that your kids are sure to love.
Tip 1: Kids go free before noon with the Junior Explorer Program, so get there before 12 PM!*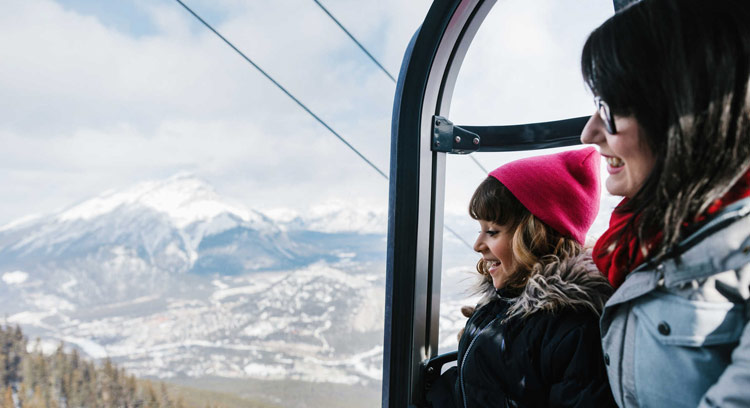 The Junior Explorer Program at the Banff Gondola encourages both parents and kids to explore the Rockies with various interactive activities, and the interpretive centre is filled with fun play-based learning opportunities. The bonus? Complimentary cookies and a cool self-guided family activity book are also included!
On weekends, the Banff Gondola family experience is elevated with a number of activities that celebrate the magic of winter in the Rockies. From rooftop firepits overlooking breathtaking views of six mountain ranges, to the free Agents of Discovery interactive explorer app, to the multi-sensory Above Banff Theatre—there is no shortage of things to do!
Stay for a delicious meal at Northern Lights—try the Northern Lights Lunch package from 11 AM – 3:30 PM, which includes lunch with your Banff Gondola admission.
Tip 2: Don't forget—if you're a local, you can get the Alberta Residents Savings at the Banff Gondola!
*Gondola packages are not combinable. Alberta Locals Discount and Northern Lights Package can be booked online. The Kids Go Free Junior Explorer Program offer must be booked in person at the Banff Gondola or an Explore Rockies location, one free child admission with each paying adult.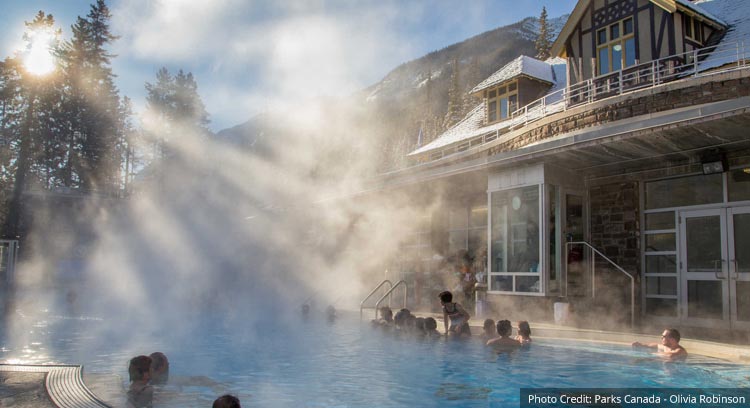 Afternoon
Next on the agenda is a relaxing soak in the Upper Hot Springs. Conveniently located next to the Banff Gondola, the steamy, natural mineral water is a luxurious spot to take a dip and warm up and has enough room for the kids to splash around.
Afterwards, liven things up with a trip to the local ice-skating pond in Banff's Central Park. Always a favourite with the kids, this sizeable ice-rink surrounded by the dramatic landscape provides an enormous amount of fun and excitement. If you've never skated before—this is the perfect place to test out your skills!
Tip 3: Don't have ice skates? Banff's got you covered—you can rent skates from places like Bactrax or Banff Arena. And don't be shy to put on a helmet for safety (there's no judging out here in the mountains!).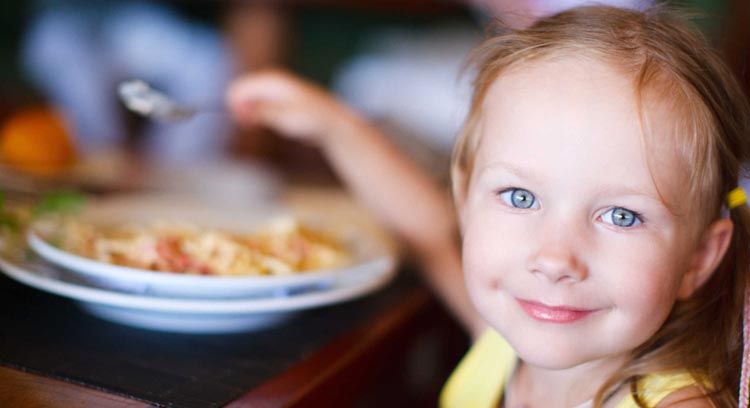 Evening
Grab some grub at one of the many family friendly restaurants in town. Bear Street Tavern's wallet-friendly children's menu offers kid-friendly favourites like Mac n' Cheese, house-made pizza and ice cream, while parents will appreciate the tavern classics, such as fish tacos, cast iron pesto gnocchi and sophisticated selection of pizzas and local craft beer. Other top choices include Earls, for its ever-popular Happy Hour specials and Sushi House, where the whole family will enjoy the mini CP rail train that delivers freshly made sushi.
After an action-packed day out in the fresh mountain air, you can leave the enchanting town of Banff behind and head back to the city feeling rejuvenated, with great new memories and the kids fast asleep in the back seat.
Mission accomplished!