Sunset Festival: Musical Vibes at the Top of the Gondola
On opening night of the Sunset Festival, atop the summit of the Banff Gondola, a rainbow graced the sky for festival-goers. (Just when you thought the view couldn't get any better!). As people drank in the mountain air and the stunning scenery, local musician Phillip Alexander Nugent took the stage and folk-rock sounds began to float past the peaks.
Before the show, we sat down with Phill to find out what inspires him about living and making music in the Canadian Rockies. Phill is one of 20 local artists who will be playing atop the Banff Gondola during the Festival, which runs seven days a week until September 2.
What's it like performing on top of a mountain?
Phill: Well, it depends on the weather, but it's beautiful, and the Banff Gondola is one of my favourite places to perform in the Bow Valley. It's the best backdrop you could ever ask for as a musician. It's a once in a lifetime opportunity to play for an audience on top of a mountain, sharing your music with what feels like the whole world.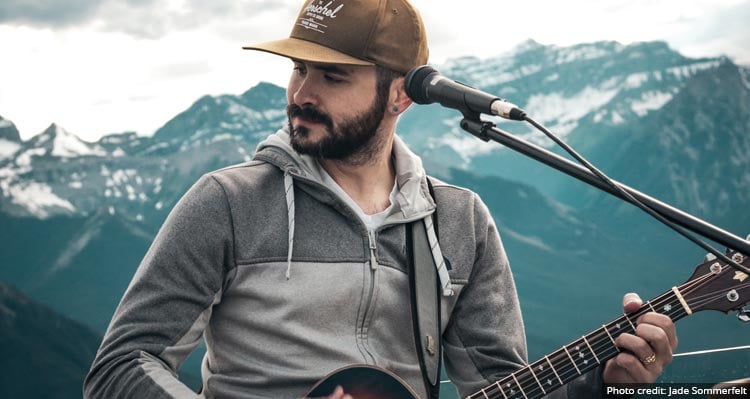 What's the right music for a place and time like this?
It's got to make you feel how being on top of a mountain makes you feel. One of the songs I like to play is a mashup between Knocking on Heaven's Door by Bob Dylan and Helpless by Neil Young, just because you are kind of up here knocking on heaven's door. For a festival, it's good to have upbeat songs and tunes as well. I try to get people to sing along. I always like singing my originals, too. (You can listen to his latest EP on Spotify).
What's it like to live and work in the Bow Valley?
It's incredible. I've been in the valley off and on since 2008 and every time I leave I'm always so happy when life brings me back. When I'm driving back in and I see the mountains, I feel brand new. Living and working and playing music here makes you feel like you're in the right place.
What are some of your favourite local hang-outs or places you feel inspired?
My front porch in Canmore is one. I get this beautiful view of the Three Sisters mountains. My street is so quiet and we barely get any traffic there, which is nice. Anywhere down by the Bow River in Banff is great as well. It's a good spot to go and sit and listen to nature.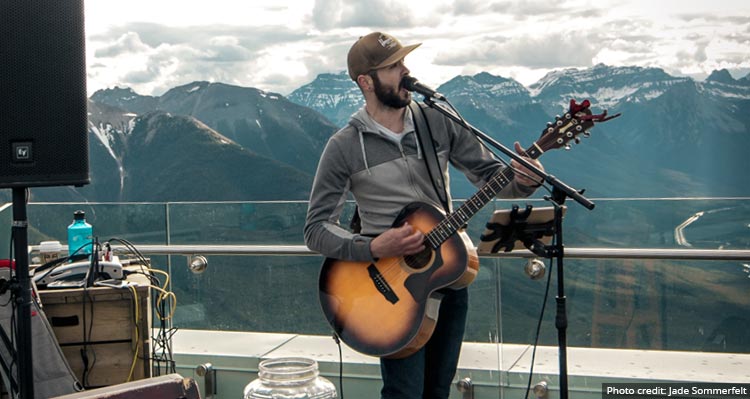 What tips do you have for making the most of summer days in Banff?
If you can get up a mountain, go for it! It's the best thing in the world, looking out and just seeing how big the world actually is. Go and play in the woods. Be quiet for at least five minutes in nature. Not in town—out in the woods. Just listen. Jump in a lake. It doesn't matter if it's glacier water. Be here with family. And, check out the Sunset Festival! It's the second year and it's gotten bigger and better.
Follow his advice and head to the top of a mountain—you can join Phill and some of the finest musicians in the Bow Valley this summer at the Banff Gondola's Sunset Festival.